Things to Do in Aurora: Fun Activities This Weekend in Aurora Ontario
Posted by Frank Polsinello on Tuesday, February 22, 2022 at 10:00 AM
By Frank Polsinello / February 22, 2022
Comment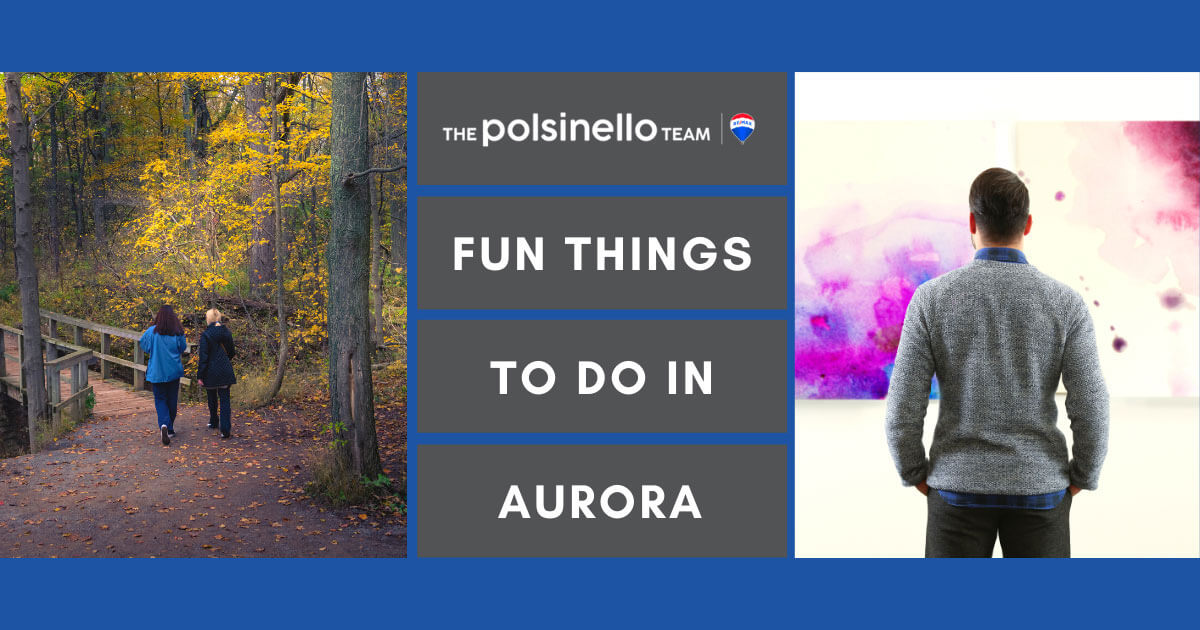 The community of Aurora, Ontario, a bustling town of around 55,000 people, is a vibrant place to visit or call home. It's located just north of Richmond Hill and is known for its historic downtown core at Wellington Street and Yonge Street. The community is stunning, with older architecture and lots of green space.
For those thinking about moving to Aurora to one of the luxury homes or perhaps a townhome in Aurora, it's important to know what there is to do in the region. Each neighbourhood that makes up Aurora is different, but a few adventures are to be had throughout the area. Read on to learn about fun things to do in Aurora, Ontario, from outdoor experiences to arts, culture, and nightlife options.
Aurora Outdoor Adventures
Aurora is in the heart of a beautiful natural area. It's home to open green spaces and lots of wooded areas. Consider a few things to do here that make this area a treasure for those who live close.
Parks
Popular Aurora Parks
Town Park
Ada Johnson Park
The Parks Division for the city manages 62 parks that make up 800 acres of land throughout Aurora. Many parks link to a trail system that offers about 62 kilometres of running, hiking, walking, and dog-walking paths. It's possible to use the interactive map provided by the district to plan outings throughout this area.
Of those parks are many outstanding destinations. Town Park is an ideal place to spend time watching the kids on the playground, going for a walk, catching a free concert during the summer, or attending one of the festivals. Ada Johnson Park is home to various sports programs, fields, outdoor tennis courts, and a dog park.
Water Recreation
Aurora Water Recreation Options
Aurora Family Leisure Complex
Stronach Aurora Recreation Complex
Splash pads at parks
While summer months are too cold for many outdoor water activities, Aurora boasts a few fabulous experiences for those who love the water. The Aurora Family Leisure Complex and the Stronach Aurora Recreation Complex offer lane swim, aquafit programs, and leisure swim. There are often courses available to help teach swimming, including aquatic programs for children and adults.
Splash pads are available throughout Aurora, with five at Town Park, Ada Johnson Park, Stewart Burnett Park, Trent Park, and Edward Coltham Park.
Hiking & Biking Trails
Popular Aurora Trails
Tim Jones Trail
Klaus Wehrenberg Trail
Willow Farm and Lakeview Trail System
Getting outdoors can be a lot of fun. The city has 62 kilometres of trails that connect area parks. A few worthy of note include the Tim Jones Trail, the longest option in the area running from Vandorf Woodlot to Vandorf Sideroad. The Klaus Wehrenberg Trail is a nicely wooded, off-pavement trail that runs from Tim Jones Trail to Sheppard's Bush. The Willow Farm and Lakeview Trail System is a third option, which links up to St. Andrews. All of the parks welcome dogs on a leash.
There's much to do when it comes to adventures outdoors. It's also important not to forget the Aurora Wildlife Park, a natural preserve that begins construction in 2022. It is sure to add to the beauty of the natural spaces here.
Aurora Shopping
Aurora Shopping Destinations
SmartCentres Aurora
St. Andrews Shopping Centre
Aurora has several shopping areas. The largest is SmartCentres Aurora, which contains numerous restaurants and shops, including Walmart Supercentre, Reno Depot, Best Buy, and Golf Town. This large shopping center on Wellington and 404 is a hub for most shopping needs and large box retailers. A total of 25 shops are located here, including service providers and restaurants. It's the go-to for most needs.
For those seeking other shopping options, the city has a few strip malls and standalone shops throughout it. St. Andrews Shopping Centre is located close by on Orchard Heights Blvd. It has a grocer and other smaller retailers.
Most Aurora residents are within only a short drive of most of these shops and others nearby. For smaller artisan shops, consider the downtown area of the city. This walkable area offers a few locally owned establishments worth exploring.
Aurora Restaurants
Popular Aurora Restaurants
Aqua Grill
Keg Steakhouse & Bar
Fishbone Kitchen & Bar
Locale Aurora
Casa Carbone Ristorante
Minami Sushi Japanese Steakhouse
As a moderately large city, there's plenty to enjoy when it comes to restaurants in Aurora. The community offers many large international chains and a handful of the very best local eateries hard to overlook. Aqua Grill is a solid option for those looking for a romantic evening out, offering seafood, pasta, and meats with locally sourced produce. Keg Steakhouse & Bar is another fantastic location for a higher-end meal, a classic steak and seafood place noted for its upbeat atmosphere. Fishbone Kitchen & Bar is another local favourite. The food here is more eclectic and decadent, but it is truly a special place to dine.
Check out Locale Aurora, recognized for its burgers, lamb, steaks, and salads for a dine-in meal. For those seeking an upbeat and more contemporary vibe with Italian food, check out Casa Carbone Ristorante. One of Aurora's best options for Asian cuisine is Minami Sushi Japanese Steakhouse.
Arts & Culture in Aurora
Aurora is a vibrant place to live, and a part of that is its local culture. It's a place where people come to life to support each other, share stories, and have a few good laughs. There is a lot of history in this area, too. Here are some cultural and arts experiences to enjoy in the city.
Museums
Popular Aurora Museums
Aurora Historical Society & Hillary House
Aurora Sports Hall of Fame
Elman W. Campbell Museum
Museums are a mainstay in getting to know an area, and Aurora has a few. The Aurora Historical Society & Hillary House is one of the best. The Aurora Historical Society manages this beautiful home with stunning architecture.
It can also be fun to visit the Aurora Sports Hall of Fame located on Wellington St. It celebrates local and national sports figures from years gone by and more recent times. Also notable is the Elman W. Campbell Museum in the nearby city of Newmarket. It tells the story of the first Quakers who settled the area in the 1800s.
Art Galleries
Aurora Art Galleries
Patrick House Art Studio and Gallery
Aurora Cultural Centre
Wellington Gallery
The Patrick House Art Studio and Gallery is a treasure offering local art on display and touring exhibits. Take in something new each time by visiting often. The Aurora Cultural Centre is a unique combination of an art gallery and an event hall. The gallery section is stunning, with vibrant artworks by both national and international artists. Exhibitions change here often. The Wellington Gallery, established in 2004, provides one-of-a-kind works from numerous notable artists, mostly from Canadian artists.
Dance & Theatre
Aurora Dance & Theatre Options
Canadian Children's Theatre Co.
Marquee Theatrical Productions
Theatre Aurora
Experiencing dance and the arts in a more immersive environment is possible at the Canadian Children's Theatre Co. It's a fabulous way for kids to get into the fine arts, including dance, plays, and musicals of all types. There are fun nights, camps, and many programs to try out.
Another option is Marquee Theatrical Productions offering youth education and adult productions and a full dance academy. It's one of the most vibrant of all experiences in the city.
The Theatre Aurora puts on numerous productions, ranging from musicals to plays, often with incredible performances by touring artists. It is also a local production company.
In addition to these cultural experiences, locals may also wish to look into the performances available through local high schools and community centres. There are many performances and festivals in the area during the summer months.
Aurora Nightlife
Aurora Nightlife Destinations
Lava Bar & Lounge
DNA Bar & Lounge
Marlowe Restaurant and Bar
Filly & Co
St. Louis Bar and Grill
Having fun in the evening is easy to do in Aurora as many restaurants, nightclubs, and bars offer lots of into-the-evening fun. One of the options to check out is Lava Bar & Lounge, a hookah bar that's like no other. There are always people having fun and getting to know each other here. Additionally, DNA Bar & Lounge is a fantastic place to visit. There may be a comedy show on or live music happening here.
The Marlowe Restaurant and Bar has a lounge that's open late. While this is a restaurant known for its exceptional quality food, it's also a special place to visit for dining and dancing, something it offers regularly. There is also room here for private events. Filly & Co is more laid back than others, but it still provides a lively place to grab some food and drinks. It's a popular hang-out spot during big games. Live music also happens here at various times of the week. Filly & Co aims to be the neighbourhood pub everyone wants to visit.
St. Louis Bar and Grill is another solid location to visit for some fun. It's open late into the evening and the perfect place to have a few drinks with friends, dance, or hang out at the bar.
Explore All That Aurora Offers
There is a strong vibrancy and energy in Aurora, Ontario, evident in the city's numerous activities, attractions, and amenities throughout Aurora's best neighbourhoods. For those looking for a lot of fun and a place to get outdoors and get in some exercise, Aurora may be the ideal choice. For those thinking about buying a home here, or perhaps one of the condos for sale in Aurora, get to know the area by checking out these attractions first.