5 Best Beaches Near Keswick: Top Lake Simcoe Beaches Near Georgina & Keswick
Posted by Frank Polsinello on Thursday, February 2, 2023 at 4:27:39 PM
By Frank Polsinello / February 2, 2023
Comment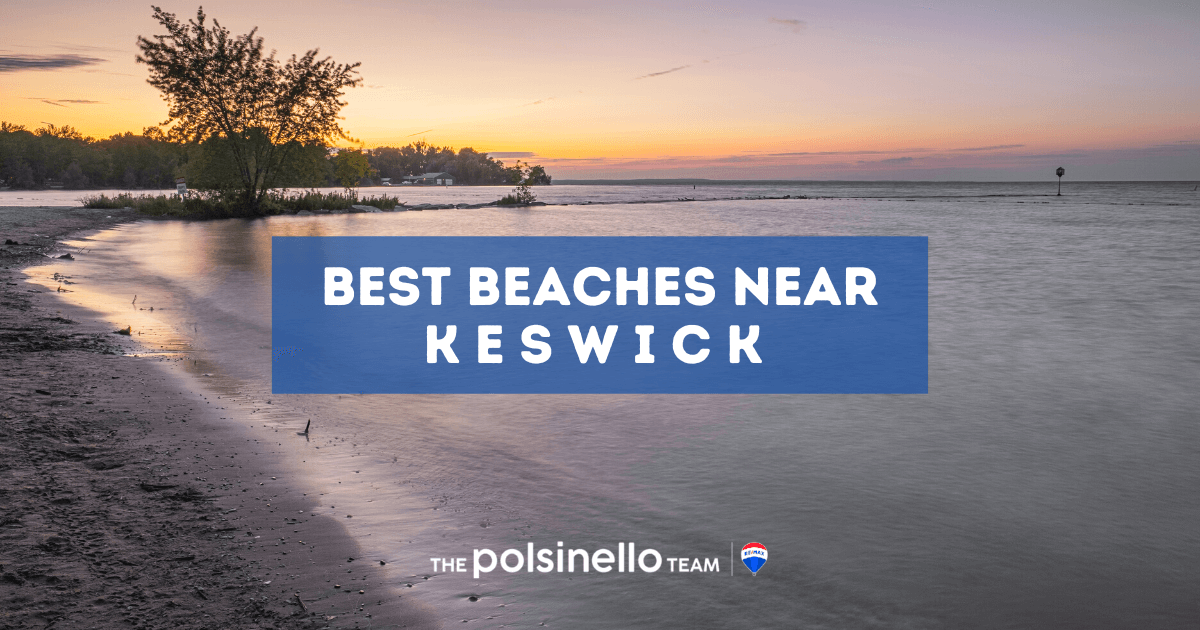 Looking for fun things to do in Keswick? Situated right on the banks of Cook's Bay in Lake Simcoe, the Keswick community in the town of Georgina has some excellent local and nearby beaches for residents to enjoy. Locals like to head to these destinations to play, swim, and relax during the warmer months. Some of these places also have fishing piers that anglers can enjoy throughout most of the year. Let's explore five of the best beaches in and around Keswick, Ontario.
Claredon Beach Park
Claredon Beach Park is another public access beach located on Windyshore Drive just west of the 5 Corners intersection in central Keswick. To reach the park, turn west on Woodland Avenue from the Queensway South. Drive to the end of Woodland and turn right onto Windyshore. The park is then on the left-hand side. There are a few rocks on the beach, but it is mostly sand.
Claredon Beach Park offers a few amenities, including:
Paved walking paths
A playground
Portable washrooms
Benches
There's private beach access on the park's south side, so be sure to observe the "No Trespassing" signs there.
Sibbald Point Provincial Park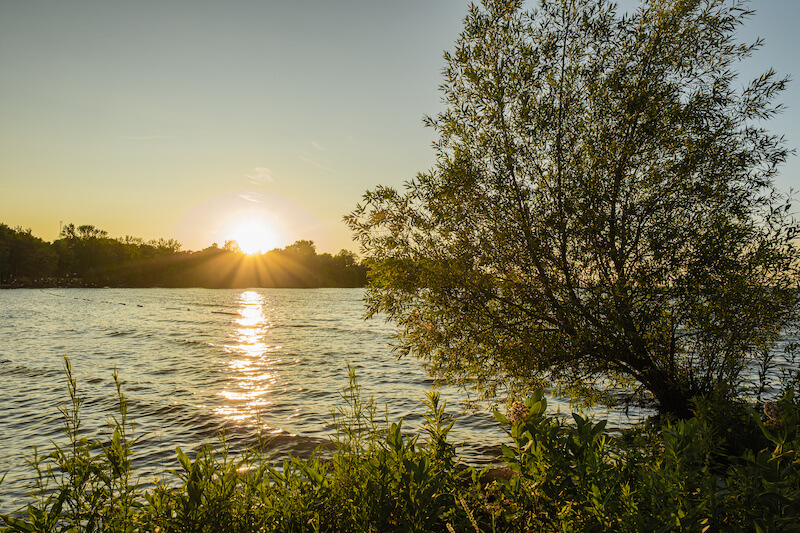 Sibbald Point Provincial Park is on the south shore of Lake Simcoe, across from beautiful Georgina Island. The park has one of the best swimming beaches in the Keswick area, but a day-use fee is required. It costs $21 per vehicle for access to the park, and permits must be reserved in advance. Sibbald Point gets especially crowded during summer, but fortunately, there is a large parking lot at the beach.
The beach is enclosed with a line of buoys for safety. There are no lifeguards on duty. Dogs are not allowed on the beach, but there is a small enclosure at the park where they are permitted. Sibbald Point Provincial Park is open daily from 8 a.m. to 10 p.m. during summer.
Water activities at Sibbald Point are not just restricted to swimming. There is a boat launch just north of the beach area where motorboats and sailboats can be put in the water. Canoeing is also popular at Sibbald Point; paddlers are advised to stay close to shore because the waters of Lake Simcoe can get choppy. Anglers can fish and try their luck with abundant lake trout, bass, whitefish, pike, yellow pickerel, and jumbo perch. Come back in winter to try ice fishing!
Willow Beach
The main parking lot for the Willow Beach Conservation Area is at 1506 Metro Road North. Georgina resident parking stickers are required for visitors to park here, and non-residents must purchase a permit.
The park at Willow Beach has a lot of new trees that were planted there in recent years. There are picnic tables, public washrooms, and a playground.
Willow Beach itself is sandy but quite narrow. Visitors must walk across Lake Drive East from the park to access the beach. The swimming area has no lifeguards on duty, and children must have a parent or guardian with them at all times to swim. Diving in the water here is prohibited because the area is very rocky under the surf.
Glenwood Beach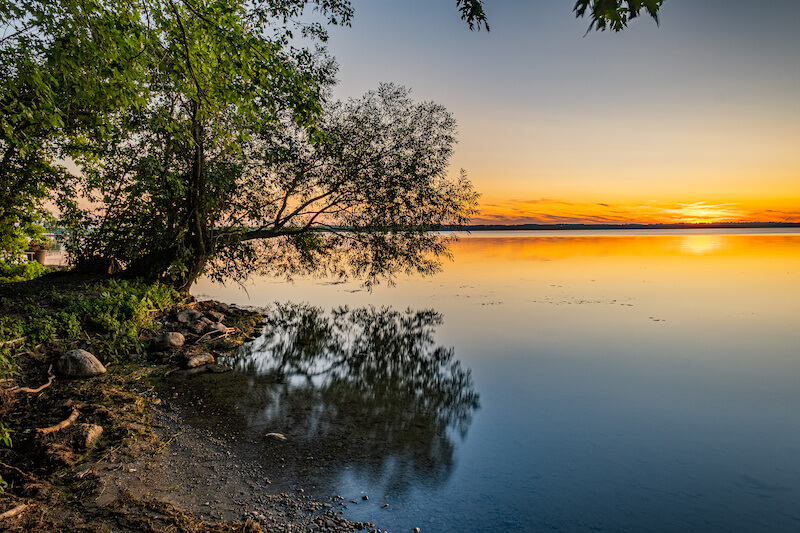 Out of all the Lake Simcoe beaches on this list, Glenwood Beach is the southernmost at 488 Lake Drive South. There is a small parking lot at the intersection of Lake Drive and Parkwood Avenue. The small park has a grassy area where dogs are not allowed and a small playground. Just past the grass is a small, sandy beach where locals can go for a swim, build a sand castle, or relax under the sun. Portable washrooms and picnic tables are other amenities here.
A few noteworthy attractions are close to Genwood Beach. The Georgina Leash Free Dog Park, a large, open area where dogs can play off-leash for some exercise, is located about a kilometre south of the park on Lake Drive. For those who don't want to take a picnic to the park, quite a few dining options are available a short distance away. The FreshCo Queensway & Glenwoods shopping centre is just two blocks from Glenwood Beach, offering fast food restaurants, sushi, pizza, and other options for a quick bite or a sit-down meal.
North Gwillimbury Park
North Gwillimbury Park is located at 857 Lake Drive and leads right to the water's edge. There's no sand at this beach, but it does provide easy access to swimming in Lake Simcoe. No lifeguards are on duty here, but there is a rescue buoy/float tied to the sign in the northwest corner of the park. Several picnic tables and benches are available for visitors to use on the north side of the road. The park itself is directly southwest of the Eastbourne Golf Course.
North Gwillimbury Park has a few additional amenities for people to enjoy, like a playground. Parking is available, but it is a Pay & Display parking lot. A picnic shelter and portable washrooms are available in the portion of the park that is south of Lake Drive. Leashed dogs are allowed in this larger park section but not in the beach section.
Enjoy the Water in Keswick & Beyond
The best things about moving to Keswick and living near a large body of water like Lake Simcoe are waterfront views and access to the lake. These public-access beaches are the best places in the Keswick, Ontario, area, and those owning lakefront homes can also mean entry to a private beach. From swimming and sun tanning in the summer to ice fishing and skating in the winter, the beaches in the Keswick area are a spectacular add-on for homeowners.
If you're looking for a Keswick home, contact The Polsinello Team at RE/MAX Hallmark Polsinello Group Realty at (289) 803-3389 to get in touch with Keswick real estate agents who can help you find your dream home in Keswick today.