Toronto's 8 Best Condo Communities: Insider Access to the Top Places to Live & Invest
Posted by Frank Polsinello on Tuesday, April 25, 2023 at 4:26:05 PM
By Frank Polsinello / April 25, 2023
Comment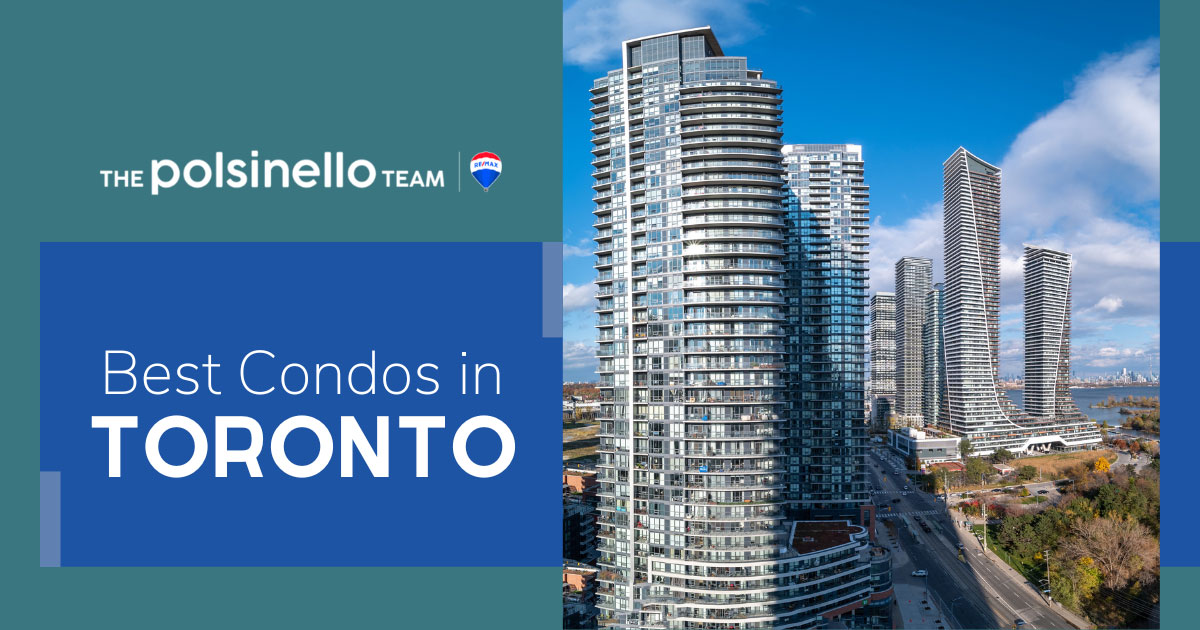 The city of Toronto is a vibrant and bustling area with a wide range of condominium communities. Whether you are a first-time buyer, moving to Toronto, or an experienced investor, the city's wide range of condo communities caters to different lifestyles and preferences. There is something for everyone, from downtown high-rise buildings to suburban townhouse complexes. This article will explore the best condo communities in Toronto based on location, amenities, and overall livability.
18 Yorkville
18 Yorkville is a 36-storey tower with over 300 units, soaring above Yonge Street just north of Bloor. That means residents have everything the thriving Yorkville neighbourhood offers right at their fingertips. This includes extensive shopping options at spots like the Holt Renfrew Centre, restaurants like Cafe Landwer, and even green spaces, including Lawren Harris Park.
Residents can also confidently leave their cars at home, with the Bloor-Yonge subway stop offering access to Lines 1 and 2 and numerous nearby bus stations. It's also near the University of Toronto area, perfect for members of the school community or those looking to enjoy the nearby attractions like the Royal Ontario Museum. Of course, plenty is going on right within their building, from the incredible views of the community roof deck to the fitness centre, to the gorgeous, modern lobby, ready to welcome visitors.
Typically offering one or two bedrooms, 18 Yorkville condos range from under 500 square feet to more than 2,600 for luxury penthouse options. They offer floor-to-ceiling windows, balconies, granite and marble countertops, and high-end chef's kitchens. Units start around $600,000 and can reach over $3 million, with most selling in the high six figures to around $1.75 million.
18 Yorkville Amenities
On-site concierge and security
Parking garage
Roof deck
Community room
Game room
Fitness centre and sauna
Close to subway and bus transit
Ice Condominiums at York Centre
The Ice Condominiums are the residential portion of downtown's massive York Centre, just steps from the Lake Ontario Waterfront and various attractions and amenities. It comprises two towers of 57 and 67 storeys each, with more than 1,300 total units. It provides all the high-end touches luxury buyers expect, from on-site staff and security to an all-season indoor pool and a fitness centre for staying in shape without leaving home.
Meanwhile, residents can access many of the fun things to do in Toronto just outside the front door of the complex. Options range from catching a game or a show at the Scotiabank Arena to relaxing in Roundhouse Park or taking the short walk or transit ride into the heart of the city, where there are nearly limitless dining, shopping, and nightlife choices.
The Toronto condos in the Ice Condominiums at York Centre community range from cozy one-bedrooms to spacious three-bedroom-plus-den models. On the low end, properties can be from the high $500s; most list in the $600,000–$800,000 range, with top units nearing a million dollars. Many offer exceptional views of the lake, downtown, the CN Tower, and other top Toronto attractions, which residents can enjoy from their balconies or through the floor-to-ceiling windows. Stainless steel appliances, hardwood floors, and walk-in closets complement the luxury feel.
Ice Condominiums at York Centre Amenities
On-site concierge and security
Roof deck
Community room
Indoor swimming pool with jacuzzi
Fitness centre with yoga studio
Guest suites
Lakefront, downtown views
Edge on Triangle Park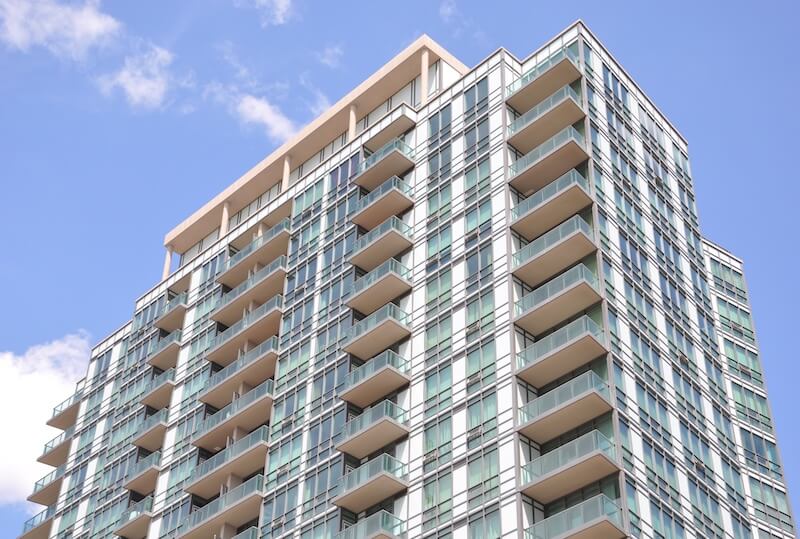 The Edge on Triangle Park includes more than 650 units spread over two towers, each rising 21 storeys over Toronto's Little Portugal neighbourhood. The location, just steps from Queen Street, puts residents close to extensive shopping, dining, and nightlife options, including local favourites like Frankie's Diner and The Dog & Bear Pub. There's also a wide selection of options just to the south, in the Liberty Village area. The area's many waterfront parks and green spaces are just a short distance away, as is downtown via King or Queen Street tram service.
Units in the Edge on Triangle Park are a mix of open-concept one-bedrooms, two-bedrooms, and models with additional den space. They offer features like large private balconies, massive windows strategically positioned to let in maximum light, and stylish kitchens with ceramic backsplashes. An in-building storage unit is also included. Other amenities include a community roof deck, indoor pool, media room, fitness centre, and other opportunities to have fun, stay active, and meet other building residents. Edge on Triangle Park's condos typically list in the $500s and $600s.
Edge on Triangle Park Amenities
On-site concierge and security
Parking garage
Roof deck
Community/media room
Indoor swimming pool
Fitness centre with sauna
Guest suites
300 Front Street West
It's hard to find a more central location than 300 Front Street West, which occupies its namesake address in the heart of Toronto's downtown. The 49-storey tower offers views of the city and Lake Ontario, along with the nearby CN Tower and Rogers Centre, where residents can cheer on Major League Baseball's Toronto Blue Jays. These are just a tiny fraction of the many jobs, entertainment venues, parks, restaurants, nightlife spots, and more that are walkable or easily transit-accessible from this top community.
There's also a decided focus on luxury, with the developer promising "an all-inclusive resort where the vacation never ends." These range from a hotel-style lobby to "The Three Hundred Club," a collection of amenities including a modern gym and yoga studio, rec room, game room, and a breathtaking rooftop infinity pool area with cabanas and community barbecues.
The nearly 700 units are a mix of one-bedrooms and two-bedrooms, some including additional dens. Luxury features include radiant heat flooring, floor-to-ceiling windows, private balconies, and sleek, modern interior finishes. While some choices can be found in the high six figures, most condos at 300 Front Street West sell in the $1.5–$3 million range.
300 Front Street West Amenities
On-site concierge and security
Rooftop pool terrace
Fitness centre with yoga studio
Community rec room
Electric vehicle charging station
Central location near downtown amenities
Extensive transit access
Harbour Plaza Residences
Those looking to live the waterfront lifestyle in one of the city's top high-end condo developments should check out the Harbour Plaza Residences. The community's twin buildings are the tallest paired towers in the country, soaring 62 and 66 storeys above the South Core/Waterfront neighbourhood and including more than 1,300 residences. It's ideal for relaxing or having fun at spots like Harbour Square Park or the Harbourfront Centre, home to some of Toronto's best views, art installations, and cultural sites.
Even closer to home, residents can shop at a ground-floor Winners location or check out one of several restaurants on the building's street level. Meantime, downtown attractions, nightlife, and shopping are just a few minutes' walk away.
Condos at Harbour Plaza Residences range from cozy studios to spacious three bedrooms. This allows buyers to find units as affordably as the $600s while providing luxury options that can reach $1.75 million. Most units list in the $800,000–$1 million range. For their money, residents enjoy all of the top amenities they could ask for in a condo community, from a roof deck and swimming pool to a gym, business centre, community rooms, and much more.
Harbour Plaza Residences Amenities
Lakefront views
On-site concierge and security
Parking garage
Roof deck
Swimming pool
Fitness centre
Community rec room
Guest suites
Ground-floor retail
Parade II
Parade II is an amenity-rich Toronto condo community between the Bathurst Quay waterfront area and the bustling Fashion District. The former offers some of the area's most peaceful waterfront parks, while the latter is home to top restaurants like Añejo and Gusto 101. It's also highly transit-accessible, making it easy to reach downtown and other popular areas of Toronto. Despite its convenience to all of the big city's best amenities, Parade II is also close to a glimpse into Toronto's past at the Fort York National Historic Site and directly across from the green space of Canoe Landing Park.
Buyers can find everything from studios to sprawling, multi-story penthouses. Condos at Parade II typically start in the low $600s and reach well over $1 million on the top end. The building's many amenities are split up into three innovative zones: the Party Zone (perfect for socializing or using the game or media room), the Fitness Zone (home to Parade II's gym), and the Spa Zone, with on-site spa services. There are even special areas designed for kids and pets! The development's two towers are also linked via a gorgeous community Sky Lounge.
Parade II Amenities
On-site concierge and security
Parking garage
Fitness centre
Squash court
Indoor swimming pool
Community rec room
Guest suites
101 Erskine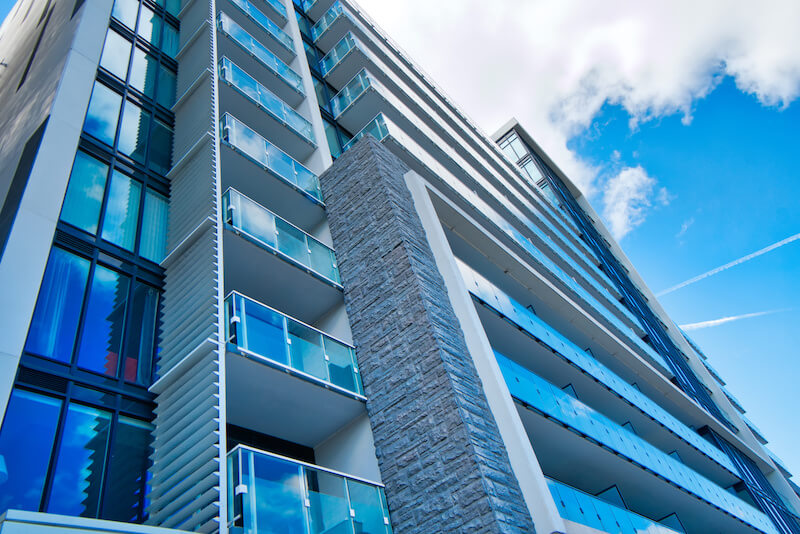 101 Erskine is a luxury condo community just north of the heart of Midtown Toronto. Lovers of Toronto's many parks will find the location ideal, as it's just minutes from green escapes like Sherwood Park, the beautifully landscaped Alexander Muir Memorial Gardens, or the sports fields and facilities of Eglinton Park.
However, extensive shopping and dining options are still available along nearby Yonge Street and Eglinton Avenue, including many notable Italian eateries like Grazie Ristorante and La Vecchia Restaurant Uptown. While the community takes advantage of the more relaxed vibes of Midtown, downtown is still just a short trip away on the 1 Subway Line, which has a stop nearby.
Inside 101 Erskine, owners are greeted by a beautiful lobby, the gateway to amenities like a private courtyard, an outdoor dining lounge, and more. The luxury stretches to the top of the 32-storey building, where residents can relax on a rooftop terrace with an infinity pool and outdoor fireplaces. These open-concept one- and two-bedroom units (some with dens) feature designer kitchens, walk-in closets, private balconies, and other upscale touches. Condos for sale at 101 Erskine start in the high $600s but rise to over $2 million for larger homes or ones on higher floors.
101 Erskine Amenities
On-site concierge
Rooftop terrace
Infinity pool
Community rec room and media room
Guest suites
Close to subway and bus transit
St. Lawrence Condominiums
Our final top condo is another development near the center of downtown Toronto: the St. Lawrence. This brand-new development of nearly 500 units in two 26-storey towers boasts eye-catching modern design and a host of top community amenities, from standard features like a fitness centre and community room to less common but equally enjoyable ones like a library lounge, cinema room, billiards room, and more.
St. Lawrence condos range from one to three bedrooms, built with the same distinctive modern style as the building's exterior. Floor-to-ceiling windows and private balconies offer amazing city or lake views, while open-plan layouts make these spacious units feel even lighter and airier. They start in the low $600s, with larger homes selling for $800,000 or more.
Among the best feature of the St. Lawrence Condominiums lies in the blocks around this sought-after building. Waterfront areas like Sugar Beach Park are just a block or two away, as is the historic and delicious St. Lawrence Market and other downtown shopping, dining, nightlife, and cultural spots. The building is also close to the vibrant Distillery District, further ensuring residents never run out of things to do. For trips further away, tram and subway access make travelling around the city a breeze.
St. Lawrence Amenities
On-site concierge
Rooftop terrace with swimming pool
Fitness centre
Community party room
Billiards room
Library lounge
Community cinema room
Guest suites
Toronto's Condo Communities Offer Something for Everyone
Toronto offers a variety of condo communities that are well-suited to different lifestyles and budgets. Whether you're working in Toronto and looking for a bustling downtown location or hoping for a peaceful suburban retreat, Toronto has something for you. From the luxurious amenities of Yorkville to the family-friendly neighbourhoods of North York, there are plenty of options. When searching for the perfect condo community, it is essential to consider factors such as location, transportation, and access to amenities. With some research, you can find the ideal condo community to suit your needs and enjoy all that Toronto offers.
If you're looking for your next home in Toronto, contact The Polsinello Team at RE/MAX Hallmark Polsinello Group Realty at (289) 803-3389 to get in touch with Toronto real estate agents who can help you find a Toronto home that's the perfect fit.