Keswick Boaters' Guide: Best Marinas & Boat Rentals in Keswick
Posted by Frank Polsinello on Tuesday, February 21, 2023 at 4:28:51 PM
By Frank Polsinello / February 21, 2023
Comment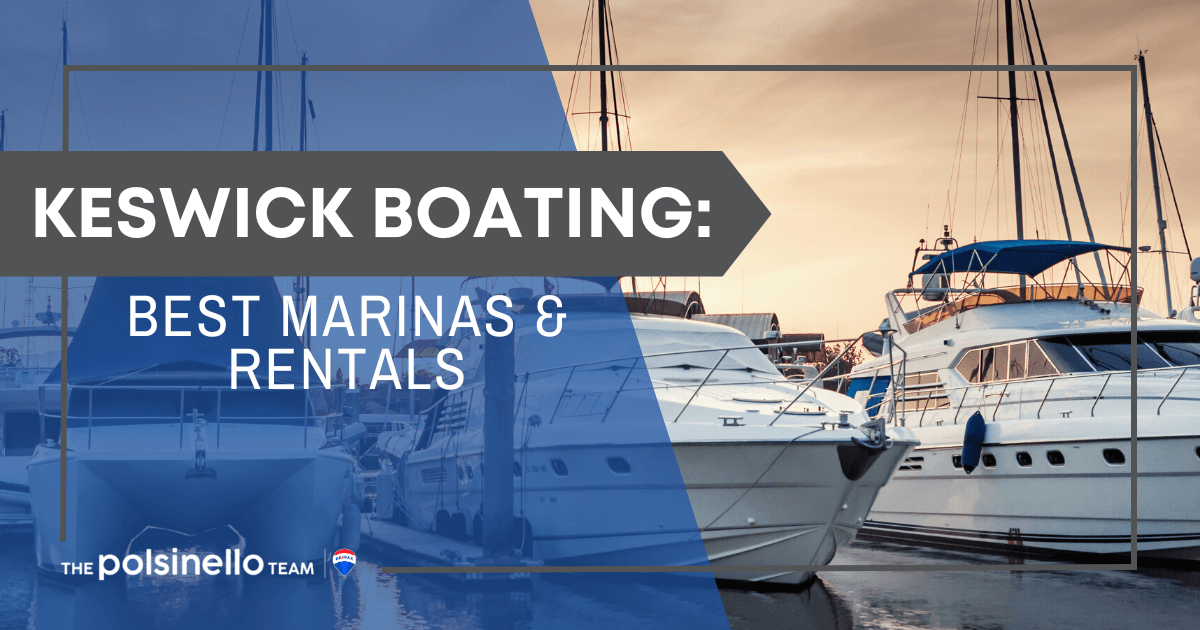 Boating adventures await anyone living in Keswick! The area features an assortment of marinas, boat rentals, and boat launches to help people of all experience levels spend more time on the water. Whether you want to kayak on Cook's Bay or drive a powerboat all the way across Lake Simcoe, you're sure to find what you need near Georgina. Ready to set sail? Here are a few of the most popular marinas in the town of Keswick.
Krates Marina
Krates Marina at 290 The Queensway South boasts numerous amenities. It has two launch ramps and more than 500 open and covered slips, and is conveniently located near some of the best beaches in Georgina. Krates also gives customers the ability to store vessels in covered racks. The maximum boat length for rack storage is 8.5 meters. Customers can rent boats, and the full-service fuel dock supplies both diesel and gasoline. It opens at 9 a.m. on weekdays and 8 a.m. on weekends. Other services are available from 9 a.m. to 6 p.m. throughout the week.
Krates cares about your boat as much as you do. That's why they employ skilled mechanics who can perform various repairs and even tow your boat back safely if you get stuck on the water. Gates, surveillance cameras, and security guards protect customers' vessels.
The fun doesn't stop when you get back on dry land! The marina offers a variety of lifestyle amenities that keep the good times going. Boaters may swim in one of the two heated pools, watch cable television in their boats, or enjoy a sunset on the patio. Krates occasionally schedules parties and other entertaining events. For instance, customers could dress their vessels in costumes and celebrate "Halloween in July."
Keswick Marina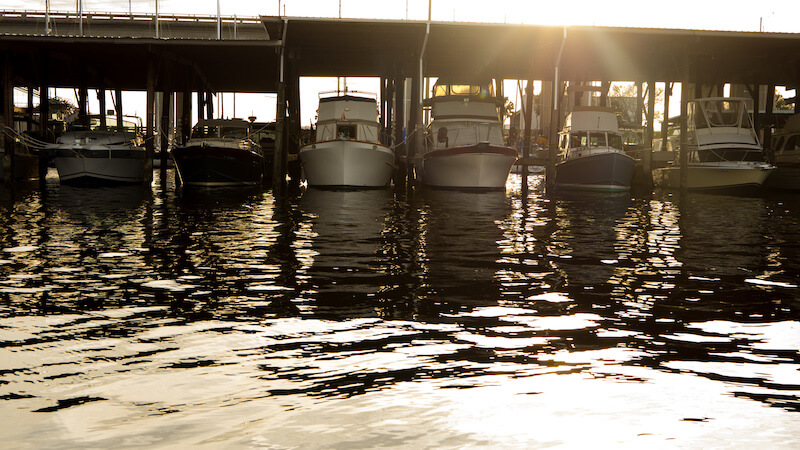 Keswick Marina has a long history that started about a century ago. The building was a store, pub, and diner before it underwent significant renovations and became a marina. Today, it supplies more than 100 covered slips with water and electricity. They accommodate crafts that measure 5.5 to 9.1 meters long. The employees fix, shrink-wrap, maintain, and winterize all stored boats. They also sell outboard motors and provide customers with replacement parts. Even if they don't have what you're looking for, staff members can order parts that aren't in stock.
Keswick Marina offers dry storage during the winter. It safeguards vessels by using security gates and locking them at night. This establishment features one boat ramp and a spacious parking lot for people who arrive in cars. Other amenities include showers, picnic areas, and a sun deck. After a day of fun, it's easy to venture out and explore Downtown Keswick from this location.
King Dragon Marine Boat & Tackle
This marina at 534 Lake Drive South serves customers from 10 a.m. to 8 p.m. Monday through Thursday, with extended hours on Fridays and weekends. In addition to a boat launch and slips, King Dragon features a bait and tackle shop. The marina's location provides excellent lake views. Its owners have taken many impressive photos of sunrises and sunsets.
One thing that distinguishes this business from other Keswick marinas is the attached eatery. The King Dragon Marine Restaurant opens from 11 a.m. to 8 p.m. daily. It serves Chinese foods ranging from egg rolls to fried rice and lo mein. The menu lists numerous vegetable, beef, pork, chicken, shrimp and tofu dishes. This restaurant offers delivery, catering, and private parties.
C.W. Marine & Powersports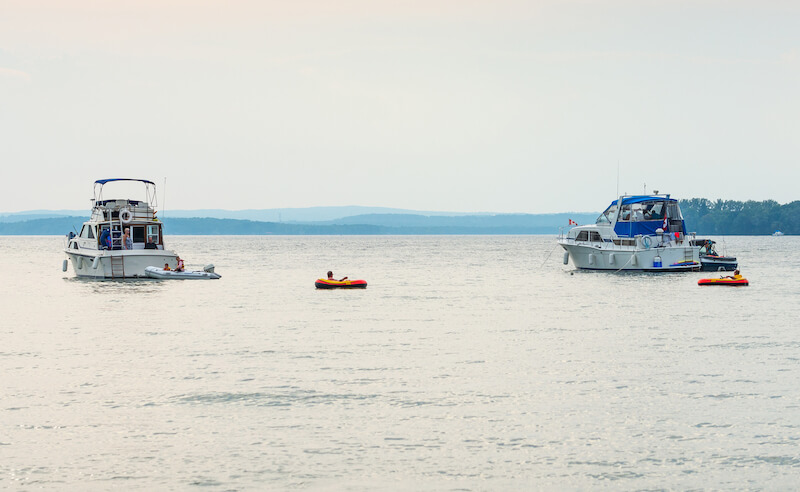 If you're looking for fun things to do in Keswick, C.W. Marine & Powersports offers more than just boating. This marina and boat rental shop are at 534 Lake Drive South. It serves customers between 9 a.m. and 7:30 p.m. every day of the week. C.W. Marine & Powersports provides many different services, ranging from repairs to winterization. They also sell a variety of bait, such as minnows and worms, and fishing rods available to rent by the day. Motorized boat rentals start at $100 and up. Pontoons and fishing boats can be rented for four or eight hours per day, whereas jet skis can only be rented by the hour.
Non-motorized rentals include:
Pontoon boats
Canoes, kayaks
Paddleboards
Kneeboards
Non-motorized boats rent in four-hour increments and come with life vests at no extra charge. During winter months, C.W. rents out ice huts for the best ice fishing around. Each hut is fully loaded with electricity, heaters, furnishings, and fishing gear.
Launches: Harry's Riverside Sports & Bait, Young's Harbour Park
A boat launch serves as an entry point for dry-docked vessels. It offers fewer amenities than a marina, so there usually aren't any fuel pumps, slips or storage racks. Nonetheless, these facilities provide a way to cut costs. Boaters can find one launch site on Windy Shore Drive. In addition to a boat ramp, Claredon Beach offers a parking lot, footbridge, picnic area and playground. The park features a sandy beach with splendid views of Lake Simcoe.
Boaters may also launch their vessels at Harry's Riverside Sports and Bait. It's located on the Maskinonge River at 233 The Queensway South. To contact Harry's, dial 905-476-0441. An alternative is Young's Harbour at 601 Lake Drive South. This small, quiet park has a public boat launch. For more details, call the Town of Georgina at 905-476-4301. When looking for boat ramps in Keswick, mariners have one other option. They can visit Rayner's Road Park at 51 Lake Drive North. However, it's only a suitable choice for locals. The facility doesn't allow non-residents to use its parking spaces.
Explore Lake Simcoe From a Keswick Marina
Keswick is a boater's dream come true! Keswick boat rentals are available at Krates Marina and C.W. Marine & Powersports. Establishments with a wide range of services may help customers save time and fuel. Some marinas offer more convenient hours for people who go boating early, late or during the weekend. Others have the equipment needed to accommodate larger vessels. Boating in Keswick is fun for pros and beginners alike!
If you're looking for a Keswick home, contact The Polsinello Team at RE/MAX Hallmark Polsinello Group Realty at (289) 803-3389 to get in touch with Keswick real estate agents who can help you find your dream home in Keswick today.