8 Best Neighbourhoods in Aurora: Where to Live in Central York
Posted by Frank Polsinello on Monday, January 31, 2022 at 9:00 AM
By Frank Polsinello / January 31, 2022
Comment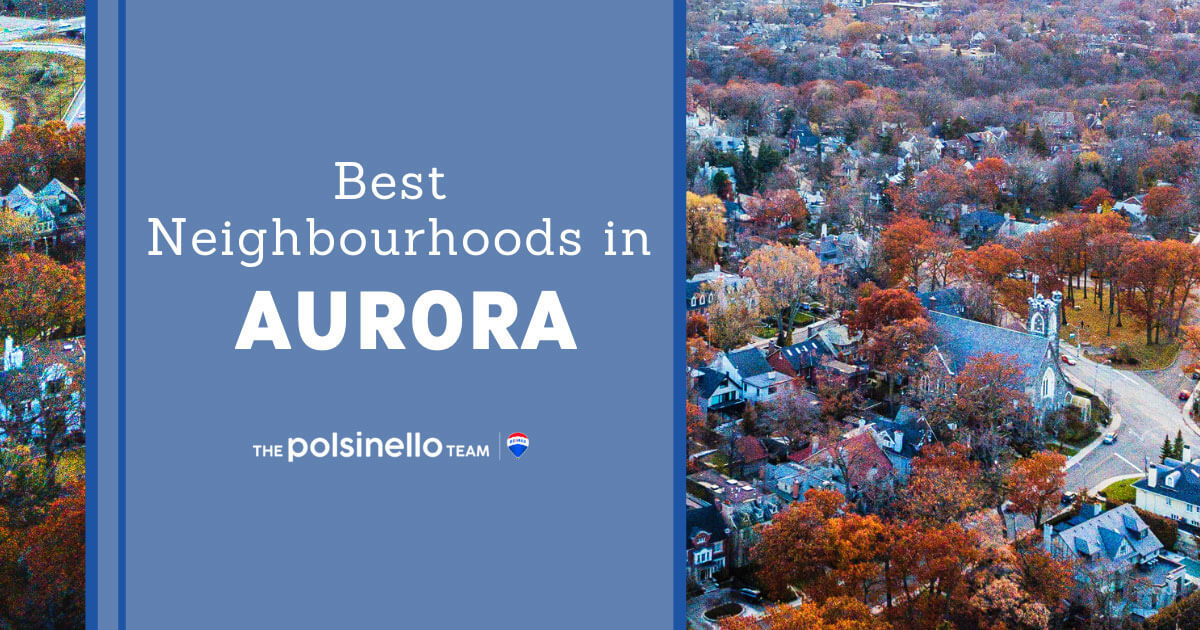 Aurora, Ontario, is one of the greater Toronto area's best small towns. Located just under 50 kilometres north of the city along Highway 404, it offers all of the charms of small-town life with easy access to everything the broader region provides. Aurora residents can take advantage of ample green space and conservation land, several shopping corridors, and the historical and cultural attractions of the city's downtown. Keep reading to take a closer look at some of Aurora's best neighbourhoods.
Aurora Estates
Aurora Estates Amenities
Some of Aurora's largest and most luxurious homes
Gated communities and private streets
Greenspace, including the Holland River Valley Trail
Aurora Estates is among the city's most private and luxurious communities, set along the southern border with Richmond Hill. Centred around the community's main thoroughfare of Yonge Street, the neighbourhood comprises more than a half-dozen individual subdivisions and communities, the most prominent of which are Hunters Glen and Elderberry Trail. Aurora Estates is also home to the private Beacon Hall Golf Club, Aurora Cemetery, and numerous government offices and schools. There's also easy access to a wide variety of shopping options along Yonge Street, including Smart Centres Aurora and Aurora Shopping Centre.
Those looking for luxury homes in Aurora will find the highest concentration in Aurora Estates. Most homes are set on hilly, tree-covered one- to two-acre lots and include four to six bedrooms and a similar number of bathrooms. There's a wide diversity in housing styles in the community's many subdivisions, ranging from neo-classical to French Chateau or English Manor style. Detached homes typically start north of $1 million, though most usually list in the mid-single-digit millions. Rare, ultra-luxury homes can even sell for over $10 million! Newer condos and townhomes are also available, starting at around $1 million.
Aurora Village
Aurora Village Amenities
Walkable, historic downtown
Wide variety of restaurants and shops
Entertainment/cultural options, including Aurora Cultural Centre
Home to Aurora's GO Transit Station
Full of historical heritage, Aurora Village is made up of the downtown area of Aurora, where the community's first settlers built their homes. The long, narrow neighbourhood stretches from near the Newmarket border in the north to Aurora Estates in the south, with its charming downtown centred around Yonge and Wellington streets. This walkable area contains numerous local restaurants, shops, and other local businesses. It's also home to Aurora's public library and the Aurora Cultural Centre, a community arts hub. The neighbourhood is also the location of Aurora's GO Transit station, which provides rail service to Toronto. Still, residents enjoy quiet, tree-lined streets with a suburban feel just blocks away.
Aurora Village offers a diverse mix of housing for many budgets. Most condos in the area typically list in the $500,000-700,000 range depending on size and age and include one to three bedrooms. Detached, single-family homes start at around $1 million but can reach close to $3 million or more. The community is home to many homes, from historic Victorian Gothic Revival and Colonials to more modern houses built in the 1970s and 1980s.
Hills of St. Andrews
Hills of St. Andrews Amenities
Hilly, secluded streets
Access to St. Andrews College campus facilities and green spaces
Shopping and dining at St. Andrews Shopping Centre
Willow Farm/Lakeview trail system within the community
The Hills of St. Andrews (also called St. Andrews on the Hill) is located in the northwestern corner of Aurora, near the borders with Newmarket and King. Situated at the city's edge and surrounded by mainly agricultural areas, the community enjoys a secluded feel, accentuated by winding, hilly streets. The neighbourhood has developed around its namesake St. Andrews College, a well-known private school in Canada. Community residents can even use campus amenities like the indoor pool and rentable event spaces. The area is also home to the Aurora Community Centre, with two ice rinks, an auditorium, and more.
Housing in the Hills of St. Andrews area primarily consists of large, detached homes, usually built with brick and in the Georgian style, along with a small fraction of townhouses and semi-detached houses. Homes usually sell for between $1 million and $2 million, though it's not uncommon to see prices above $3 million. Southern portions of the neighbourhood were built in the mid-1960s, while developments around St. Andrews itself date back to the 1980s or more recently.
Bayview Northeast
Bayview Northeast Amenities
More recently constructed homes
Protected green space of East Aurora Wetland Complex
Extensive shopping options along Bayview Avenue
Home to Stronach Aurora Recreation Complex
Bayview Northeast earned its name from its location in the city's northeast corner and is a favourite among outdoor lovers. The area is home to the Aurora Wildlife Park, filled with beautiful walking trails and diverse landscapes and the rest of the East Aurora Wetland Complex, located near Leslie Street. Most of the community's dining, shopping, and other commercial areas are set along its edges, particularly Bayview Avenue and Wellington Street. This area contains supermarkets, big box stores, restaurants, and more. Commuters will have easy access to Highway 404, which makes up the community's eastern boundary.
Townhomes usually start in the high six figures, ranging up to more than $1 million, and typically contain three bedrooms and three to four bathrooms. Buyers can find detached single-family homes in Bayview Northeast from around $1 million up to more than $2 million. These homes have four bedrooms and up to five bathrooms, fenced yards and large garages to fit as many as six vehicles. Most properties are relatively new, as residential development in the area didn't begin until the mid-1990s.
Bayview Southeast
Bayview Southeast Amenities
Aurora's largest luxury homes
Extensive green space and preserved land
Multiple golf courses
Easy commutes by car and rail
Bayview Southeast is home to some of Aurora's largest luxury homes, some with more than 5,000 square feet of living space. They're primarily in a few luxury developments near Bayview Avenue on the community's western border. Notably, the neighbourhood is home to the corporate headquarters of Magna International, a massive complex that even includes an 18-hole golf course. Much of the Bayview Southeast area is green space, including farmland and preserved conservation areas. However, residents still have easy access to the conveniences of the city with the shopping and restaurants along Bayview Avenue, and in neighbouring Bayview Northeast.
Bayview Southeast is adjacent to Highway 404, and the Bloomington GO Transit station is just over the border, providing quick commutes to Toronto and other areas to the south.
In addition to being among Aurora's largest homes, houses in Bayview Southeast are also some of the city's most expensive. Prices typically start above $1.5 million and easily exceed $5 million. Like the Bayview Northeast neighbourhood, most homes are no older than the mid-1990s, resulting in a relatively modern housing stock. Most include three to five bedrooms and as many as eight bathrooms.
Bayview Wellington
Bayview Wellington Amenities
Centrally located near downtown Aurora
Diverse mix of housing types
Home to Aurora arboretum and Tim Long Trail
Close to shopping/dining corridors along Yonge Street/Bayview Avenue
Another area that was mostly farmland and woods until about three decades ago, Bayview Wellington is now made up of a mix of residential developments, parks and green space, and city buildings like Aurora Town Hall and the Aurora Seniors Centre. It's also a great community to get outdoors. The Tim Long Trail runs through part of the town's longest trail corridor.
Bayview Wellington is also home to the Aurora Community Arboretum. There are also multiple parks, including a skate park at Thompson Park. Residents also have easy access to the Aurora Centre shopping complex, which contains a wide selection of shops and restaurants, as well as a movie theatre.
Housing in Bayview Wellington consists of a mix of low-rise condos, townhomes, and single-family detached homes. Condos in the neighbourhood typically sell for mid-six figures up to over $1 million. Detached homes usually start at more than $1 million and quickly reach the mid-single-digit millions. They tend to be brick homes and include front porches and single-car garages.
Aurora Grove
Aurora Grove Amenities
Adjacent to downtown Aurora shops, dining, and retail
Preserved green space with trails, sports facilities, and other activities
Variety of public, private, and Montessori schools
The quiet Aurora Grove community contains winding, primarily residential streets and is immediately east of downtown Aurora. Most commercial areas are located around the edges of this community, bounded by Industrial Parkway South, Vandorf Sideroad, Bayview Avenue, and Wellington Street. The neighbourhood is centred around the 65-acre Sheppard's Bush Conservation Area, which includes hiking trails, sports fields, historic buildings, and more. Everyday shopping is also easy with SmartCentres Aurora and the Aurora Centre located just outside Aurora Grove's borders.
Light industrial and commercial facilities primarily use southwestern parts of Aurora Grove. Those commuting to Toronto and other areas along GO Transit's Barrie Line can catch a train at the nearby Aurora station, located just across Industrial Parkway.
Housing in Aurora Grove is almost equally distributed between townhouses, semi-detached homes, and detached homes. Properties start around $1 million, with some listing for approximately $1.5 to $2 million or more. Most homes were built between the 1970s and 1990s, primarily with brick and in the neo-colonial style. More recently developed subdivisions can be found in the neighbourhood's southeastern corner, constructed in the 2000s.
Aurora Highlands
Aurora Highlands Amenities
Unique mix of old and new homes
Quieter suburban feel
Significant areas of conservation land and green space
Close to Yonge Street shopping
The large Aurora Highlands neighbourhood is located along Aurora's western border with King and is bounded by Murray Drive and the GO Transit rail tracks on its eastern and southern end. It earned its name from its location on a plateau of land elevated over the rest of Aurora. It is home to nine parks, several trails, and a variety of other green spaces that are part of the conservation land of Oak Ridges Moraine.
The community first developed in the 1930s around the now-closed Aurora Highlands Golf Club, which now has plans for redevelopment into residential space. Residents are just a short drive from the bustling Yonge Street corridor and shopping and dining options despite the quiet feel.
Housing in the area mainly consists of single-family detached homes, with some semi-detached houses and townhomes. Aurora Highlands' housing stock splits between quaint, older homes from the 1960s and 1970s and newer luxury developments. As a result, real estate in the area can find everything from older bungalows to massive new construction homes. Townhomes typically start in the high six figures and reach around $1 million, while detached homes usually start around $1 million and can reach $2 million or more. Most include three to five bedrooms and two to five bathrooms.
Aurora, Ontario - Small Town Life At Its Best
Aurora, Ontario, is one of those small towns that truly has it all. Whether residents like to stroll the historic downtown of Aurora Village, explore the green space of Aurora Grove or Aurora Highlands, or just relax in their luxury homes in Aurora Estates or Bayview Southeast, there's something for everyone. The hardest part may be picking which of Aurora's best neighbourhoods is the one to call home!