Newmarket, Ontario's 5 Best Neighbourhoods
Posted by Frank Polsinello on Monday, August 9, 2021 at 8:10 AM
By Frank Polsinello / August 9, 2021
Comment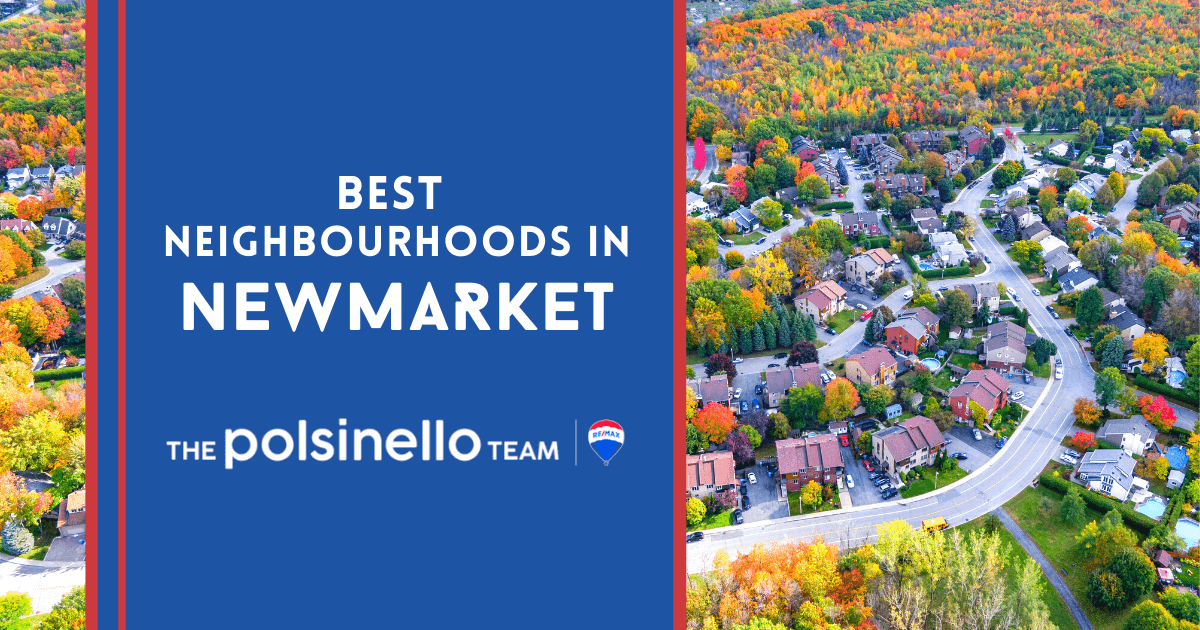 Newmarket is a town of about 85,000 located on the Holland River. It's the seat of the Regional Municipality of York in Ontario and is 54 kilometres from the Toronto community.
Quakers originally settled in the town during the American Revolution and farmed there. Later, the area developed industrially because it was on the mainline of the Northern Railway of Canada, built in the 1850s. The Metropolitan Street Railway was built in 1899 and helped the region develop further. As time passed, the town developed into a primarily residential area.
The construction of Highway 404 and the expansion of Highway 400 turned Newmarket into a suburb of Toronto. Ontario's Places to Grow Growth Plan identifies it as one of the Golden Horseshoe's 25 Urban Growth Centres.
While the Newmarket community has many neighbourhoods, keep reading to discover some of its best.
Bristol-London
Bristol-London Amenities
Within walking distance to amenities on Yonge Street
Lots of green space, including Proctor Park, Marilyn Powell Park, and Denne Bush
Borders the Mabel Davis Conservation Area, which provides access to the Nokiidaa Bike Trail
The Bristol-London community is an established neighbourhood on the north end of Newmarket. Its western boundary is Yonge Street, and its eastern border is conservation/parkland. Downtown Newmarket is on its southern border, and the East Gwillimbury community is on its north.
The Yonge Crest Centre, just east of Yonge Street, includes 18 shops and services and Castle John's, a sports bar. A Freshco market is across from the centre. Bristol-London borders the Woodland Hill community; Woodland Hill Plaza features several chain and local stores. The neighbourhood is also within 10 minutes of downtown Newmarket, including the Upper Canada Mall, the largest indoor mall in Canada. Bristol-London also is within a few minutes of SilverCity Newmarket Cinemas, a multiplex movie theatre about five minutes from a GO train stop.
Housing styles include modest homes with a two-car garage and Tudor Revival styles. Semi-detached homes average in the $500,000s, and detached homes average between $500,000 and $900,000.
Gorham-College Manor
Gorham-College Manor Amenities
College Manor Park and Fairgrounds Park
Gorman Pool, an outdoor heated pool
Five minutes from GO station
York Curling Club
The Gorham-College Manor community is named after Eli Gorham, a mill operator who built the first brick house in Newmarket in the early 1800s. College Manor refers to Pickering College, a private school in the area since 1909. Gorham Street and College Manor Drive are the main streets that bisect the neighbourhood. The west boundary of the neighbourhood is downtown Newmarket; the eastern boundary is Newmarket Industrial Park.
Many of the streets in the neighbourhood end in cul-de-sacs or back up to a ravine. A mix of housing types and styles is available in the neighbourhood, including century homes with Victorian accents, frame and ranch-style bungalows, split-level homes, detached two-story homes, condos, and spacious townhomes. Most have garages, and prices span a wide range.
The College Manor Shops along Mulock Drive include a pharmacy, grocery store, and veterinary office. The Big Catch, an eatery known for its fish and chips, Bento Sushi, and Pizza Pizza are also located along Mulock. The NewRoads Performing Arts Centre presents live performances. The Southlake Regional Health Care facility also is within the neighbourhood.
Stonehaven-Wyndham
Stonehaven-Wyndham Amenities
Magna Community Centre with four arenas, three pools, gym, track, restaurant, and pro shop
Art Ferguson Park and Rene Bray Park
Primarily large homes on oversized lots
The Stonehaven-Wyndham-Copper Hills neighbourhood is a collection of three communities. The Kingdale community of estate homes is also in the northeast part of the neighbourhood. Stonehaven honours a thoroughbred horse farm in the United States, and Wyndham honours a horse trainer. Most of the streets in these communities are named after racehorses.
Stonehaven and Wyndham were developed in the 1990s and 2000s, and Copper Hills in the 2010s. Neighbourhood borders are Highway 404 to the east, Bayview Avenue to the west, Mulock Drive to the north, and St. Johns Sideroad to the south.
Most homes in Stonehaven are large, between 3,000 and 3,500 square feet. Styles vary and include Tudor, Colonial, Georgian, and Victorian Revival. The landscape is hilly. Wyndham is less hilly, and houses are smaller. The homes in Copper Hills are French Provincial-style and are also large. The detached homes often sell for more than $1 million. Townhomes, semi-detached homes, and condos are located in the northwest corner of Tapestry Lane and are less expensive.
Although the neighbourhood is residential, a few stores and restaurants are located here. Ranch Fresh Supermarket is on Stonehaven Avenue, and Cafe Andes and Papillon Pizzeria are on Bayview.
Huron Heights-Leslie Valley
Huron Heights-Leslie Valley Amenities
East Gwillimbury GO station is just north of the neighbourhood
George Richardson Park and access to the Nokiidaa Bike Trail
Hilly topography in the East Holland River watershed
Hollingsworth Civic Arena
The Huron Heights-Leslie Valley community is located in northwest Newmarket and originally was part of the Township of East Gwillimbury. It became part of Newmarket in 1971. Huron Heights Drive and Leslie Valley Drive are the main arteries in the neighbourhood.
Homes are detached and semi-detached. Those around Leslie Valley Drive are typical brick with street-facing front gables and a garage in front. Those near Huron Heights date mostly from the 1960s and 70s and include bungalows and Colonial revival homes.
Huron Heights Plaza, a shopping centre, is located in the neighbourhood. Restaurants include Sho Sushi, Donnelly's, Sunnyside Grill, Happy All Day Breakfast, and Phil's Place.
Summerhill Estates
Summerhill Estates Amenities
Green space and parks, including Whipper Watson Park
John F. Smith trail for walking and biking
Ray Twinney Recreation Complex with two arenas and a pool
Five minutes from a GO station
The Summerhill Estates community is in southwest Newmarket and bordered by Yonge Street on the east and Bathurst Street on the west. It includes Summerhill North, built during the 1990s, and Summerhill South that is still under development. A key landmark is the Mulock Farm built in 1880 by Sir William Mulock, who served as Postmaster General, Chief Justice of the Supreme Court of Ontario, and in Parliament. The farmland was gradually parcelled off until only about 11 acres remained; the Mulock family sold that to the town in 2018, and it is being repurposed as a park.
Houses are a mix of detached, semi-detached, and townhomes. It's a high-density neighbourhood but has open vistas, sidewalks, and green spaces.
Residents shop at the neighbourhood Summerhill Centre, which includes a drug store, dentist, optometrist, jeweller, fitness studio, and restaurants. They can also shop at Upper Canada Mall just north of Davis Drive. Restaurants include the Guacamole Mexican Bistro and Villa Risi, which also feature live music.
Discover Newmarket Today
Newmarket is a lovely town in the East Holland River watershed with access to Toronto via the GO train or car. Recreational opportunities abound through its park and trail system and recreational centres. For those considering moving to Newmarket, there are several distinctive neighbourhoods that have everything from a modest home to luxury property and a detached home to a townhome.