8 Best Neighbourhoods in Toronto: Where to Live
Posted by Frank Polsinello on Thursday, March 17, 2022 at 8:15 AM
By Frank Polsinello / March 17, 2022
Comment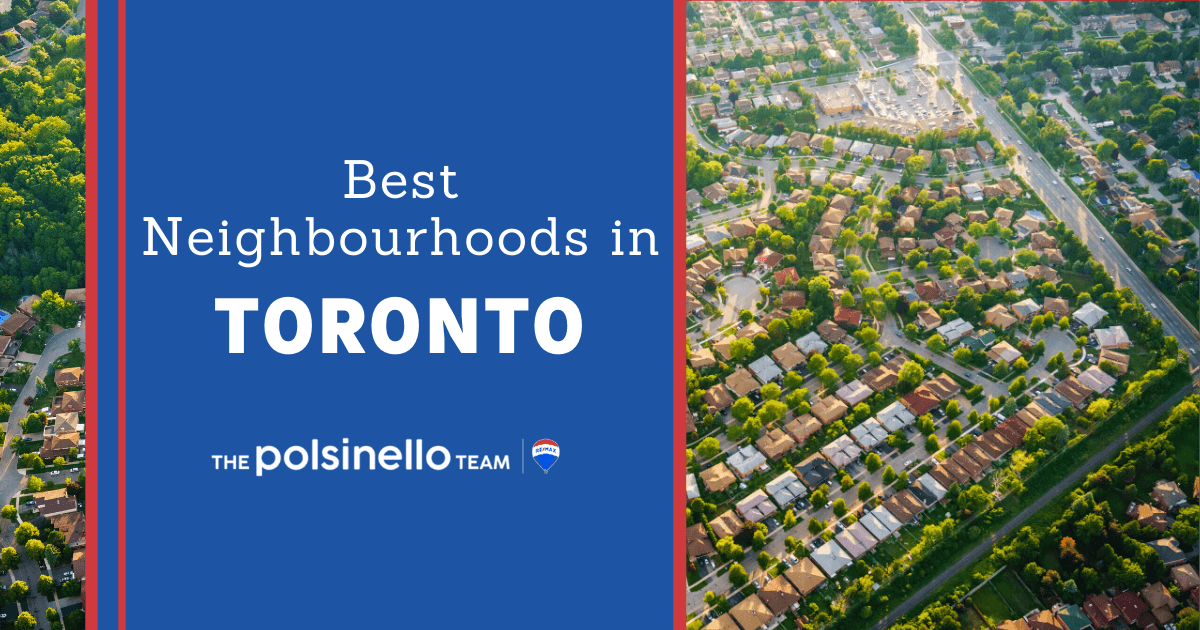 With almost 3 million people, the Toronto community is the most populous city in Canada. It is an international business centre and an economically vibrant area. In fact, Forbes Magazine named it one of the world's top 10 economically powerful cities. The city is also rich in culture and has six opera companies and two symphony orchestras. It also has major sports venues and several amusement parks.
The city has more than 140 distinctive official neighbourhoods. Many are excellent places to live with rich histories and a vibrant future. They also offer a variety of housing styles, whether you want a historic Victorian or Georgian or a more modern condo. It offers waterfront neighbourhoods around Lake Ontario and more inland treasures. The accessibility of public transportation throughout the metropolitan area makes owning a car a choice in most neighbourhoods. Ready to move to Toronto, but not sure exactly where? Read on to learn about Toronto's best neighbourhoods.
Table of Contents
The Annex
The Annex Amenities
Well-served by public transportation, with subway stations at DuPont, Spadina, and Bathurst on the Bloor.
Excellent walkability
Vibrant nightlife and shopping
Interesting architecture
Two community centers that provide programming
The Annex borders the University of Toronto. Traditionally, its boundaries are north to Dupont Street, south to Bloor Street, west to Bathurst Street, and east to Avenue Road. The city also includes adjacent Yorkville and Seaton Village. The Annex real estate prices typically range from $575,000 up to $4+ million. Most of the properties are condos, but there are also numerous luxury homes.
The area was originally settled in the late 18th century. Today, the neighbourhood is primarily lined with Victorian and Edwardian mansions built in the late 19th century. These homes are viewed as uniquely Torontonian and called the Annex-style House. Toronto architect E. J. Lennox created this style when he designed a home at 37 Madison Avenue that was completed in 1887. His design was widely imitated. Because of Lennox and other architects, the architectural detail in The Annex is among the finest in the city.
The Annex offers plenty in the way of amenities. For shopping, residents can stop by Yorkville Village to enjoy high-end boutiques and restaurants. Other popular restaurants in the neighbourhood include Trattoria Fieramosca and Blu Ristorante, both serving Italian food. For something lighter, residents can stop by cafes like Slanted Door (which also serves as an art gallery!) and First and Last Coffee. Nightlife destinations include rock concert hall Lee's Palace and Bloor Street Bar and Grill.
The Beaches
The Beaches Amenities
Woodbine Beach Park features picnic spots, hiking trails, volleyball courts, and more
Parks, including dog parks and a skateboard park
Interesting architecture
Bus and streetcar routes that connect to the subway and proximity to several major highways
Heritage buildings
The Beaches gets its name from the four Lake Ontario beaches within its borders. It is part of the east-central district of Toronto. Its borders are from Victoria Park Avenue on the east to Kingston Road on the north, along Dundas Street to Coxwell Avenue on the west, south to Lake Ontario.
The neighbourhood is known for various architectural house styles, including beach cottages built during the 19th and early 20th century and modernized, and modern townhomes and condos. The Beaches real estate typically ranges from $900,000 up to $4+ million, but properties can fall outside the range on either end.
An extensive park system extends in this neighbourhood, which also features a sandy beach and bike path. It is known for being animal friendly and serves as a home to wildlife. The neighbourhood is also walkable and bike-friendly.
For nightlife, residents can stop by places like Grover Pub and The Gull and Firkin. Shopping is easy with Beach Mall in the heart of the neighbourhood, and there are plenty of nearby restaurants to grab a bite at afterwards. The Porch Light is a bistro featuring something for every time of the day, while Breakwall Barbecue and Smokehouse offers slow-smoked meats in a rustic interior. Cafés like Juice and Java Café give residents a place to visit for something quick.
Roncesvalles
Roncesvalles Amenities
Accessibility of recreational and sporting opportunities, including parks, the lake, and Keele Community Center
Streetcars and buses that connect with the city's subway system
Interesting architecture
Charming shopping district
Roncevalles is centered around Roncesvalles Avenue and is located east of High Park and north of Lake Ontario. Its informal boundaries are High Park to the west, Bloor Street West to the north, Lake Ontario/Queen Street West to the south and Lansdowne Avenue/rail corridor to the east. Walter O'Hara, a British soldier, founded it in 1850. O'Hara had been wounded by the French in Roncesvalles Gorge in Spain, and its name is derived from this incident.
The village has a European ambiance and a variety of outdoor recreational opportunities because of its border with the lake. In 2012, it became the only neighbourhood in Toronto to be named one of eight finalists in the "Canadian Institute of Planners (CIP) Great Places in Canada" contest. Roncevalles real estate prices generally range between $650,000 and $2.5 million. The neighbourhood features early 19th century homes and mature trees. Although the neighbourhood has some detached homes, most houses are attached or semi-detached.
The neighbourhood is easily walkable, meaning convenient access to its amenities. Cafés include Extra Butter Coffee and AM Coffee Studio, and residents looking for a fuller meal can drop by Aris Place Restaurant for some Greek food or La Cubana for Cuban. After a day of shopping at stores like Likely General and Muttonhead, residents can catch a movie at Revue Cinema or watch sports at The Dizzy.
Cabbagetown
Cabbagetown Amenities
Cabbagetown Fall Festival
Riverdale Park and Farm
Victorian architecture
About 10 minutes from the financial district
Accessibility to public transportation through streetcars and buses that connect to the subway
Cabbagetown Community Arts Centre and Cabbagetown Youth Centre
Cabbagetown is in central Toronto and features the largest continuous area of preserved Victorian housing in North America. It began when Irish immigrants fled there and were initially so poor that they could only raise cabbage.
It is an L-shaped area. Its western border is Sherbourne Street, and the neighbourhood extends southward on its western end to Shuter Street, but at Parliament Street, the southern border becomes Gerrard Street. The northern border is Wellesley Sreet, and the eastern border is Riverdale Park. Cabbagetown real estate prices typically range between $500,000 and $3+ million.
The neighbourhood has excellent walkability and is known for its community spirit. Nightlife destinations like Stout Irish Pub and Bar 244 make it easy for residents to spend some time together. They'll also see each other at the Toronto Eaton Centre shopping mall, which features over 200 stores. For food and drink, there are cafés like Jet Fuel Coffee and restaurants like the Italian F'Amelia and the global Red Cranberries Restaurant.
Lawrence Park
Lawrence Park Amenities
Outdoor recreation, especially at Lawrence Park, which features tennis courts, footpaths, lawn bowling, strolling gardens, and footpaths
Excellent access to public transportation, including the Lawrence subway station
The Granite Club, which is a national institution
An interesting mix of traditional and contemporary homes
Lawrence Park was one of the city's first planned garden suburbs. It was begun in the early 20th century but blossomed after World War II. Its borders are Yonge Street to the west, Bayview Avenue to the east, Blythwood Ravine on the south, and Lawrence Avenue on the north. It also borders York University Glendon Campus in the east. The neighbourhood is split into two sections: Lawrence Park North and Lawrence Park South.
Homes are a variety of architectural styles, most built between 1910 and the 1940s. Lawrence Park North real estate prices generally range between $800,000 and $4+ million, while Lawrence Park South real estate prices typically range from $1.5 to $5+ million. Lawrence Park South is known as one of the most expensive Toronto neighbourhoods, as most of its properties are luxury homes.
The neighbourhood is walking and bicycle-friendly and many outdoor activities center around Lawrence Park. Indoor activities are also plentiful, such as enjoying cafés like Isle of Coffee or restaurants like The Monkey Bar, which features French, Asian, Italian, and Canadian food. Other amenities in the neighbourhood include shopping destinations like Lawrence Plaza and nightlife spots like Good Fortune Bar.
Runnymede-Bloor West Village
Runnymede-Bloor West Village Amenities
Accessible to public transportation with two rail stops
Outdoor recreation opportunities include three parks, including a dog park, sports fields and tennis courts
Various festivals, including the July Festival, the Ukrainian Festival, and the Halloween Festival
Bike lanes in the neighbourhood
Runnymede-Bloor West Village's boundaries include Dundas Street West to the north, Runnymede Road to the east, Jane Street to the west, and Annette Street to the south. The neighbourhood of tree-lined streets was settled as early as 1817, and the city annexed it in 1909.
Traditionally, the neighbourhood has been characterized by two-story brick homes, but renovations and modern homes are becoming more common. Runnymede-Bloor West Village homes for sale generally range in price from $700,000 to $2 million.
Bloor-West includes a major shopping district and is the neighbourhood's primary public space. Stores in this area include the Lemon & Lavender gift shop, and the Dundas-Runnymede Shopping Plaza is in the north part of the neighbourhood. Residents also have access to nightlife destinations like The Piston and cafés and restaurants such as the CoCo Espresso Bar and GATTO Wood Oven Pizza.
Riverdale
Riverdale Amenities
Accessible to several expressways
Accessible to public transit with streetcars, buses, and five subway stations
Several shopping destinations, including Danforth Avenue, Chinatown, and Queen Broadview Village
Several parks, including Riverdale Park East, Withrow Park and Jimmie Simpson Park, all of which include tennis courts, a wading pool, and a hockey rink. Riverdale also has a pool and running track.
Two indoor recreation centres
Riverdale is a large neighbourhood in Toronto, split into North Riverdale and South Riverdale. The Riverdale neighbourhood is bounded by the Don River Valley on the east; Danforth Avenue and Greektown to the north; Jones Avenue, the CN/GO tracks, and Leslieville to the east; and Lake Shore Boulevard on the south. Riverdale was a small community until the railway brought economic opportunities in 1850. The city annexed it in 1884.
The neighbourhood is known for its three-story Victorian homes and quaint shopping districts, although now many housing styles are in the area. South Riverdale real estate prices typically range from $550,000 to $2+ million, while North Riverdale real estate prices generally range between $1–1.5 million.
It is a very walkable neighbourhood with lots of green space. Apart from the outdoors, residents can also enjoy cafés like Juliana Social and restaurants like the Mi Mi Vietnamese Restaurant and the French restaurant Batifole. There are also shopping stops like Gerrard Square and nightlife destinations such as the Chez Nous Wine Bar.
Rosedale-Moore Park
Rosedale-Moore Park Amenities
Accessible to public transit with buses that connect to subway lines
A network of ravines with trails for hiking
Several parks, including Rosedale and Ramsden Park, feature various recreational amenities.
Mooredale House community centre
Rosedale-Moore Park is located north of downtown Toronto and is one of its oldest suburbs. It was formerly the estate of William Botsford Jarvis and named by his wife for the wild roses that grew there. Toronto Life has ranked it one of the best neighbourhoods to live in. Its boundaries are the CPR railway tracks to the north, Yonge Street to the west, Aylmer Avenue and Rosedale Valley Road to the south, and Bayview Avenue to the east. Both North Rosedale and South Rosedale have heritage designations.
Many of the area's Georgian, Tudor, and Edwardian homes are listed on the Toronto Historical Board's Inventory of Heritage Properties. The neighbourhood has a variety of housing, including condos and co-ops. Rosedale-Moore Park real estate prices typically range between $650,000 and $5+ million.
The neighbourhood is bike and walk-friendly and has a lot of greenspace. After a walk, residents can enjoy food and drinks at cafés like Piedmont Coffee Bar and restaurants like Carens Rosedale, which serves French food, and Mineral, which serves Filipino-inspired dishes. For shopping, there's the Summerhill Market, and nightlife stops like The Quail are a great way to end the day.
Find a Home in a Great Toronto Neighbourhood
No matter what residents are looking for—exciting amenities, interesting architecture, or outdoor recreation—Toronto's best neighbourhoods have it all, promising a pleasant lifestyle. These communities provide choices for those who crave being near the bustle of downtown in resort-style communities or a more suburban feel.
If you're looking for your next home in Toronto, contact The Polsinello Team at RE/MAX Hallmark Polsinello Group Realty at (289) 803-3389 to get in touch with Toronto real estate agents who can help you find a Toronto home that's the perfect fit.