Toronto Suburb Guide: The Best 8 Cities Near Toronto
Posted by Frank Polsinello on Monday, February 28, 2022 at 2:45 PM
By Frank Polsinello / February 28, 2022
Comment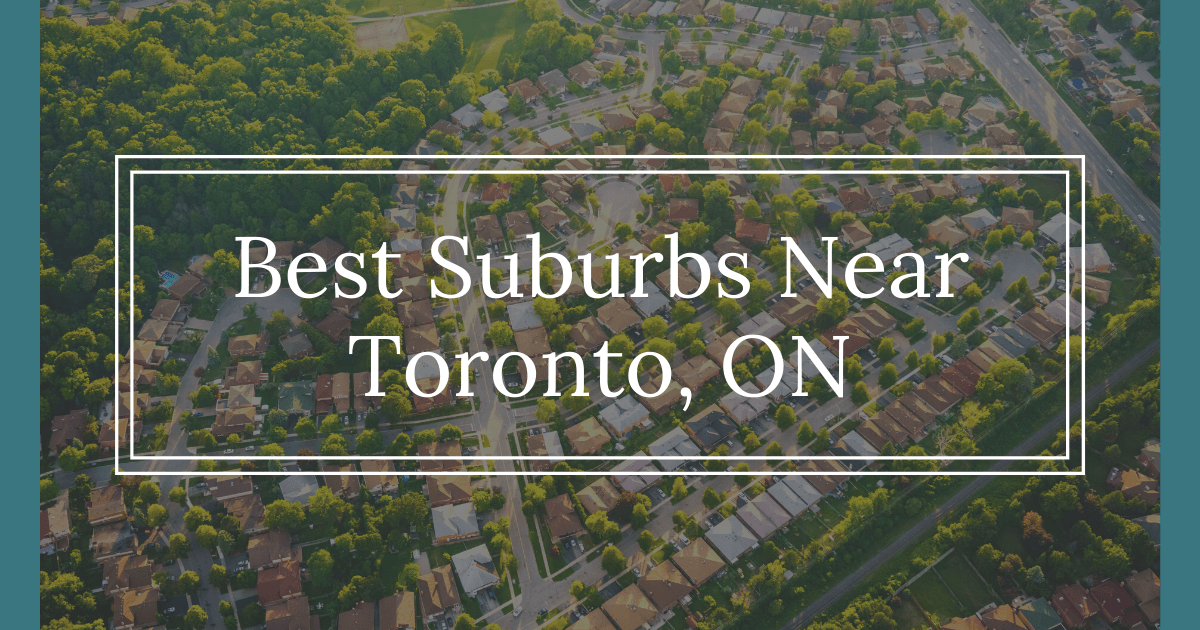 The capital of the Canadian province of Ontario, Toronto, is the most populated city in Canada and the fourth most populated city in North America. A part of the Greater Toronto Area, the city of Toronto is an international center of business, culture, and the arts.
Located in Eastern Canada, on the northwest shore of Lake Ontario, Toronto is made up of various communities, neighbourhoods, and suburbs. Many Toronto suburbs offer affordable housing and access to a variety of amenities and hotspots. If you're interested in a move to Toronto but think you'd prefer somewhere a bit outside city limits, read on to learn about the nine best Toronto suburbs.
Table of Contents
Aurora
Aurora Amenities
Locale Restaurant
State & Main
The Beer Store
Aurora Trail System
Aurora is home to over 100 major industries and the head offices of many companies, making the city a business hub and leading to an abundance of employment opportunities, part of why many people move to Aurora.
Aurora homes for sale typically range between $800,000 and $5+ million. Homes in the community vary in size from small, two-bedroom, one-bathroom condos to larger, custom-built six-bedroom, six-bath houses.
Area restaurants include Tina's Grill, a small bar and grill serving pub food and drink; Levetto Pizza & Pasta Bar, offering pasta, pizza, and other Italian cuisine; and Fishbone Kitchen & Bar, with a menu filled with Mediterranean favourites.
Bars and breweries in the Aurora area include Filly & Co., a neighbourhood pub with a menu that features steak, fish, tacos, and other items; the Yonge Street Winery, serving a selection of wines to patrons; and the Lava Bar & Lounge, a Western and Persian-based hookah bar.
Popular parks in the Aurora community include Aurora Town Park, which hosts a variety of festivals and celebrations throughout the year; Shepherd's Bush, a nature and conservation center to the east of Aurora; and Elizabeth Hader Park, featuring a softball field, playground, and plenty of open space.
Newmarket
Newmarket Amenities
Upper Canada Mall
Taka Sushi
Market Brewing Company
Montana's BBQ & Bar
The regional seat of the Regional Municipality of York, Newmarket is known for its affordable homes that give residents easy access to many major roadways. Newmarket has two reservoirs, Fairy Lake and Bogart Pond, which offer outdoor recreation for area residents.
Those moving to Newmarket will find that Newmarket homes for sale generally cost between $600,000 and $2.5 million. Homes typically range from two bedrooms and two baths to four bedrooms and five baths. Home types range from small condos to large custom-built homes.
Some of the more popular shopping locations in the Newmarket community include Newmarket Plaza, featuring over 50 retail, dining, and entertainment areas; Hatley Boutique, selling women's, children's, and baby clothing; and Topshop, offering British fashion for both men and women.
Favourite restaurants in Newmarket include Union Chicken, serving cocktails and a variety of chicken dishes, among other items; The Buttery Restaurant, offering prime rib in a friendly atmosphere; and Jimmy the Greek, delivering delicious Greek food daily to the populace of Newmarket.
Bars in Newmarket include The Sociable Pub, featuring food, drinks, and live music; Old Flame Brewing Co., offering craft beer to its clientele, as well as tours, music, and other special events; and The Crow's Nest Pub, located near the heart of downtown Newmarket.
Keswick
Keswick Amenities
Wild Bill's Bistro
Boston Pizza
The Queensway Marketplace
The community of Keswick is a part of the larger town of Georgina. Located on the banks of Cook's Bay in the northern part of the Regional Municipality of York, Keswick is known for its ample shopping and attractions along the lakeshore. The neighbourhood serves as a bedroom community for nearby Newmarket and Toronto.
Keswick real estate typically sells for anywhere from $500,000 to $3 million. Home sizes are between two to five bedrooms and come in various styles, including ranch-style, split-level, and Colonial Revival homes, as well as several townhomes along the waterfront.
Those who move to Keswick find a variety of shopping locations to choose from, including Mark's, a clothing store that sells men's, women's, and children's apparel; the Whipple Tree Country Store, a gift shop specializing in unique gifts and home décor; and Liz's Designs, a local craft store that also sells crocheted items.
Area restaurants include Sunset Grill, selling breakfast and lunch daily; King's Tavern, a full-service restaurant and bar that provides the ultimate dining and drinking experience; and The Beach Lakefront Bar & Grill, a moderately priced eatery found on the banks of Simcoe Lake.
Stouffville
Stouffville Amenities
Chic Thrills Boutique
The King's Landing Bar & Grill
Earl of Whitchurch Pub
Swiss Chalet
Stouffville is a part of the greater Whitchurch-Stouffville area. Located about 30 miles to the northeast of Toronto, Stouffville is known mainly for its copious amounts of farmland and forest, dotted with small hamlets at many of the crossroads that range in size from just a few houses to hundreds.
Homes for sale in Stouffville typically range from about $500,000 to $5+ million. Homes in Stouffville tend to have between one bedroom and one bath to five bedrooms and eight baths. Neighbourhoods in the area contain small pockets of new homes, primarily within gated communities.
Most shopping is located along Main Street in the southeast part of the greater Whitchurch-Stouffville area, including locations such as Candlelight and Memories, a small candle shop selling a variety of candles, gifts, and other items; Giant Tiger, a department store with a wide selection of things, such as clothing, food, and household supplies; and Redefined Finds, a local used and refurbished furniture store.
Restaurants and eateries in Stouffville include the Fickle Pickle Restaurant, a restaurant and deli popular for its breakfast menu; Agi Kitchen & Wine, serving a variety of Mediterranean-inspired dishes; and St. Louis Bar & Grill, with wings, ribs, and other delicious menu items.
Georgina
Georgina Amenities
Symposium Café Restaurant & Lounge
Twig Gardens & Co.
My Charmed Life
The Top Spot Pub
Sitting along the shores of Lake Simcoe, Georgina is known for its many public parks, beaches, and outdoor areas. The town of Georgina acts as a township and is made up of smaller communities, with the largest being Keswick and the Sutton & Jackson's Point community.
Homes for sale in Georgina generally cost between $250,000 and $4.5 million. House sizes in the Georgina area range between two bedrooms, one bath to six bedrooms and four baths. Potential homebuyers can find a wide selection of house styles in the city, including homes with post-modern, ranch-style, and custom architecture.
Known for its green spaces, Georgina has many parks, including De La Salle Park, which has its own beach and a picnic area; Duclos Point Provincial Nature Reserve, a park with a swampy environment, hiking, and fishing; and the Willow Beach Conservation Area, featuring a picnic area, playground, and a sandy beach.
Restaurants in the city include The Boondocks Eatery, located on the lakeshore, and Mansion House Restaurant & Bar, built in the 1850s. The restaurant is in one of the oldest buildings in the area.
Uxbridge
Uxbridge Amenities
Boston Pizza
Peavey Mart
The Second Wedge Brewing Company
Wooden Sticks Golf Club
Situated in a beautiful valley located on the north slope of the Oak Ridges Moraine, the township of Uxbridge started as a Quaker settlement. Today, Uxbridge is primarily a suburban community with a traditional downtown area.
Homebuyers should expect to pay between around $300,000 and $2+ million for Uxbridge real estate. Homes generally range from one bedroom and two baths to nine bedrooms and seven baths. House styles include luxury bungalows, mid-century, and custom-built homes.
Many of the area restaurants lie along Toronto Street or in the downtown Uxbridge area, including Wixan's Bridge Restaurant, serving comfort food in a pub-like atmosphere; Wimpy's Diner, offering a variety of traditional American classics; and One Eyed Jack Pun & Grill, a local gathering place that has a variety of appetizers and other food favourites.
Area retailers are also spread along Toronto Street and in the downtown Uxbridge, including Woods Clothing, selling women's and men's attire; The Lemonade Stand, a vintage boutique offering home goods, paints, and other accessories; and Mark's, which sells industrial and casual clothing, footwear, and other items.
Innisfil
Innisfil Amenities
Sunset Grill
Vintage Rustic Decor
Yummy House
Redline Brewhouse
The town of Innisfil is located on the western shore of Lake Simcoe, across the water from Georgina. A little over 46 miles to the north of Toronto, Innisfil is a mix of full-time residential and vacation homes. The town also has plenty of recreational parks and wildlife areas for residents to enjoy.
Innisfil homes for sale typically range from about $300,000 to around $5+ million. Potential homebuyers can find a selection of different-sized houses, starting at one bedroom and one bath up to five bedrooms and four baths.
Area parks and outdoor recreation areas include Innisfil Beach Park, offering boating, swimming, and fishing, among other activities, and the Trans Canada Trail, which runs along the old CN rail line. The Big Bay Point Golf Club, a private nine-hole golf course with no set tee times for members, is also found in the town near Big Bay Point.
Local eateries include The Cove Café, a restaurant with fresh home cooking; Stone Grille Restaurant and Bar, offering an extensive menu filled with delicious items; and The Fork & Plate, which has over 65 years of experience in the food and hospitality industry.
Bradford
Bradford Amenities
Wimpy's Diner
Vin Bon Bradford
St. Louis Bar & Grill
The Finest Wine Shoppe
Bradford is an urban area that includes the town of Bradford West Gwillimbury. The town overlooks the farming community of The Holland Marsh, which is located along the banks of the Holland River. Both The Holland Marsh and Bradford West Gwillimbury communities lie within the larger Bradford country urban area.
Homes for sale in Bradford usually range from $700,000 to $4+ million for larger three-bedroom, four-bathroom farmhouses with acreage. In addition to homes in the country, Bradford also offers houses in a more suburban setting, including bungalows, basement ranchers, and custom-built homes.
Some area retailers include Light the Lamp Collectibles, a collectible store with items from music, sports, and popular movies; Joe Fresh, a seller of clothing for men, women, and children; and Larry the Liquidator, a local liquidation store that has in-store, online, or curbside shopping options.
Restaurants in Bradford include a variety of locations, such as Bradford Caribbean Cuisine, specializing in Caribbean classics; Brick N Fire Restaurant & Bar, a gastropub-style restaurant with a relaxing atmosphere and drinks; and Hay Caramba! Restaurant, a Mexican restaurant serving a selection of Mexican appetizers, entrees, and desserts.
East Gwillimbury
East Gwillimbury Amenities
Classic Boutique
Freshii
Tatlows Broiler Bar
The Keg Steakhouse & Bar
One of Canada's fastest-growing municipalities, East Gwillimbury is known for its beauty. Only 30 minutes to the north of Toronto, East Gwillimbury is made up of several smaller urban areas and a large percentage of green spaces, including farms, forests, and other recreational areas.
Home prices for East Gwillimbury real estate typically start at around $800,000 and can go up to $8 million. House size ranges from two bedrooms and three baths to seven bedrooms and six baths. Home types in the area consist of split-levels, bungalows, and custom-designed houses.
East Gwillimbury also has a lot of green spaces, especially in the western part of the town. Area parks and open spaces include the Vivian Creek Park, which has a 1.4-mile walking and running trail that travels along a waterway for part of its length; the Holland Landing Conservation Area, next to Anchor Park in Holland Landing; and Ridge View Park, which offers a beautiful view of the surrounding area and a playground.
Shopping options in East Gwillimbury include the Upper Canada Mall, offering a variety of shopping, eating, and entertainment venues; Equestrian Fashion Outfitters, selling the latest equestrian fashions and accessories; and The Hedge Witch, a magic supply store.
Toronto Suburbs Have a Strong Connection to the Area's Natural Beauty
With their close connection to the surrounding countryside, many of the suburbs surrounding Toronto, ON, are treasured by residents for their beautiful views. They also have a link to the nearby city of Toronto, ensuring that the big city lifestyle and all the fun things to do in Toronto are only a short distance away.
Fortunately, anyone wanting to move to the area has a selection of housing types to choose from. Whether it's an urban or more rural feel, Toronto area suburbs have just what many homebuyers are looking for.
If you're looking for your next home in Toronto, contact The Polsinello Team at RE/MAX Hallmark Polsinello Group Realty at (289) 803-3389 to get in touch with Toronto real estate agents who can help you find a Toronto home that's the perfect fit.