How to Get Out of a Contract With a Realtor: 7 Things to Know About a Cancelled Listing
Posted by Brandon Polsinello on Thursday, September 22, 2022 at 10:35 AM
By Brandon Polsinello / September 22, 2022
Comment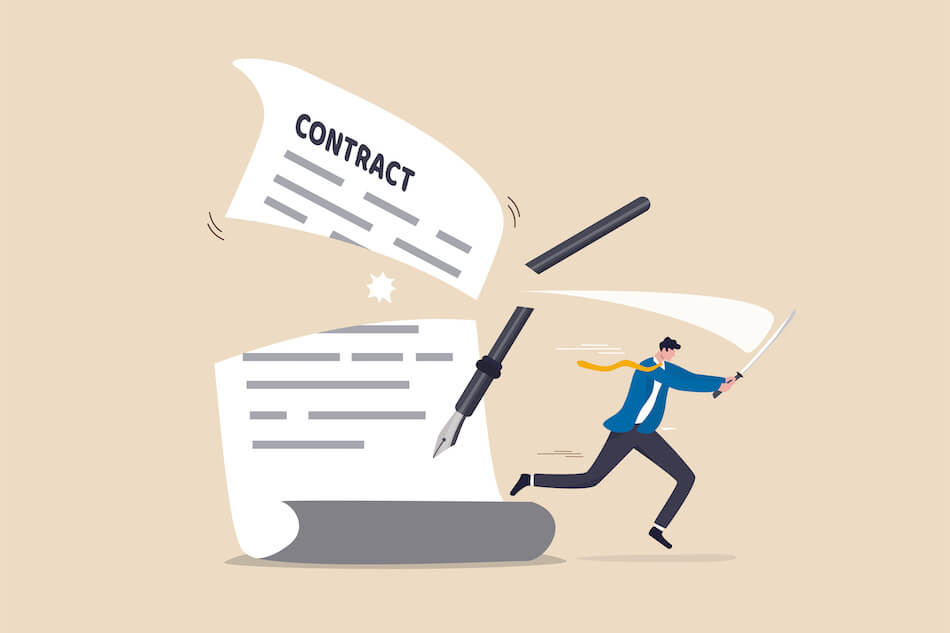 The need to cancel a listing contract for a real estate transaction is not too common, but there are certain situations where home sellers may feel inclined to do so. If you're planning on selling your home, it's worth knowing how to get out of a contract with a realtor and the reasons that give sellers legitimate cause to do so.
The Process: How To Get Out of a Contract
Cancelling a listing contract for a home is typically a straightforward process. This is particularly true if a real estate agent doesn't communicate in a timely fashion, if they haven't brought in many potential home shoppers for tours, or if the listing isn't getting much attention. However, the traditional wording of a standard listing contract in Canada doesn't give sellers the right to cancel at any time.
Most residential property listing agreements are bilateral real estate contracts. This means that both the seller and the agent must perform per the agreement. As a seller, ensure that any terms for cancellation are spelled out clearly in the contract and that an exit or escape clause is written to protect yourself.
It's important to note that an escape clause isn't a "get out of jail free" card, as sellers must follow specific procedures and have a valid reason to exercise the exit clause properly. The first step to cancelling a listing contract is establishing the grounds for cancellation, which could be due to several reasons. Sellers must determine whether their reasoning is valid under the contract's terms.
Reasons to Cancel a Real Estate Listing
Various factors might contribute to a seller's desire to cancel their listing. Let's discuss some of the top reasons a seller might consider cancelling their listing with an agent or broker.
Lack of Communication
Some sellers prefer regular contact with their listing agent, while others might only want periodic updates when home shoppers are interested in the property. If an agent isn't giving the seller the level or type of communication they desire, this could be a good reason to cancel the listing.
Poor Photographs of the Property
Good curb appeal is crucial when selling your home, whether for drive-by home shoppers or pictures in the online listing. Suppose the images posted by the agent don't represent the property in a good light or are poor in quality. In that case, sellers might have a valid reason to cancel the listing or request another agent.
Slow or No Internet Exposure
Internet search engines are essential tools that contribute to getting the word out about your listing to a broader audience. If sellers enter their address into a real estate search site and don't see their listing, it sends a red flag that could indicate an agent's not actively pushing the property. Internet exposure could be lacking if you've made all preparations to show your home but aren't hearing from any potential buyers.
Unethical Behavior
While it's rare, sellers have the right to cancel their listing contract if an agent acts using unethical practices. Examples of unethical practices include making promises to sellers that they cannot keep or flip-flopping on broker fees.
Taking Action Towards Cancelling a Listing Contract
The essential thing to keep in mind if cancelling a listing seems the right move to make is to keep things professional and cordial. Before getting involved in a back-and-forth disagreement with the listing agent, explain why asking for a release is merited. Sellers working with a broker might be able to retain the services of a new listing agent at the same company with little to no hassle.
The best way to ensure your ability to cancel a listing is to include stipulations in the contract before signing it. Shorten the agreement to three or six-month renewal periods to make it easier to move on to a new agent if necessary. The perfect Barrie luxury homes for sale, priced well below market value, could sit on the market with negligent or unethical listing agents at the helm. Should it come down to it, put your cancellation in writing and don't delay putting in the request to get your home moving on the market.
Last Minute Considerations
Should any of the reasons above or other concerns with a listing agent arise, sellers and agents can sometimes work out the kinks. If the agent isn't amenable to resolving the situation or refuses to meet specific requests, it might be necessary to cancel the contract. It's worth noting that an attorney might be needed to proceed with this motion, so follow the appropriate steps with haste to avoid getting to that point whenever possible.