Aurora ON Commuting Guide: Public Transit, Driving, & Parking
Posted by Frank Polsinello on Thursday, August 25, 2022 at 1:21 PM
By Frank Polsinello / August 25, 2022
Comment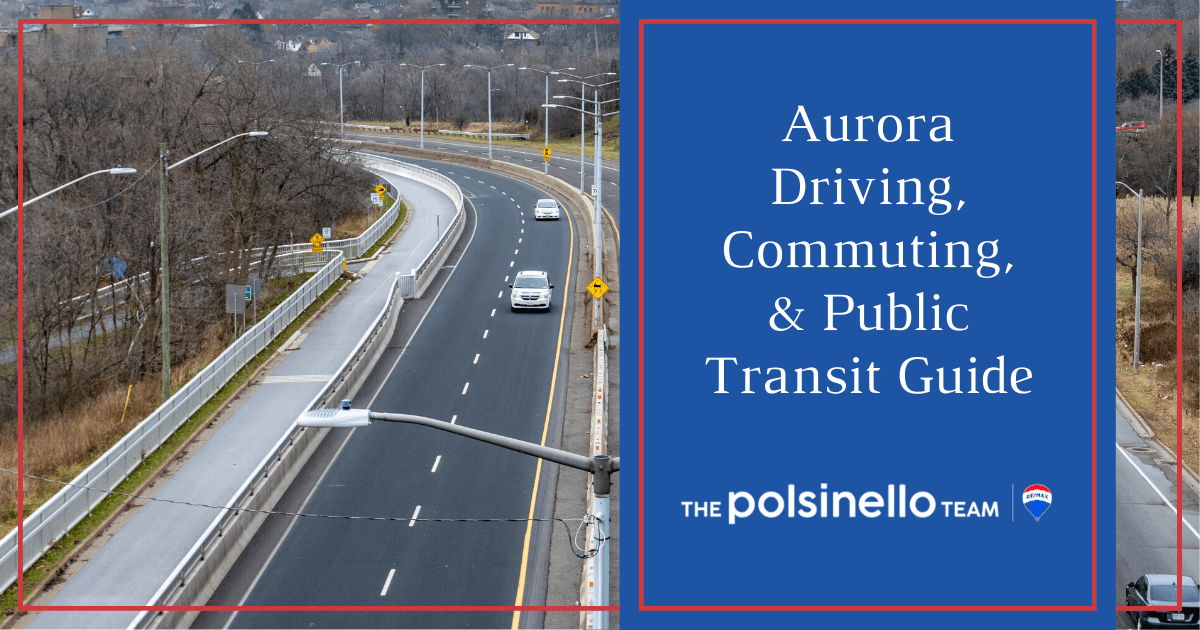 Part of the York region in Ontario, the town of Aurora has a population of just over 62,000 people. As with many communities around the city of Toronto, it's common for Aurora residents to commute outside the city or town where they live. That makes it essential to consider the traffic conditions and what it's like to drive in Aurora before contemplating a relocation. Even those that work in the city will want to understand its layout as part of everyday living.
Get to Know Your Major Roads
As a midsize community, Aurora does not have a complicated road structure. The major streets have a distinct grid network that can make navigation easier. However, some neighbourhoods have twisting routes that can cause problems for those unfamiliar with the roads in town.
The most important thoroughfare in town, Highway 404, is the only direct connection between Aurora and other cities in the area. The 404 goes south past the city of Markham directly into Toronto and north through the town of Newmarket to Cook's Bay. Commuters who work outside Aurora will likely spend some time on the 404.
Inside the city, three routes run from east to west. Henderson Drive, Industrial Parkway, and Vandorf Sideroad combine to lead through the south side of town. Wellington Street makes an east-west belt through the town centre and is also the main route connecting to the 404. St. Johns Sideroad is the northernmost route across town.
Going north to south, Aurora also has three main routes. Yonge Street runs the length of the western side and connects with several well-populated neighbourhoods. Bayview Avenue forms a centre pillar through the middle of the community, and Leslie Street runs down the east side and is parallel to the 404.
What to Expect While Driving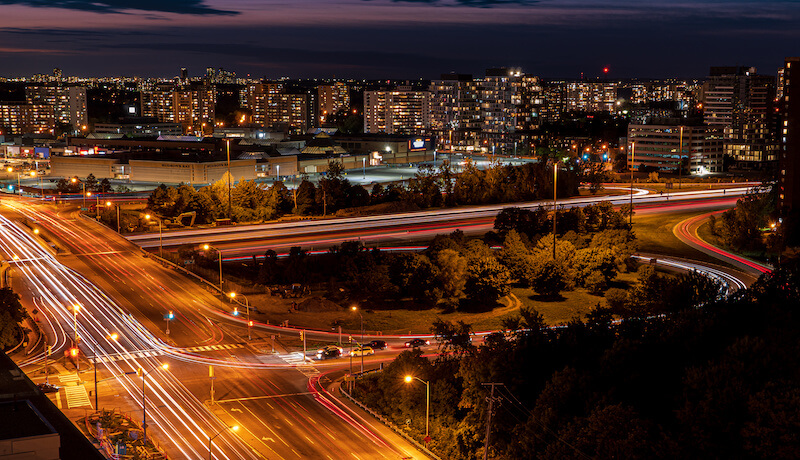 Commuting from Aurora will seem easy for residents who have moved from larger communities. In fact, many people will move precisely to avoid the traffic congestion of large metropolitan cities. Because of its grid format, most workers travelling exclusively inside Aurora will barely notice the traffic. When traffic does arise, it's generally easy to find a quick side street parallel to major streets.
Commuters may experience rush hour delays when entering or exiting Highway 404 around Aurora. However, unless there is an accident, traffic near the city generally flows quickly. Drivers heading directly into the centre of Toronto should prepare to leave early, as there can be backups where the 404 meets Highways 407 and 401. There are usually alternate routes, however, that enable drivers to skirt around heavy traffic.
The other thing to consider with Aurora is driving in the winter. First, with snow and ice possible much of the year, be sure to use winter tires from October through the end of March. It is essential to check local laws, which can restrict the type of tires on the road. Second, it is vital to stock the car up with essential resources. Drivers will need ice scrapers, snow brushes, and emergency supplies such as extra blankets, flashlights, and batteries.
Parking
While street parking is permitted in some areas of Aurora, be sure to comply with posted signage to avoid common parking violations. Accordingly, most employers and businesses will provide private off-street lots or driveways. It is possible to purchase a limited number of temporary on-street parking passes for guests. Parking in downtown Aurora is available in specific lots and on identified streets.
Be especially aware that from November 15–April 15, it is prohibited to park on residential streets overnight. This rule is in place to keep the areas clear for snow plows and other road maintenance.
Public Transportation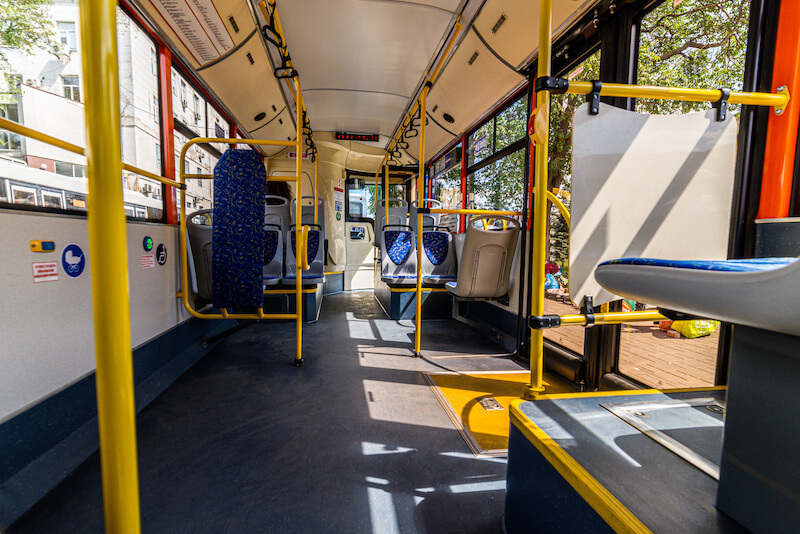 Multiple public transportation options in Aurora are available for residents who do not drive, including GO Transit. Even drivers may want to use rideshares or other services to avoid parking fees in larger cities. Anyone needing to travel longer distances may find it necessary to combine forms of transportation. Regular commuters may also find deals or discounts for trips purchased in larger packages.
York Regional Transit
Aurora residents can use York Regional Transit for their public transportation. The service connects several communities in the area, from the town of East Gwillimbury in the north to Toronto down south. The routes are all situated around Yonge Street. The 32 and 33A buses within Aurora have limited routes through the city. It will likely be necessary for those using public transportation for long-distance commuting to make preparations for reaching the bus routes.
Because some travellers ride for extended distances, many buses start moving as early as 4 a.m. and do not stop until after midnight. Most riders do not have to wait much longer than 15–20 minutes for the next bus, with some cycling every 10 minutes. Many buses also include bike racks for commuters with longer distances to the nearest stop. That can make things more convenient for those living in areas of Aurora further away from Yonge Street.
Adult fares paid by the YRT Pay app are $3.88 per ride or $154 per month
Youth rates (paid by YRT Pay) are $3.03 per ride or $118 per month
Senior and child rates are $2.40 by YRT Pay or $65 per month
All cash rates are $4.25
Viva
York Regional Transit also operates several Viva routes as part of its rapid transit service. Each stop along the various routes has ticket vending machines, and proof of payment is required before boarding. Each stop also has a real-time display screen, so riders know when the next bus will arrive. Further, the route schedules are abbreviated to provide efficient and timely travel along the Yonge Street corridor.
Riders in Aurora will only be able to embark directly along Yonge Street as there are no other routes through the community. However, once reaching Toronto, the buses fan out east and west to provide more coverage of the central city. The same York Regional Transit fees apply to Viva rides.
Rideshare and Taxi
Besides formal public transportation in Aurora, rideshares and taxis provide additional options. While some ride-sharing or taxi options could get expensive for daily travel, they are an option for occasional or irregular trips. Uber and Lyft are the two most popular regional options, and both can provide great on-call conveyance. It will be necessary to download the app first to schedule a ride.
Taking an Uber from Aurora's Town Hall to Toronto's Pearson International Airport would cost about $70.82. The same ride with pets would be $78.21. Travelling a similar distance from Aurora's city centre to the Harbourfront in Toronto would cost about $55 using Lyft, and taking a Luxury option would be about $130.
Within Aurora, a ride from Westview Golf Club to St. Andrews College will cost about $17.15 using UberX or $39.58 with Uber Black. A similar trip using the Lyft service will cost between $15-$18. Take up to 6 passengers on the Lyft XL for $28-$32. As this is one of the longest trips possible within the community, most excursions will not exceed these prices.
Commute Times from Aurora
A final option to consider is the commute times between Aurora and some of the more popular working destinations in the region. While considering the actual time is essential, this is not the only deliberation point. Those who do not like to drive may be more amenable to riding the bus. Similarly, travelling on a highway may be more pleasant than moving through the city streets. Here are some of the average travel times.
Downtown Toronto
Toronto is due south of Aurora at a distance of about 50 km. The fastest and most common route is the ON-404 S, which takes approximately 43 minutes in light traffic. Leaving during rush hour in the morning can take between 1–2 hours. There are multiple bus routes travelling this distance, including the Blue Line.
It is worth noting that Toronto stretches for some distance across the waterfront of Lake Ontario. Locations to the east or west of the central city will likely require taking one of the area's highways. Highway 407 provides east-to-west travel near Markham and Vaughan. Closer to downtown, Highway 401 will take travellers from Mississauga to Oshawa.
Newmarket
Newmarket is 7 km directly north of Aurora. During rush hour traffic, it will take drivers about 10–20 minutes via York Regional Road. Taking a combination of Yonge Street and York Regional Road will take 12–28 minutes in heavy traffic. In light traffic, the same journey is usually about 12 minutes. There are multiple bus routes available.
Vaughan
The city of Vaughan can be found just west of Richmond Hill, southwest of Aurora. The entire 23 km trip takes around 24 minutes during light traffic. Drivers can expect to travel most of the way using York Regional Road, but Wellington Street will also be necessary. The same trip during the morning rush can take as long as 45 minutes. Fortunately, multiple bus lines make the trip.
Georgina
At about 38 km, the town of Georgina is almost directly north of Aurora. Georgina can be found on the banks of Lake Simcoe just past Cook's Bay. During the heaviest traffic, drivers can expect to spend between 28–45 minutes behind the wheel. The same trip can take as little as 30 minutes in the best conditions. Most commuters will take Highway 404 the entire distance, and the Queensway Northbound bus is another option.
Markham
Markham is another community on the outskirts of Toronto. It is to the south and slightly east of Aurora at a distance of about 26 km. Trips under the best conditions can take between 20–26 minutes but expect heavy traffic to add as much as 20 minutes of driving time. For public transportation, take the Blue Line just past Richmond Hill. After that, there are several options depending on the destination.
East Gwillimbury
The city of East Gwillimbury is approximately 13 km north of Aurora just past the Rogers Reservoir Conservation Area. Aurora residents will take either the York Regional Road or Highway 404 the entire distance. York Regional Road is the more direct route, but the highway may be the fastest due to higher speeds. The 404 will take 14–24 minutes, while the surface streets will require closer to 30 minutes. During lighter traffic, the same journey will take 16–18 minutes. Public transportation is provided via route 098/099.
Barrie
At a distance of just over 62 km, the city of Barrie is one of the furthest points that's regularly driven to from Aurora. The area is found northwest of town at the western end of Lake Simcoe. This is a regular destination for summer stays in cabins or at campsites in the north. Accordingly, drivers are more likely to find delays on long weekends or holidays than on everyday commuting.
Trips during light traffic typically take 40–50 minutes, mainly via ON-400 N. Heavier traffic can add up to 10 minutes, but multiple bus routes can provide access.
Whitchurch-Stouffville
The town of Whitchurch-Stouffville is southeast of Aurora, just north of Markham. Commuters can expect a drive of approximately 25 km. Because of the region's grid format, several routes are possible. However, most people take Highway 404 to Regional Road 14. That path takes 30–35 minutes during heavy traffic but 22–26 minutes under the best conditions.
While it is possible to take public transportation on this route, the trip will take at least 90 minutes because there are no direct paths. It will be necessary to take a bus down the Yonge Street corridor and then transfer within the community of Markham.
Arriving in Aurora
As part of the Toronto metropolitan region, Aurora is fast becoming an area favourite, partly because it is directly along the Yonge Street corridor that connects many local communities. In addition to the many robust amenities provided by Aurora, the area's comprehensive public transportation system provides relatively low-cost access to several cities near Toronto. That, combined with convenient and easily-navigable streets, makes moving to Aurora a wonderful choice for anyone seeking the best of the Greater Toronto area.