Unpacking the GTA: A Homebuyer's Guide to Every Region & City in Greater Toronto
Posted by Frank Polsinello on Wednesday, April 26, 2023 at 10:15:33 AM
By Frank Polsinello / April 26, 2023
Comment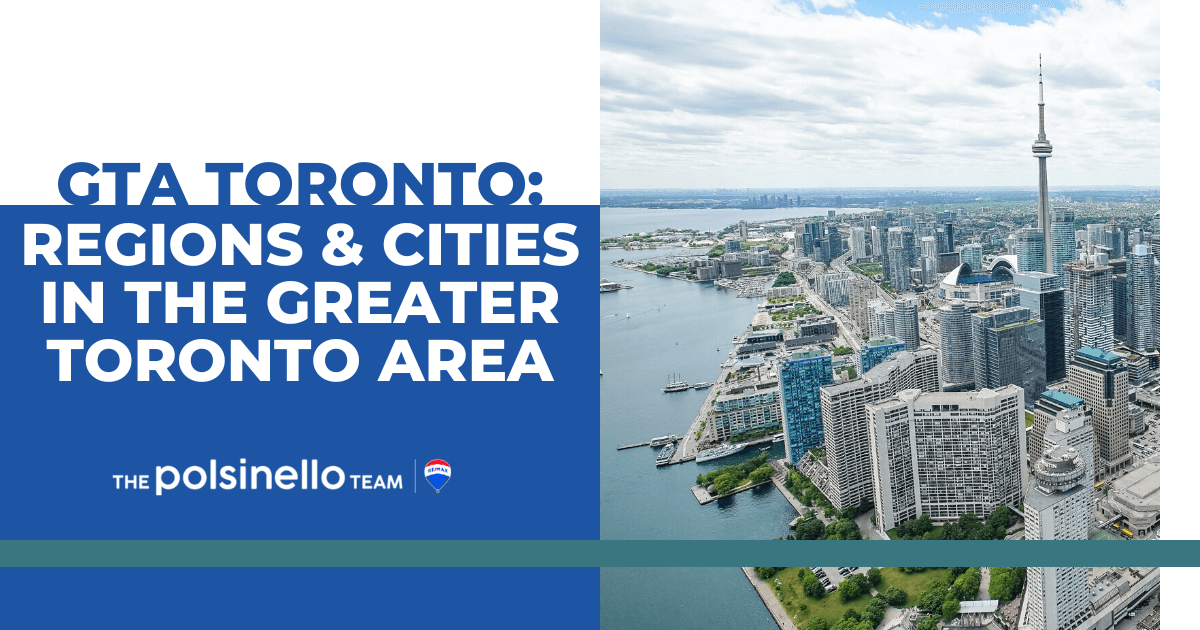 The Greater Toronto Area, also known as the GTA, is one of Canada's most populous and diverse regions. It consists of 25 municipalities, including the city of Toronto, and stretches over 7,125 square kilometres. Each municipality in the GTA has its own unique identity and attractions, ranging from charming small towns to bustling urban centers. From the historic architecture of Brampton to the spectacular luxury homes in Oakville, the GTA offers something for everyone.
Whether you're considering moving to Toronto or have something more rural in mind, it's imperative to explore the different cities and towns that make up the GTA to get a sense of their unique features and attractions.
Toronto
Those looking to live right in the center of it all will find what they're looking for in the centre of the Greater Toronto Area: Toronto itself. Spanning a wide area on the northwestern edge of Lake Ontario, Canada's largest city is home to a remarkably diverse economy, food scene, parks and green spaces, entertainment choices, and much more. Residents and visitors alike can always find fun things to do in Toronto.
Whatever would-be residents can dream of in a world-class city, chances are Toronto has it. Neighbourhoods range from the dense, soaring skyscrapers of downtown to the hip streets of the Danforth neighbourhood and The Annex area near the University of Toronto. Toronto is also a great city to get around without a car, thanks to a popular mass transit system that includes subways, buses, and trams.
Like any big city, housing in Toronto runs the gamut from humble, affordable condos to sprawling luxury mansions. Prices start as low as the $200s for smaller or older Toronto condos, reaching as high as the $15–$20 million range for recently built penthouse-style units. Single-family homes in Toronto can be found in the mid-$600s, though it's not uncommon for the city's largest houses to top $20 million.
Toronto Amenities
Extensive Lake Ontario waterfront
Large, diverse job market
Thriving dining, shopping, and nightlife scene
High Park
University of Toronto
Royal Ontario Museum
Durham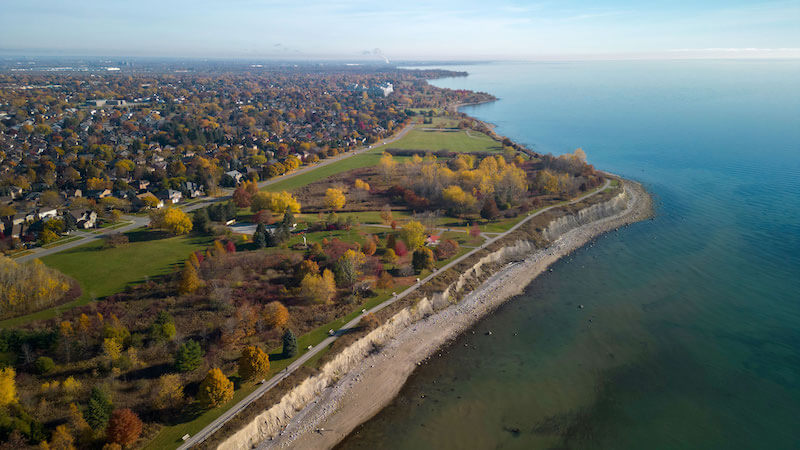 The regional municipality of Durham sits just east of Toronto, comprised of cities and towns like Oshawa, Pickering, Ajax, Whitby, and more. It stretches from Lake Ontario to Lake Simcoe, with more developed areas toward the south. These charming suburban areas are filled with a growing number of shopping options, restaurants, and other everyday amenities, but residents can also enjoy the area's plentiful lakefront green space at spots like Lynde Shores Conservation Area and Darlington Provincial Park.
Meanwhile, travel into Toronto is easy with major roads running through the community, like Highways 401 and 407, along with VIA Rail and GO stations. More northern portions of the municipality between Lake Scugog and Lake Simcoe are mainly rural and agricultural, though still typically less than 100 kilometres from the heart of Toronto.
Would-be homebuyers in the Durham region can choose between single-family homes, townhouses, and condos, with the latter two being most common in more built-up areas. Condos for sale in Oshawa start in the high $200s, while townhouses and single-family properties there can be found from around half a million dollars. Single-family homes in Pickering list from around $800,000, but the region's largest and most luxurious properties can reach $4–$5 million.
Durham Amenities
Convenient to Toronto
Extensive Lake Ontario waterfront
Lake Simcoe and Lake Scugog access
Tribute Communities Centre
The Oshawa Valley Botanical Gardens
Numerous golf courses
Halton
Halton region is among the most conveniently located of the sections of the Greater Toronto Area, tucked between Hamilton to the south and the city of Mississauga to the northeast. This puts the entire Ontario region at owners' fingertips, with numerous significant roads and VIA Rail/Go Transit stations.
Halton's two biggest communities are the lakefront areas of Burlington and Oakville, with the smaller settlements of Halton Hills and Milton further inland. Burlington and Oakville offer extensive shopping opportunities at malls and centres along Queen Elizabeth Way/Highway 403, while Bronte Creek Provincial Park offers a mix of nature and history just minutes from residential areas. Combined with the numerous lakefront parks, it's one of the best parts of the GTA to explore the great outdoors.
Housing in Halton mainly consists of single-family detached homes, though a significant amount of townhouses and condos are also available. Condos in Oakville start around $400,000 but can reach into the low single-digit millions, and Milton condos list from the high $500s. Townhouses generally sell in the $400,000–$2 million range, with luxury properties and new construction units listing for even more. Single-family homes in Burlington list from the high $800s but soar to $10-plus million on the high end.
Halton Amenities
Convenient to Toronto, Hamilton
Extensive Lake Ontario waterfront
Bronte Creek Provincial Park
Lions Valley Park
Mapleview Shopping Centre
Sheridan College Trafalgar Road Campus
VIA Rail/Go Transit station
Peel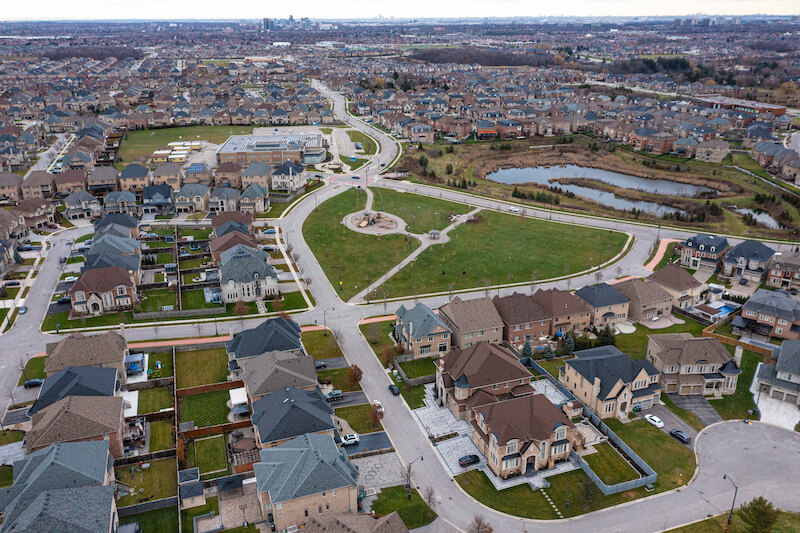 The regional municipality of Peel is located just west of Toronto and is made up of Mississauga, Brampton, and Caledon, in order of distance from Lake Ontario and size. The city of Mississauga is also the largest of these three, including extensive green spaces along the lakefront and the vibrant and bustling Port Credit or Streetsville neighbourhoods, filled with shops, restaurants, and local businesses.
Brampton offers similar advantages, along with popular spots like Gage Park. Caledon is primarily rural, with the mostly residential Caledon Village surrounded by agricultural land, park space, industrial areas, golf courses, and more. All are just minutes from Toronto's best neighbourhoods, making Peel ultraconvenient for commuters or others who head into the city regularly.
Condos, townhomes, and single-family detached houses are all available in the Peel region, with the former two more common in Mississauga and Brampton, and detached homes can be found throughout. Homes in Brampton list from $700,000, while Mississauga's luxury homes regularly top $10 million. Townhouses in Peel sell from half a million to more than $2.5 million, while condos typically range from the mid-$400s to $2 million.
Peel Amenities
Extensive Lake Ontario waterfront
Toronto Pearson International Airport
Square One Shopping Centre
Erindale Park
Forks of the Credit Provincial Park
University of Toronto Mississauga
VIA Rail/Go Transit station
York
The final portion of the Greater Toronto area sits directly north of the city itself. York stretches from Toronto's northern border to Lake Simcoe, covering nine cities and towns—many of which are among the best suburbs of Toronto—like Markham, Richmond Hill, Vaughn, Aurora, and more.
The denser lower areas of York are nearly indistinguishable from outer Toronto, with extensive suburban amenities like shopping centres, a mix of restaurants, and numerous golf courses. Residents can enjoy the numerous parks, beaches, and quaint communities along the Lake Simcoe shoreline, like Sibbald Point Provincial Park, and the best beaches near Keswick provide great opportunities for outdoor recreation on the water. In between, vast swathes of agricultural and rural areas provide would-be owners plenty of space and privacy.
While the vast majority of housing in the York region is single-family detached properties, plenty of condos and townhomes can also be found for buyers interested in these alternatives. Typical condos and multifamily units start in the low to mid-$400s, though condos in Richmond Hill are rarely sold for under $550,000. Both generally top out at around $2 million. Detached homes typically start around half a million dollars but can reach well into the $10–20 million.
York Amenities
Lake Simcoe waterfront
Vaughn Mills Mall
Upper Canada Mall
GO Transit stations
Highway 400, 404, and 407 access
Find Your Way to the GTA
The Greater Toronto Area is a vibrant and diverse region that offers a wide range of experiences for visitors and residents alike. The job opportunities in Toronto cover every role and sector imaginable, and there's always something to do—no matter the season or time of day. Each of the 25 municipalities that make up the GTA has its own unique history, culture, and attractions, from the bustling city streets of Toronto to the quaint charm of Aurora.
The GTA has something to offer, whether you're looking for shopping, entertainment, or natural beauty. Exploring the various cities and towns within the GTA is a great way to experience the rich tapestry of cultures and experiences that make this region so special.
If you're looking for your next home in Toronto, contact The Polsinello Team at RE/MAX Hallmark Polsinello Group Realty at (289) 803-3389 to get in touch with Toronto real estate agents who can help you find a Toronto home that's the perfect fit.