5 Ways to Make Your Small Condo Feel Larger
Posted by Frank Polsinello on Monday, August 29, 2022 at 9:00 AM
By Frank Polsinello / August 29, 2022
Comment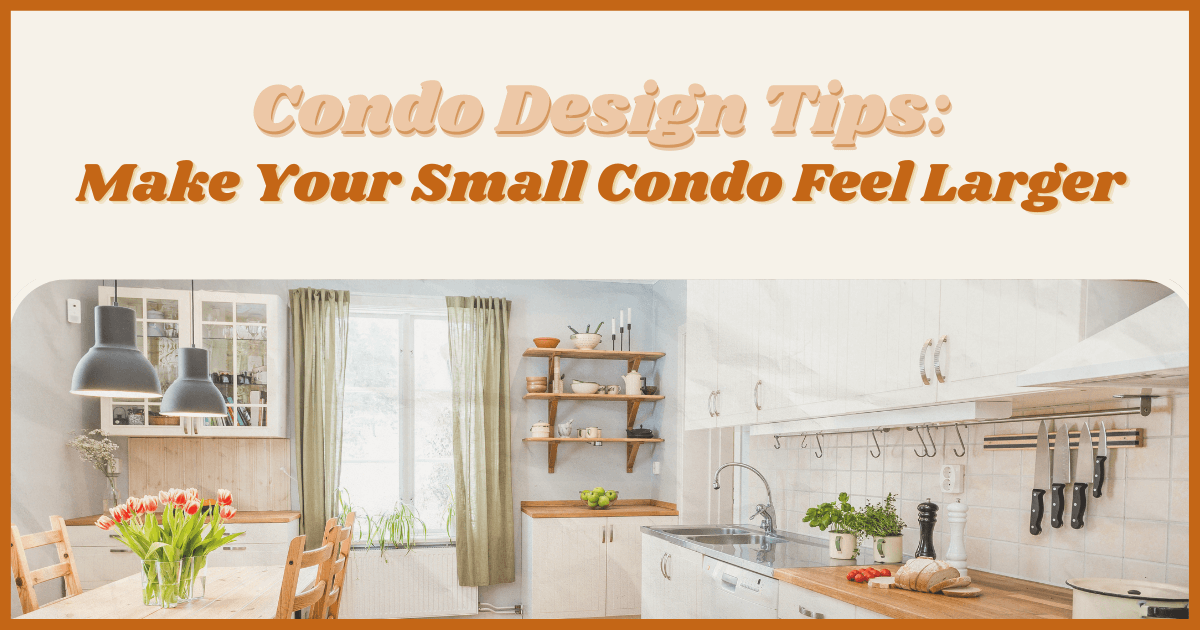 Buying a condo comes with some pretty exciting advantages. It allows the buyer to build equity as a property owner and, generally, the maintenance responsibilities of condo owners aren't very intensive. And since everyone who invests in condos for sale enjoys exclusive unit ownership, they're often free to design their interiors however they please. The best part? There are virtually infinite ways to design a condo to feel roomy, cozy, and, most importantly, like your own home. Keep reading to learn about four efficient design tips that can maximize the space in any condo.
Look for Creative Storage Solutions
People who invest in condos don't need to declutter to minimalism. Various creative storage solutions will allow people to keep prized items without sacrificing functional space. Multifunctional furniture, for instance, serves multiple purposes, consequently reducing clutter. To create room for the extra but necessary stuff owners have, consider ditching a standard old coffee table for a convertible one with storage. Replace side tables with one that can transform into a desk during work time and into a dining table when it's dinner time.
For living areas with limited space, consider replacing the coffee table with an ottoman to serve the role and offer extra seating. Or swap it for a vintage trunk that can serve as a coffee table and storage solution. If you need a quality work desk, consider a bookcase with a fold-down desk.
Get a kitchen island with storage for the extra plates and cutlery in the kitchen. Instead of a regular bed, consider one with headboard storage to create space for books, magazines, shoes and generally everything a condo owner might want to keep out of sight while in the bedroom. Besides multipurpose furniture, consider maximizing hidden storage options as well.
For instance, get a full-body mirror with a cabinet behind it to create space for accessories in the bathroom while using the mirror. These storage solutions save space by keeping items safely tucked away, maximizing available space, and even better, keeping costs down since a single piece of furniture can be transformed into several different pieces.
Think Taller Rather Than Wider
Most people design their homes horizontally. This design creates solidity and instils a room's stable, peaceful, and harmonious effect. It also creates smooth transitions between different areas or rooms. However, horizontal lines are naturally weighty, and because they make a room appear more expansive, they can make a condo feel small. Condo owners need to think taller instead of wider when designing a condo to make it feel larger.
Thinking taller minimizes floor space usage while maximizing the vast vertical space available in every room. Designing a room vertically also creates depth and, conversely, an illusion of space even in a cramped room. So, try to incorporate elements that maximize vertical space, such as a tall, narrow bookshelf instead of a wider one.
Hang curtains from the ceiling and design kitchen cabinets high up to make ceilings appear taller and create visual space. Paint or install wallpaper with a vertical stripe pattern in rooms where no adjustments are possible. It draws the eyes upwards, making the space feel larger. In a nutshell, try to focus on vertical rather than horizontal lines when designing a small condo.
Consider Redecorating the Walls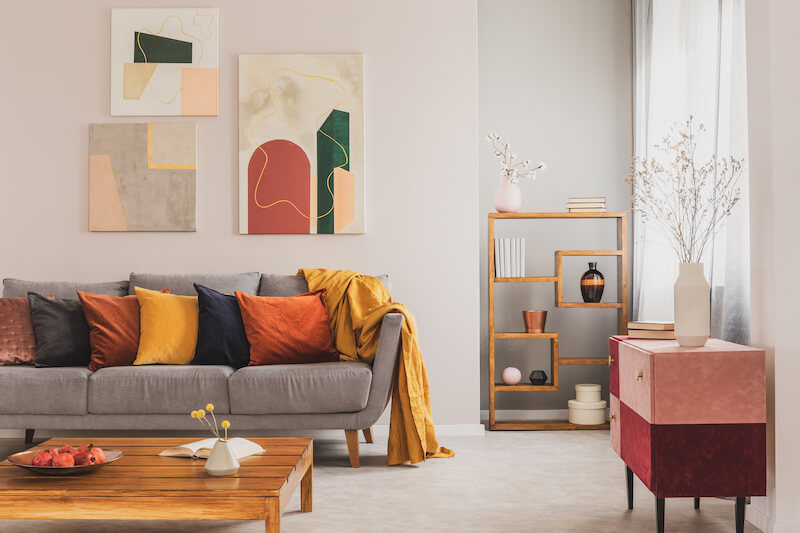 The easiest way to give a condo an instant uplift while simultaneously creating space is by breathing life into its stark, bare walls. The best part? There are almost infinite ways to go about it. A fresh paint job using bright and light colours like white, cream and gray will instantaneously give it a facelift while creating visual space. Choosing the right paint colour can make even a cramped room feel airy, bright, and spacious. Plus, they don't need to be used on the entire room, as condo owners can settle for an accent wall.
A large-scale painting or photograph can also go a long way in making walls aesthetically pleasing. Even better, it'll make the space feel naturally large without taking up the available floor space. An oversized art piece or turning one of the walls into a gallery with unique frames and decor pieces are great alternatives. A rug hung as a tapestry can also do the trick if trying to keep things simple.
Hang mirrors throughout the condo as well. Mirrors often reflect light and the room, making it feel brighter and more spacious. Consider one large mirror in central areas, like the living room, and an assortment of salon-style mirrors throughout the space.
Go for Furnishings that Don't Clutter the Space
Most people often assume that a small room needs equally tiny pieces of furniture to create space. Contrary to common belief, doing so only makes it appear cramped. So, instead of small-sized furniture, opt for large or oversized pieces that fit comfortably in a room.
They automatically draw attention away from the limited space in a room; these often visually expand the space by automatically drawing attention to themselves. For instance, fitting an oversized couch in a small condo living area means people will focus on it instead of the limited space in the room.
Besides, when they see it, they see plenty of cozy room to relax, unlike when you have two more petite sofas in its place. The easiest way to pull off this trick in a condo with limited space without compromising functionality is by maximizing the double-duty furniture pieces mentioned. For instance, get an oversized couch with storage. Consider furniture with show legs.
Incorporate Mirrors and Natural Light
When designing a small room, it is important to consider how you can use light and mirrors to create the illusion of space. By incorporating a few strategically placed mirrors, you can reflect natural light and make the room appear brighter and more open. In addition, placing a mirror opposite a window will help to reflect the outdoors and give the illusion of a larger space.
One easy way to incorporate natural light into a room is to choose a colour palette that reflects light. Shades of white, beige, and other light colours can help to brighten up a space and make it feel more open. Additionally, try to choose window dressing like light-coloured sheers instead of heavy draperies. Sheers help diffuse light and spread it throughout the room, which can help brighten the space. Using strategies like these can really help make small rooms feel more spacious.
Design Your Condo With Space In Mind
Choosing to buy a condo instead of renting is an exciting decision. Condos are affordable, have fewer maintenance requirements than detached houses, and may come with amenities one would otherwise have to pay for if living in independent housing units. But while great, some condos have pretty limited space. Fortunately, that doesn't take away from the joy of condo ownership, as there are numerous ways to create space, starting with the tips above.