6 Ways You Can Improve Your Health While Living in a Big City
Posted by Frank Polsinello on Thursday, March 10, 2022 at 9:21 AM
By Frank Polsinello / March 10, 2022
Comment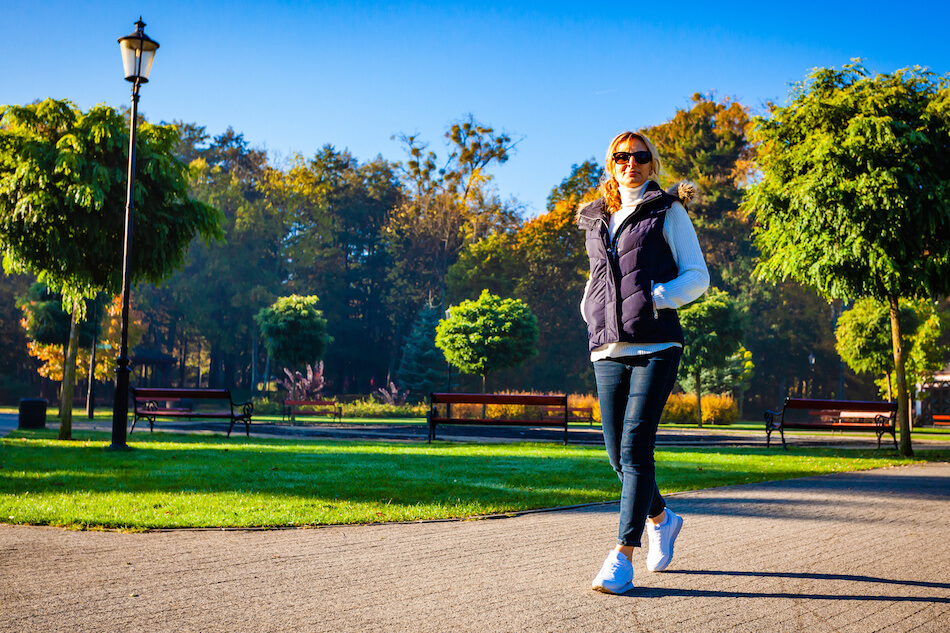 It's time to put your health first! If you live in the heart of the city, you might be fantasizing about the day when you can escape to the countryside to exercise outdoors, eat fresh foods, and nurture your mental health. But why wait when you can improve your all-around wellbeing in the city?
An old myth is that people who live in dense cities don't have as many opportunities to improve their health. However, this couldn't be further from the truth about urban health. Even the densest city is teeming with opportunities for life-improving activities. Keep reading to learn how to use an urban environment to boost your physical and mental health.
Step to It: Walking Is An Easy Urban Health Advantage
Walking is one of the most accessible exercises people can do for their physical health. It's easy, doesn't require any special equipment, and you can do it almost anywhere. Walking is a great way to reduce the risk for heart disease and respiratory infections and tone your muscles. Some research shows that walking for half an hour five days a week can shave down your risk for heart disease by 19 percent.
Walking also has other benefits, such as improving your mood and reducing stress levels. Most cities are set up perfectly for walking to work. The next time you have a meeting or an errand to run, try walking instead of driving. You'll get some exercise and fresh air with each city block, and you'll save money on parking fees.
Are you worried about travelling long distances on foot? You can break the trip up into smaller portions by walking part of the way and using public transportation for the rest of the journey. A well-designed city supports flexibility for walkers.
Bonus tips for walking to work:
Wear the right shoes. Choose shoes that support your arches and fit snugly.
Wear reflective tape. Stay visible even when the sun sets with reflective tape.
Dress for the weather. Never get caught in inclement weather; check the forecast and pack accordingly before leaving the house.
Carry a water bottle. Whether it's summer or winter, never walk out of the house without adequate hydration.
See Friends Often: Urban Dwellings Make Meet-Ups Easy
Humans are social beings. Regardless of whether you're introverted or extraverted, regularly making time for social connections can improve your physical and mental health.
Even if your friends' neighbourhoods are far apart, urban life allows you to meet them easily. Easy access to public transit can get you to your friends in mere minutes, or you can easily coordinate and meet with your group at a central location.
It's important to consider drive times when buying a home. When you live in a suburb or rural location, seeing friends may involve a lengthy car journey. Furthermore, abundant restaurants, cafes, and attractions are an urban health advantage. Suburban and rural locations make it harder to convene with friends in a public setting.
Bonus urban health tips for seeing friends:
Combine socializing with exercise. Blend fitness with fun by working out with friends.
Meet new people. Catching up with new friends is great, but getting out of your routine and meeting new ones can improve your health.
Eat healthy meals together. Healthy meals can be delicious and fun when you go out with friends.
Stay accountable for health goals. Meeting up with like-minded friends can help you stay on track with your goals.
Experience New Things: Novelty In the City Improves Brain Health
New experiences are scientifically proven to improve human health. Whether practicing a new skill, exploring new parts of the city, or meeting new people, experiencing novelty positively impacts your brain. Humans have an innate desire to try new things. Scientists refer to it as neophilia, and people who embrace neophilia, on average, live longer and happier lives.
What do you think of when you hear the word "learning?" Many adults associate it with childhood and school rooms. However, learning is a non-stop process that's essential to our health.
Embracing opportunities for learning stimulates your thinking and keeps your muscles active. It helps you acquire new experiences, develops your brain to deal with a broad range of situations, and keeps your neural pathways active. All of these elements work together to maintain your health.
Another urban health advantage is that there is always something new and exciting to explore. Your city probably has a wealth of museums, theatres, and other cultural institutions that allow you to learn and grow as a person. Studying the surrounding areas will enable you to benefit from your surroundings and local events such as concerts, festivals, and art classes.
Here are a few ways you can double your wellness in the city by exercising and trying new things at the same time:
Join an exercise class. Dance classes, rock climbing, or a simple jogging group can get you out of your routine and introduce you to new people.
Stroll through a new neighbourhood. Our busy daily schedules often keep us in the same areas day after day. Take a walk in a new part of town for an active novel experience.
Bike to public art. Murals, statues, and other forms of public art can spark novelty in your brain. Make a map of public artworks in your city and ride bikes with your friends to all of them.
Dense urban areas are constantly growing and changing. Keep yourself open to new experiences to make the most of your health and living in the city.
Cycle On: Bike-Friendly Infrastructure Improves Health
According to Health Canada, 2.5 hours per week of upbeat exercise is the minimum recommended amount of physical activity for adults. Cycling to work is a great way to incorporate exercise into your busy schedule. Many cities are making this more accessible than ever by implementing bike-friendly infrastructure that makes daily cycling safer.
Biking to and from work is an urban health advantage that ensures you get two exercises every day, promoting lasting health benefits. Regular exercise improves heart health and lowers the risk of type 2 diabetes. It also reduces the likelihood of developing chronic diseases.
In addition to being great exercise, other benefits of biking to work include:
Reduced greenhouse gas emissions. In 2016, the average Canadian household produced over 9 tonnes of carbon dioxide from transportation alone. Biking helps limit the number of cars producing unhealthy air quality.
Lower stress levels. Health researchers have found that people experience less stress when they cycle instead of driving or take public transit to work each day.
Less strain on your wallet. Biking saves you money on gas, bus tickets, and subway fare, leaving room in your weekly budget.
Bike-friendly infrastructure associated with adequate city planning includes separate cycle tracks, reserved bike lanes, and off-street trails. These cycling features promote healthy living for anyone who enjoys riding bikes.
Not sure how to choose the right bike for commuting? Most cities have local bike shops filled with experts that will be happy to help you get started.
Get Lost in Nature: Time in City Parks Boosts Health, Reduces Stress
Time spent in nature is a crucial component for soothing our overscheduled lives. Experts agree that interacting with nature daily can encourage the healthiest levels of cognitive function and help people avoid chronic illnesses. Time spent in nature is so essential that Canadian doctors distribute national park passes to promote time outdoors.
And the best news is that you don't have to drive out to the country to immerse yourself in nature. Thanks to adequate city planning, getting in touch with nature can be simple. Consider going for a walk or meeting up with a friend to chat during your lunch break.
There are many great ways that cities are promoting nature preservation. City parks are often home to outdoor fitness equipment, bike trails, and artistic or musical installations. Keep an eye out for these features when exploring new city areas. Nature walks have been shown to reduce stress, increase creativity levels, and reduce the risk of respiratory infections. Just 20 minutes of strolling among sights and sounds of nature lay the foundation for a healthier lifestyle.
Healthy Eats: Nutritious Food Is Abundant on Every City Block
Eating healthy is, of course, vital to living a long and happy life. Healthy eating is not just about what we put in our bodies; it includes the surroundings that we eat and with whom we share meals. Fortunately, big cities are teeming with healthy restaurants, great grocery stores, and ideal settings for breaking bread.
Check out online reviews, newspapers, and local magazines to stay up-to-date on the newest healthy restaurants in your city. Then, you can consider putting together a dinner club of friends to join you as you sample the city's best eats.
Research shows that Ontario has the most grocery stores in Canada. That means in Toronto, Canada's biggest city, there are more opportunities to buy healthy food than in smaller communities.
Improve Your Health While Living In the City
Living in a big city can be great for your health. Every urban health advantage on this list can help you get active and stay healthy, even when you're short on time. Try walking or biking to work, nurturing your social health by making time for friends, trying new things, and spending time in nature. And don't forget to enjoy the near-endless healthy food options in your city! By following these tips, you can improve your health while living in a big city.