6 Most Affordable Neighbourhoods in Aurora ON
Posted by Frank Polsinello on Monday, September 26, 2022 at 8:56 AM
By Frank Polsinello / September 26, 2022
Comment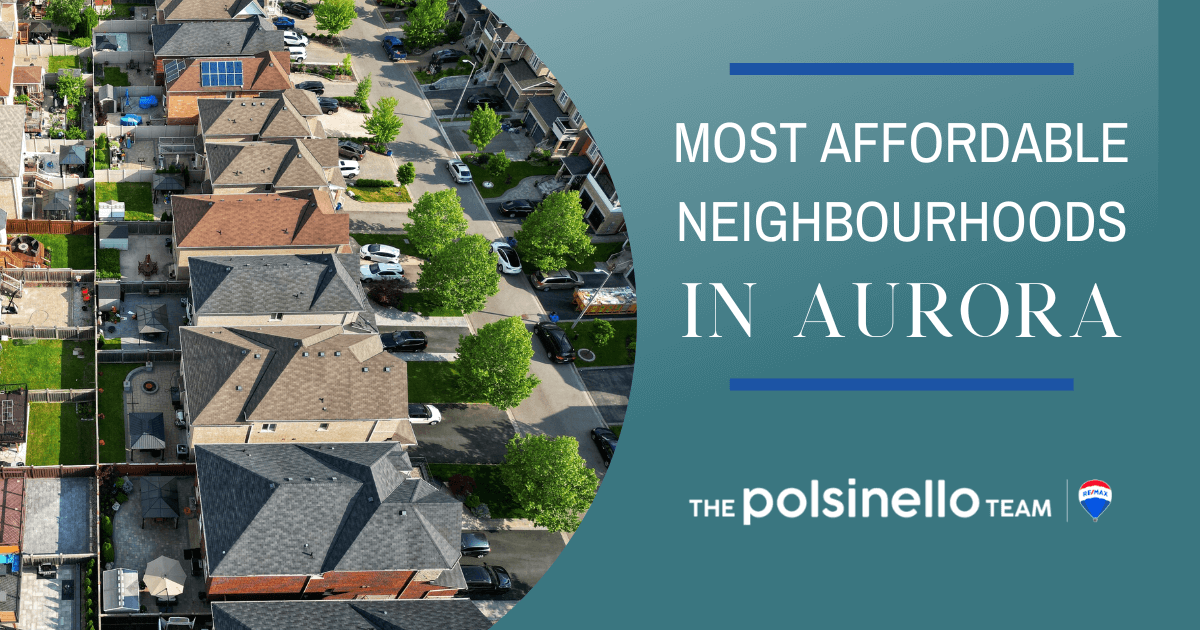 Living in the greater Toronto area can be pricey. Everywhere would-be buyers look, they can find eye-popping prices that make homeownership seem out of reach. But even the region's most desirable cities have some affordable options, including the gorgeous and vibrant town of Aurora. Fewer than 50 kilometres from Toronto, it offers the conveniences of a growing community mixed with the beautiful scenery of rural Ontario. Here's a closer look at six of Aurora's best affordable neighbourhoods for buyers on a budget.
Bayview Wellington
It's easy to find Aurora's Bayview Wellington: simply look for the intersection of the two streets that give the area its name. The neighbourhood is located northwest of this major intersection, comprised of a diverse mix of homes, businesses, and green space. Bayview Wellington is also the home of many of Aurora's official city buildings and services, from Town Hall to the Seniors Association. It's also a favourite of active residents.
The neighbourhood includes the sports fields and community center at the Family Leisure Complex and the Aurora Arboretum for connecting with nature. In the meantime, owners can take care of everyday shopping and enjoy dinner or drinks out at numerous spots along Bayview Avenue, including at the Aurora Centre. It's also close to the town's Go Transit station.
The Bayview Wellington area comprises a mix of single-family detached homes, townhouses, and condominiums. Homes for sale in Bayview Wellington list from the high $600s for condos, providing an excellent entry point to ownership in this popular area. Detached homes and townhouses typically start around $1 million.
Bayview Wellington Amenities
Aurora Town Hall
Aurora Seniors Association
Aurora Family Leisure Complex
Aurora Arboretum
Aurora Centre shopping/dining
Close to Aurora Go Transit station
Aurora Heights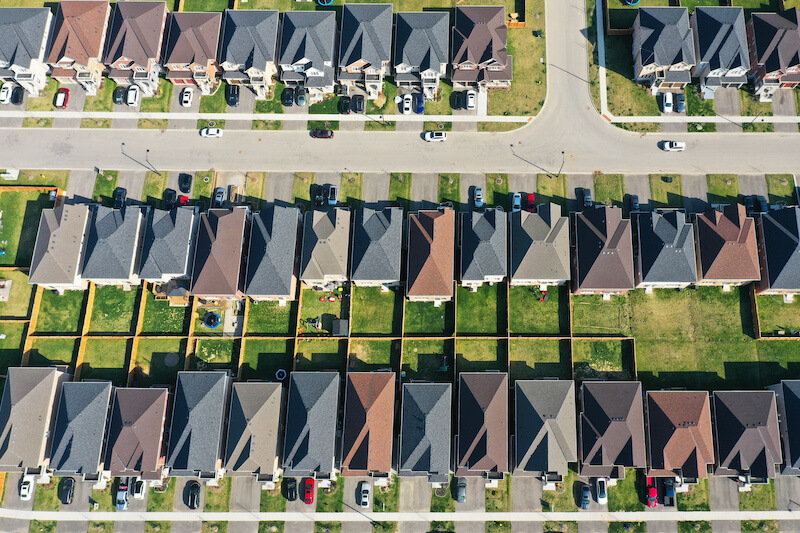 Aurora Heights is an affordable neighbourhood with the distinction of being Aurora's first large-scale subdivision. Bounded by Wellington Street, Orchard Heights Boulevard, Bathurst Street, and Yonge Street, residents enjoy a combination of quiet residential streets, neighbourhood green spaces, and nearby shopping and services. These include several local favourite restaurants like Joia and Hurst Bakery and the nearby St. Andrews Shopping Centre. Owners can relax at several community parks or participate in activities and classes at the Aurora Community Centre. Aurora Heights is also close to the prestigious St. Andrews College, one of Canada's top private boys' schools.
Aurora Heights offers a variety of housing options with a mix of single-family detached homes, townhouses, and midrise condominiums. Many of the community's single-family homes date back to the late 1950s when development first began, though many have been renovated and updated over time. The most affordable options in Aurora Heights are found among multifamily or semi-attached properties. Aurora Heights homes for sale list from the mid-$600s to the $800s, and here homebuyers will find condos and townhomes with two or three bedrooms and a similar number of bathrooms. Smaller single-family homes start at the high end of this spectrum, but others list for more than $2 million.
Aurora Heights Amenities
Mix of housing styles
Close to Yonge Street shopping/services
Aurora Community Centre
Multiple neighbourhood parks
Aurora Village
Aurora's heritage dates back more than 150 years, and the historical roots of the community can be found in Aurora Village. Luckily for would-be homeowners, it's also one of the city's most affordable neighbourhoods.
Aurora Village combines historic buildings, town services, and a thriving restaurant and shopping scene centred around Yonge Street and Wellington Street. Residents quickly access Aurora Town Park, which has sports fields, green space, a weekend farmers market, and the nearby Aurora Public Library. There are also many restaurants and bars, including the famous Aw Shucks Oyster Bar and Bistro. Driving in and around Aurora is a breeze, and commuters into Toronto can even ditch the car thanks to Aurora Village's Go Transit station, providing direct train service into the city.
Despite all these advantages, Aurora Village remains among the more affordable communities in Aurora. Housing can be found in many different styles. While new construction or preserved historic homes can list for more than $3 million, lower-priced single-family homes and townhomes can also be found in parts of the neighbourhood. Aurora Village homes for sale list from the $900s.
Aurora Village Amenities
Aurora's historic main street
Aurora Town Park
Aurora Public Library
Aurora Public School
Aurora Go Transit Station
Aurora Grove
Those looking for a laid-back residential neighbourhood close to the conveniences of central Aurora should start in Aurora Grove. This compact community is between Industrial Parkway and Bayview Avenue, south of Wellington Street. One of the neighbourhood's most prominent features is Sheppard's Bush, a park and conservation area with kilometres of hiking trails, sports fields, and picnic areas. Visitors can even explore historic buildings and maple syrup evaporators! This popular park is right in the backyard of some Aurora Grove homes.
Most of the community is residential, with a section of commercial and industrial properties in the southeast corner close to Vandorf Sideroad. However, the shopping, dining, and services of Aurora Village are just a few minutes away by car, bike, or on foot.
Besides some small subdivisions of new construction homes, most Aurora Grove housing was built from the 1950s to the 1990s. On the high end, it's possible to spend more than $1.25 million on a home in Aurora Grove. But more affordable properties are also available, with townhouse-style homes for sale in Aurora Grove listing from the $900s.
Aurora Grove Amenities
Winding, hilly streets
Sheppard's Bush park and conservation area
Aurora Grove Public School
Aurora Highlands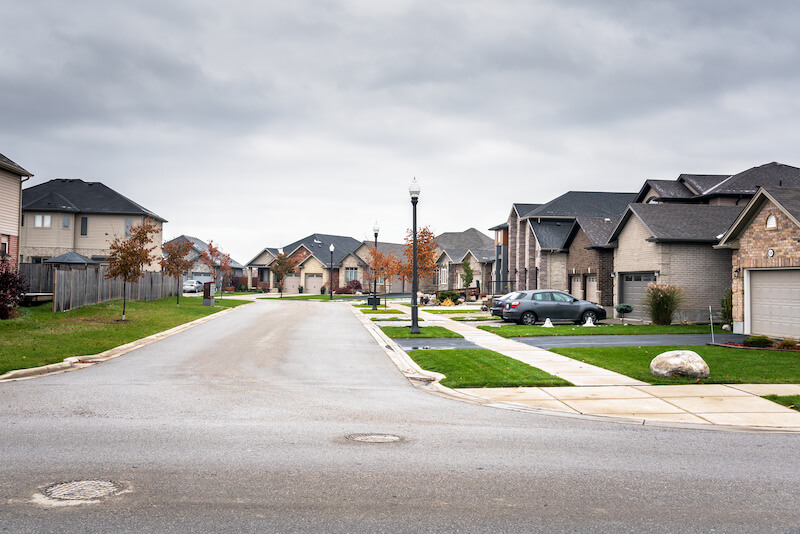 Set on an elevated plateau on Aurora's western edge, Aurora Highlands is another of the city's top affordable communities. Much of this large community was once golf courses and other relatively undeveloped lands until recent decades. Close to the gorgeous wildlands of the Oak Ridges Moraine, it's a perfect neighbourhood for those who love to get outdoors, both close to home and further afield. Popular parks include Case Woodlot and Confederation Park, while King's Riding Golf Club is located just outside the community, near homes for sale in King City.
Aurora Highlands is also the site of SmartCentres Aurora, which is home to numerous shops and services and the State & Main restaurant. Residents can also get a taste of the arts at Theatre Aurora.
Unlike many parts of Aurora, Aurora Highlands still offers relatively easy-to-find single-family homes for around $1 million or less. They come in a wide variety of styles, both semi-attached and detached, bungalow-style and two-story. These properties typically have three bedrooms and one to three bathrooms. Most of these homes were built in the 1960s and 1970s, and on the higher end, homes for sale in Aurora Highlands can list for $2 million or more.
Aurora Highlands Amenities
Wide variety of home styles and layouts
Easy access to nature/green spaces
SmartCentres Aurora
Aurora High School
Highview Public School
Bayview Northeast
Homebuyers in the Bayview Northeast neighbourhood are building roots in one of Aurora's fastest-growing communities. The subdivision, which is made up of land northeast of the intersection of Bayview Avenue and Wellington Street, has seen rapid home building in the past decades, particularly on the western edge. It's also a great neighbourhood from which to access all the fun things to do in Aurora.
Bayview Northeast is known for its green and preserved spaces, like the Aurora Wildlife Park. Residents can enjoy nature trails that wind through wetlands, woods, and other habitats. On the flip side, the community is home to Aurora SmartCentres North, a large shopping complex with everything from the major chain and big box stores to local restaurants like Thai Villa.
Bayview Northeast also benefits from its proximity to Highway 404, which provides a quick and direct route straight into Toronto. Bayview Northeast housing comprises a mix of detached single-family homes, semi-attached townhouses, and lowrise condominiums. Of the latter two categories, properties can often be found in the high six figures to just over a million dollars, a relative value for newer construction Aurora homes. Larger detached Bayview Northeast homes for sale list from $1.5 million, and listings for twice that are common, too.
Bayview Northeast Amenities
Plentiful green space, including Aurora Wildlife Park
Aurora SmartCentres North
Easy access to Highway 404
Stronach Aurora Recreation Complex
Affordability Isn't Just A Dream In Aurora, Ontario
It's easy to fall into the trap of thinking that all the desirable houses are too expensive or that affordable options aren't up to the standards of discerning homebuyers. But that's not the case, at least in this corner of the greater Toronto area. Aurora offers several areas—many of which are among Aurora's best neighbourhoods—with attractive amenities and prices that provide reasonable entry points to ownership in these sought-after spots. Budget-conscious buyers moving to Aurora can find the home of their dreams just waiting to be discovered in this handful of affordable communities.