8 Affordable Neighbourhoods in Toronto: Ontario's Least Expensive Areas
Posted by Frank Polsinello on Monday, February 7, 2022 at 7:05 AM
By Frank Polsinello / February 7, 2022
Comment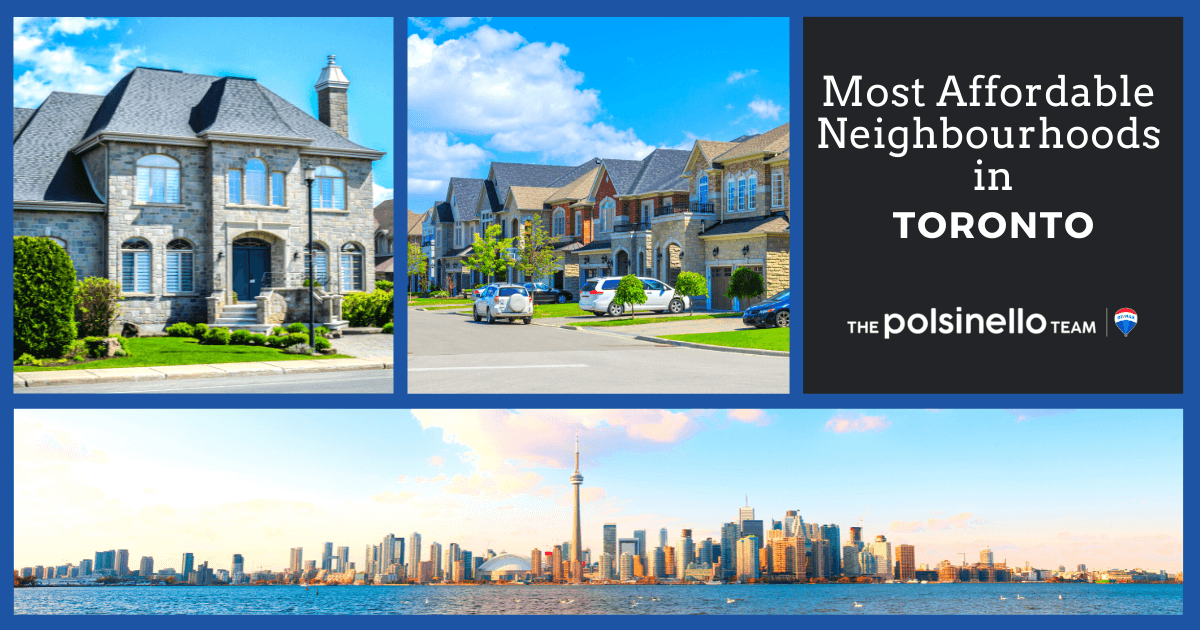 If you're planning to buy real estate in Toronto, you're probably looking to get the best bang for your buck. Fortunately, the area has many affordable neighbourhoods for those looking for the lowest living expenses in Toronto. From high-rise Toronto condos to charming single-family homes, there's a diverse range of real estate options that cost less than $1 million. Keep reading to learn about the eight most affordable neighbourhoods in Toronto.
West Humber-Clairville
West Humber-Clairville Amenities
A mix of single-family homes and apartments
More than 50 green spaces in the area
Educational and health services
Home to Woodbine Racetrack and Casino Woodbine
Located in the northwestern part of Toronto, West Humber-Clairville offers a variety of affordable living options. The area, located in Toronto's Wards 1 and 2, is next to the city's airport. West Humber-Clairville real estate contains a mix of detached single-family homes, apartment buildings, and industrial and commercial zones. Condos tend to start in the $400,000s, with homes around $600,000 or more. The neighbourhood is also home to Humber College's North Campus and Etobicoke General Hospital, providing educational and health services to the community.
West Humber-Clairville residents have access to a variety of small grocery stores throughout the neighbourhood for everyday shopping, as well as a large Fortinos location. Among the entertainment options is the Woodbine Racetrack and Casino Woodbine, offering games of chance and horse racing, as well as restaurants and nightlife.
Rexdale-Kipling
Rexdale-Kipling Amenities
Mainly detached homes with some apartment communities
Easy access to local arterial roads
Diverse retail and dining options
Just east of West Humber-Clairevile, Rexdale-Kipling homes for sale are located in Toronto's Etobicoke North area, known for affordable living. Developed in the 1950s, the area has been modestly priced from the start, when a local developer converted farmland into affordable homes. Many of these homes remain today, even as the community has added larger apartment complexes. Single-family detached houses generally range from the high six figures to slightly below $1 million.
Rexdale-Kipling is a relatively small neighbourhood and is almost entirely residential in its center. Retail, dining, and other commercial locations are primarily located along the edges of major roads like Islington Avenue, Rexdale Avenue, and Kipling Avenue. These include restaurants like Somali and East African spot Hamdi Restaurant and department store Giant Tiger. The area is also home to two parks, Rexlington Park and Rexdale Park, set along Berry Creek. Rexdale-Kipling is also the site of the Kipling Acres long-term care facility, which occupies a portion of the northwestern part of the neighbourhood.
Thistletown-Beaumond Heights
Thistletown-Beaumond Heights Amenities
The thriving commercial district near Albion and Islington
Wide variety of international food options
Cultural and educational opportunities
Thistletown-Beaumond Heights is located near Rexdale-Kipling and West Humber-Claireville in Toronto's Ward 1. The neighbourhood is centred around Albion Road and Islington Avenue, which is home to a diverse variety of shopping and dining options. It's supported by the Albion Islington Square Business Improvement Area, which represents the restaurants, jewellers, hair salons, and other businesses which populate the district. Residents can also take advantage of the cultural and educational opportunities offered by the neighbourhood's Franklin Carmichael Art Centre. Condos in the area start in the $400,000 range, with single-family homes in the high six figures.
Residents of Thistletown-Beaumond Heights can enjoy food from all around the world available right within their community. Options include Caribbean favourite Roti Roti, Pakistani cuisine at Karahi Point, and Middle Eastern food from Shawarma Royal. A Food Basics supermarket covers general community food shopping needs, while smaller grocery stores spread throughout the neighbourhood offer a variety of more specialized ethnic items.
Weston
Weston Amenities
A charming mix of original single-family homes and multifamily buildings
Tree-lined streets
Parks with tennis courts, pools, and playground.
Bike-friendly community
The homes in Weston once comprised a separate village before becoming part of Toronto, and the area maintains much of that small-town charm despite its easy access to downtown. Following its founding in the late 1700s, the area first served as an industrial centre fueled by railroads and bicycle manufacturing. Weston's motto is "Home of the Bicycle," and it remains a bike-friendly community, with a trail along the Humber River. These days, the neighbourhood consists of two relatively distinct areas, with businesses and apartment or condominium buildings located along the Weston Road corridor and single-family Victorian-style homes along tree-lined streets east of the railroad tracks. Condos generally sell in the $300,000-$500,000 range, while detached homes tend to be more expensive.
Weston's shopping, restaurants, and business locations are located along Weston Road. Here, residents can enjoy popular dining choices like 50-year-old Greek spot P&M Restaurant or Zeal Burgers. In addition, the community is home to Cruickshank Park, which offers green space along the Humber River, and Lions Park, which contains tennis courts, two pools, and an indoor recreation arena. Weston also offers excellent transportation options, with buses, rail service, and easy access to highways and major arterial roads.
Scarborough Village
Scarborough Village Amenities
Mostly apartment and condominium communities with some single-family homes
Accessible transportation options to downtown Toronto
Lake Ontario access via Sylvan Park
Another spot with a long history in the Toronto area, Scarborough Village homes for sale are part of a desirable and affordable neighbourhood. The community is located along the shore of Lake Ontario to the northeast of downtown Toronto. It's centred around Kingston Road and Eglinton Avenue and has been settled since the early 1800s. It was the first community in the Scarborough area to have its own post office. Scarborough Village housing primarily consists of multifamily apartments and condominium buildings, which make up more than two-thirds of all homes in the area. The rest consist of detached, semi-detached, and rowhouse-style single-family homes. Condos sell in the $400,000-$600,000 range, with the most affordable detached homes going for similar prices.
Scarborough Village is noteworthy for its excellent access to outdoor recreation opportunities. The community is home to Scarborough Recreation Center, Scarborough Village Park, and Sylvan Park, which offers access to Lake Ontario. Residents can also enjoy varied cuisines, including Little Bavaria Restaurant's German food and the pan-Asian fusion of Phoenix. Scarborough Village is also well served by public transit, with several bus lines and access to the GO Transit rail network.
Mimico
Mimico Amenities
Varied single-family homes and apartment/condominium buildings
Two main commercial strips
Multiple lakefront parks
Easy access to highways, bus routes, and GO Transit Rail service
The oldest of Toronto's "lakeshore municipalities," Mimico has transitioned from a semi-rural rail town at the edge of Toronto to one of the city's best affordable neighbourhoods. The history of Mimico (named for a local Native American word meaning "abundant with wild pigeons") says that many new settlers arrived in the early 1800s to take advantage of the Mimico Creek for milling operations. Toward the latter part of the 19th century, wealthy Torontonians built their summer homes along the shores of Lake Ontario. Even today, Mimico's lakefront land is well-enjoyed by residents, who have access to several parks, including the waterfront Humber Bay Park. Railroads were the community's major employer for much of the 20th century. The community only officially became part of the city of Toronto in 2001.
Housing in Mimico is split between smaller apartment buildings spread throughout the community, more significant multifamily buildings along Lake Shore Boulevard, and clusters of single-family homes. Mimico real estate prices start in the mid $400,000s, with some detached single-family homes just upwards of $1 million.
Residents can enjoy a variety of dining options along Lake Shore Boulevard, including Italian at Eden Trattoria or Spanish at Lavinia. The community's other main commercial corridor is located along Royal York Road. Mimico also has easy access to downtown Toronto and other parts of the city thanks to its proximity to the Gardiner Expressway, a GO Transit station, and several bus lines.
Rockcliffe-Smythe
Rockcliffe-Smythe Amenities
Primarily single-family, detached homes
Diverse retail, dining, and nightlife options
Multiple community recreation facilities
Large amounts of green space and outdoor trails
Rockcliffe-Smythe is an affordable option for those closer to central Toronto. The Ward 5 community takes its name from the Conn Smythe gravel pit that once operated here. In the post-World War II years, the company redeveloped the neighbourhood, selling homes to returning servicemembers. Rockcliffe-Smythe is known for its large amounts of green space, which make up much of the area's western edge. This includes Lambton Park and Scarlett Woods golf courses, Smythe and Black Creek Parks and a variety of multi-use trails. Transportation downtown and around the city is easy, with nearby streetcar access and bus lines. The Rockcliffe-Smythe real estate market mainly consists of single-family detached residences and generally range from $700,000 up to around $1 million.
Residents are just a short walk or drive from the busy restaurant and retail strip along Dundas Street West and shops and businesses on Jane Street and St. Clair Avenue West. A variety of grocery stores ring the community, including Loblaw's and Nations Experience. Those looking to shop will find themselves just a short distance from the nearby Stock Yards Village mall.
York University Heights
York University Heights Amenities
Home to York University's Keele Campus
A mix of high-rise apartments and single-family homes
Site of new urbanism community The Village at York University
Multiple public transit options
Set along Toronto's northern boundary, York University Heights takes its name from York University's Keele campus, located in the area. A large number of residents live in larger apartment towers. However, the community also has a significant amount of single-family homes and The Village at York University development. This "new urbanism" development was one of Toronto's last significant new home developments, consisting of approximately 850 high-density townhouses, condos, and detached homes. York University Heights homes for sale start in the high $300,000s for smaller condos, with many in the $500,000-$700,000 range.
Residents of York University Heights find getting around without a car easy, with three subway stops in the community and access to local and York Regional Transit bus routes. The neighbourhood is also home to Black Creek Pioneer Village, an educational attraction showcasing life in the area in the late 19th century.
Which Affordable Toronto Neighbourhood Do You Like?
If you're moving to Toronto, it can help to know where to find the most affordable homes in town. All of these neighbourhoods offer unique amenities and locations at relatively modest prices. So no matter what buyers are looking for, they're likely to find it in one of these affordable Toronto communities.
If you're looking for your next home in Toronto, contact The Polsinello Team at RE/MAX Hallmark Polsinello Group Realty at (289) 803-3389 to get in touch with Toronto real estate agents who can help you find a Toronto home that's the perfect fit.