8 Expensive Neighbourhoods in Newmarket ON: Luxury Awaits
Posted by Frank Polsinello on Friday, February 4, 2022 at 8:30 AM
By Frank Polsinello / February 4, 2022
Comment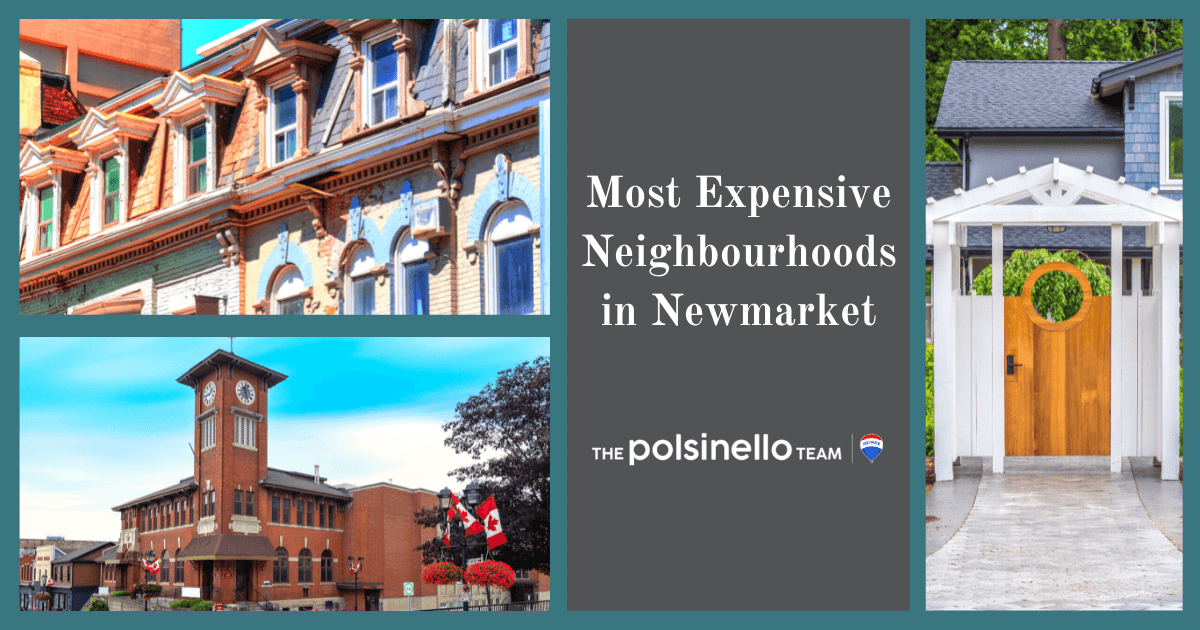 Newmarket is a thriving suburban Ontario town located approximately 50 kilometres north of the city of Toronto. This once industrial center is home to nearly 90,000 residents and has become a popular choice for those looking for luxury communities in the greater Toronto area. Keep reading to get a closer look at the most expensive neighbourhoods in the city of Newmarket.
Stonehaven-Wyndham
Stonehaven-Wyndham Amenities
Large, relatively new single-family homes
Variety of shopping and dining options
Plentiful parks and green space
Easy access to Highway 404
The Stonehaven-Wyndham neighbourhood comprises the two subdivisions that give the area its name, along with the newer Copper Hills development. Each offers unique benefits. Stonehaven is notable for its winding, hilly streets, lined with charming cast-iron street lamps. Homes here are a mix of ranch-style and two-story homes, generally measuring 3,000 square feet or more. Wyndham Estates offers slightly older, smaller homes, while Copper Hills provides some of the area's newest large luxury homes. These include four to five bedrooms spread over more than 3,000 square feet.
The neighbourhood is also home to nearly a half-dozen parks and green spaces, including Art Ferguson Park, Rene Bray Park and the Magna Centre, featuring ice rinks, a pool, and a gym. Additionally, several shopping centers, restaurants, and other businesses are on the community's larger roads.
Houses in Stonehaven-Wyndham aren't for those with low budgets, with home prices about 20% higher than the Canadian average. Prices start in the high six figures. However, most homes list for around $1.5 million to $2 million. Renters will find their options limited in the neighbourhood. However, some homes can be found for rent for about $3,000 to $4,000 per month.
Glenway Estates
Glenway Estates Amenities
Beautiful neighbourhood landscaping
Restaurants along Davis Drive and Yonge Street
Newmarket Bus Terminal and other transit options
Ray Twinney Recreation Complex
The northwestern Newmarket neighbourhood of Glenway Estates was once partly a golf course, which can still be seen throughout the neighbourhood's landscape. Shoppers will love the neighbourhood's Upper Canada Mall, as well as major chains like Walmart, Costco, Home Depot, and many more. Glenway Estates residents can also enjoy restaurants offering a variety of cuisine, mainly along Yonge Street.
The neighbourhood is home to the Ray Twinney Recreation Complex, which offers two ice arenas, sports fields, and other facilities. Getting around is also simple. Glenway Estates is centrally located just minutes from both Highway 404 and 400 and is also the site of the Newmarket Bus Terminal. This facility supports Go Transit, York Transit, and more.
Those looking to buy in Glenway Estates will find a variety of detached single-family homes, townhouses, and condos - some recently built and some as old as the 1960s. Condos prices typically start in the $600,000s, while townhomes generally sell close to $1 million. Detached homes with three to five bedrooms generally are more expensive, starting around $1 million and reaching near $2 million.
Woodland Hills
Woodland Hills Amenities
Newer homes with separate units for guests/rentals
Extensive shopping, including Upper Canada Mall
Preserved land and hiking trails
Multiple parks and water playground
Woodland Hills is a shopper's dream neighbourhood. The Upper Canada Mall is located at Yonge Street and Davis Drive and is home to more than 100 stores and a food court. The area is also popular for its green space and outdoor recreation opportunities. Many homes here back onto 10 acres of preserved land, including hiking trails and several small parks. Residents also enjoy the restaurants and entertainment along busy Yonge Street, and kids can take advantage of the community's water playground in the summer.
Homes in the area were built in the early 2000s up through recent years, making them some of Newmarket's newer housing options. Most sell for approximately $1 million to $1.5 million and include three to four bedrooms in the primary living space. Some also have built-in basement units with one to three bedrooms, providing potential rental or guest space. These typically rent for $1,500 to $2,000 monthly, while the larger homes go for about $2,500 to $3,500 per month.
Armitage
Armitage Amenities
Large homes on winding, residential streets
Multiple parks and community trails
Adjacent to Saint Andrew's Valley Golf Club
Wide variety of retail/commercial along Yonge Street
Located in south-central Newmarket, the Armitage community offers a charming mix of a bustling commercial corridor, residential streets, and green space. Armitage is notable for its long, winding roads, cast-iron street lamps, and brick homes built in the 1980s and 1990s. Golfers will love the proximity to the Saint Andrews Valley Golf Club, spread out over nearly 200 acres of green space that make up part of the neighbourhood's eastern border. Residents also have easy access to Bailey Ecological Park, Paul Semple Park, and the Tom Taylor Trail, which winds through the area.
On the opposite side of the community is busy Yonge Street, lined with various businesses, shopping centers, and restaurants. Residents can easily make trips to the nearby Aurora community just to the south.
Armitage housing consists of detached, single-family homes along with some townhouses. Prices range from approximately $700,000 up to well over $1 million. Buyers will get three to four bedrooms and a similar number of bathrooms. Many homes also feature large garages. Rental options are limited in the neighbourhood, with homes occasionally available for about $3,000 to $4,000 per month.
Summerhill Estates
Summerhill Estates Amenities
Home to historic Mulock Farm and future development
Multiple neighbourhood parks
Varied home styles
Close to Yonge Street commercial corridor
Summerhill Estates is in the southwestern part of Newmarket on land that was once part of the sprawling, historic Mulock Farm. While most of the land has been developed into residential homes, part of the Mulock property still exists and was bought by Newmarket in 2018. The plan is to develop this area into a community focal point involving local history, culture, green space, and more.
Summerhill Estates residents already have several options for outdoor recreation, including Whipper Watson Park and Jim Bond Park, as well as the popular Twinney Recreation Complex nearby. Located just off Yonge Street, those in the neighbourhood also have numerous dining and shopping options nearby, including the Summerhill Centre shopping plaza.
Summerhill Estates homes come in various styles, from large, detached two-story homes to bungalows or townhouses. Some townhomes can be found in the high six figures, while most detached homes list for approximately $1 million to $1.5 million. Most homes were constructed with brick in the early 2000s and have three to four bedrooms and three to four bathrooms. Renters will primarily find converted basement units as their main options, ranging from around $1,300 to $1,700 per month.
Central Newmarket
Central Newmarket Amenities
Historic, preserved architecture around Main Street corridor
Plentiful dining and shopping options
Outdoor space including Riverwalk Commons and Fairy Lake Park
The Central Newmarket community is the heart of the city, with historical heritage and a thriving business and cultural scene. Centred around Main Street, the area contains historic 1800s-style architecture, formally preserved in 2013 when it was declared a Provincial Heritage Conservation District.
Central Newmarket includes plenty of boutique shopping, dining, and entertainment options. Among the most popular attractions is Riverwalk Commons, which hosts farmer's markets, live music, and other public events during the summer months. The district is also home to the Elman W. Campbell Museum, which tells Newmarket's story through historical artifacts. Central Newmarket residents can also enjoy the hiking trails and green space of Fairy Lake Park.
Homes in Central Newmarket start at around $800,000. However, many list for over $1 million, up to $1.5 million or more. They include older "century" homes and more modern loft-style spaces. Renters will find many different choices, from large apartment buildings to single-family homes to small multi-family or converted basement units. These range from approximately $1,300 to $1,400 up to $3,000 or more for larger single-family homes.
Huron Heights-Leslie Valley
Huron Heights-Leslie Valley Amenities
Beautiful landscape of rolling hills and valleys
Easy commuting on Highway 404/GO Transit
Dining, shopping, and nightlife along Leslie Street
Adjacent to Southlake Regional Health Centre
The Huron Heights-Leslie Valley neighbourhoods are located in northeastern Newmarket's rolling hills and lush valleys. Leslie Street serves as the community's main drag, located along its eastern border. This area is home to varied dining and nightlife and extensive shopping options.
Those living in the area will find getting around easy. The community is just a short drive to Highway 404 and close to the East Gwillimbury GO Station and Newmarket GO Station, which run into Toronto on the Barrie Line. Residents can also enjoy the neighbourhood's outdoor spaces in several parks, including George Richardson Park.
Those looking to buy a home in Huron Heights-Leslie Valley will find prices starting around $900,000 and ranging up to more than $1.5 million. Homes in the Leslie Valley Drive area are primarily single-family detached brick houses with generous backyards, while Huron Heights is better known for bungalows, split-levels, and colonials from the 1960s and 1970s. Rentals of single-family homes in the communities generally range between $2,000 and $3,000 per month.
Gorham-College Manor
Gorham-College Manor Amenities
Central location near downtown and major highways
A diverse mix of homes for all tastes
Plentiful parks and green space
Home to Pickering College private school
One of Newmarket's oldest neighbourhoods, the Gorham-College Manor community takes its name from the man who first settled in the area and the prestigious private school here for more than a century. The community is notable for the many classic homes that date back to the late 1800s or early 1900s. Set between central Newmarket and Highway 404, residents can enjoy the vibrant shopping and dining scene along Leslie Street and the cultural and entertainment options available downtown. Lovers of the stage can take in shows at the Newmarket Theatre, located within the neighbourhood. It's also an excellent choice for those who love to get outdoors, with more than a half-dozen parks within or close to the community.
Gorham-College Manor homes generally start in the high six figures to close to $1 million, while larger or more updated properties sell for about $1 million to $1.25 million. The community has some of the most diverse housing in Newmarket, from century-old Victorian homes to newer bungalows and split-levels.
The neighbourhood's topography and natural features provide many cul-de-sacs and winding streets for additional privacy. A few condos or townhome developments can also be found across the area. Rental homes are available but generally span a wide price range from the mid $2,000s up to near $4,000 per month.
Make One of Newmarket's Most Expensive Neighbourhoods Your New Home
For a smaller suburban town, Newmarket offers a fantastic diversity of neighbourhoods with housing and amenities for all tastes. Each has access to excellent green space and easy commuting by car or rail to Toronto or other points south. With homes starting in the high six figures up to $2 million or more, these communities can indeed be pricy. However, those living in Newmarket's most expensive neighbourhoods genuinely get their money's worth from this charming town.