Luxurious Living Spaces in Toronto: 8 Most Expensive Neighbourhoods in Toronto [2022]
Posted by Frank Polsinello on Thursday, October 21, 2021 at 11:28 AM
By Frank Polsinello / October 21, 2021
Comment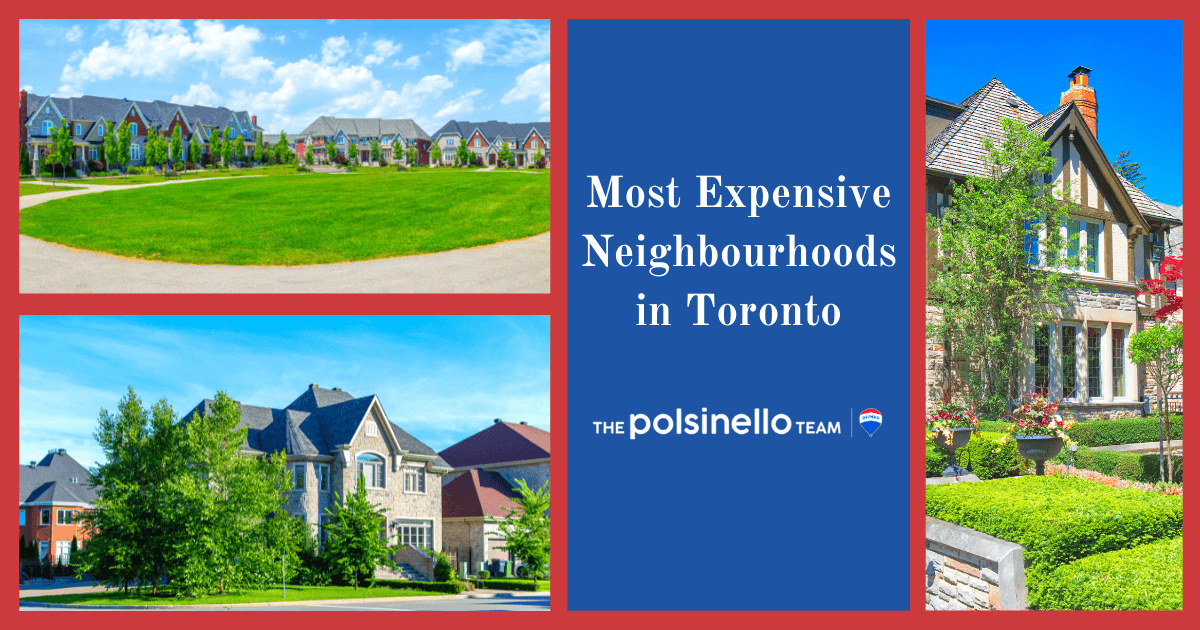 The capital of Ontario also happens to be the most populous city in Canada, but Toronto's claim to fame doesn't stop there. The thriving Toronto economy makes the city a significant business and financial center. The aptly-named Toronto Stock Exchange is based there, as are many Canadian corporations and banks and multinational companies.
Toronto is also a celebrated center of culture, and major broadcast networks find their home within its walls. Museums and galleries provide conduits for the arts, while many festivals offer even more fun things to do in Toronto. Indeed, many factors make the homes for sale in Toronto some of the most desirable in the country.
Anyone looking to buy luxury real estate in Toronto or rent out a property in Toronto can find sleek condos, stunning mansions, and waterfront estates in some of the city's top neighbourhoods. Ready to discover your luxury lifestyle? Keep reading to learn about the most expensive neighbourhoods in Toronto.
Bridle Path-Sunnybrook-York Mills
Bridle Path-Sunnybrook-York Mills Amenities
York University - Glendon Campus
Bob Rumball Canadian Centre of Excellence for the Deaf
Crescent All-Boys' School
Crestwood School
Parklane Public School
This neighbourhood was first settled back in 1824. The "Bridle Path" aspect of its name stems from the road of the same name that sets its northernmost boundary. The Sunnybrook Health Sciences campus forms the southernmost edge. Bayview Avenue cordons it off on the west, while Wilket Creek sets it apart on the east.
The Bridle Path-Sunnybrook-York Mills neighbourhood homes for sale are exceptionally well-connected to the rest of the city, but the community remains quiet and secluded. There are a lot of parks scattered around it as well as inside.
Although the area is well-served by Toronto public transit, many people still use a private vehicle to get around. One of the core "to-dos" in the area is the Toronto Botanical Garden found on its eastern edge. Aside from visiting the gardens, there are all sorts of educational opportunities and events to attend. This Garden can even be rented for private events like weddings or other parties.
Sunnybrook Park is another top destination within the neighbourhood. Previously Sunnybrook Farm was donated to the city in 1928 to become a public park. The Farm's original barns are preserved through the present-day and serve the public currently as a riding school. Bird enthusiasts are particularly excited by the spectating available at Sunnybrook Park.
Forest Hill South
Forest Hill South Amenities
Kay Gardiner Beltline Trail
Forest Hill Collegiate
Forest Hill Arena, ice rinks, and figure skating club
Nicol Macnicol Parkette
The planning that went in behind the aesthetic in Forest Hill South was meticulous and deliberate. Most of the homes for sale in Forest Hill South were built in the 1920s and 1930s. City building codes at the time specified the architect who was to make each home and required the planting of a tree in front of each house. Peaceful, tree-lined streets remain a hallmark of this neighbourhood.
Daily life involves a love for staying local, with fine shopping and amenities available in the neighbourhood. Even gourmands can delight in grocery shopping at stores like The Kitchen Table or Loblaws, which has retained its local Canadian pride through a grocery chain. Shops, restaurants, and a movie theatre are all offered at the Yorkdale Shopping Centre, which carries a vast range of global brands alongside some smaller shops. A walk along Eglinton Avenue West provides even more shopping opportunities, with more local retailers.
Rosedale-Moore Park
Rosedale-Moore Park Amenities
Summerhill Market
Beaumont Park
Craigleigh Gardens
Chorley Park
The desirable Rosedale-Moore Park neighbourhood real estate market is comprised of single-family homes on tree-lined streets. Moore Avenue bounds Rosedale-Moore Park on the north and Blood Street on the south. On the west is the sharp edge of Yonge Street, while on the east comes to the jagged boundary set by the Moore Park Ravine combined with Bayview Avenue.
The presence of that ravine speaks volumes because if there is one central characteristic behind this neighbourhood, it's the high levels of greenery present all around. Moore Park Ravine is a vital attraction of this neighbourhood, with its beautiful walking and cycling trails.
But there are lots of parks scattered throughout the neighbourhood, each offering slightly different amenities. The Park Drive Reservation Lands center around a different ravine since the area comprises a series of gorges. Extensive conservation efforts have been underway in these lands to protect the native plants. From maples, poplars, and elm trees through various wildflowers and shrubs that keep pollinators actively engaged, this area is booming with natural flora and fauna.
Casa Loma
Casa Loma Amenities
Wells Hill Park
Wells Hill Bowling Club
Wychwood Public Library
Hillcrest Community Centre
The namesake property behind the Casa Loma neighbourhood was built by William Henry Mill Pellatt in 1911 and was designed to look like a medieval castle. Pellatt was a financier, an industrialist, involved in the military, and, in the early 1900s, was the wealthiest person in Toronto. He spent the equivalence of over three million dollars to establish his home and property, which is a lot even in contemporary times—but surely was an unheard-of fortune at the time back then.
In the 1920s, Pellatt left the area. His property was subdivided, and additional homes for sale in the Casa Loma neighbourhood were quickly developed.
The most trafficked park is Sir Winston Churchill Park, which has a playground, running path, and ten tennis courts. The Nordheimer Ravine wrapped around the park provides a breathtaking view of natural diversity.
But Casa Loma is not just about the great outdoors. For a more social time, Forest Hill Village offers food, shopping, and entertainment. There are three different galleries, a bookstore, several specialty food markets, and several different cafes and bars all around Spadina Road.
St. Andrew-Windfields
St. Andrew-Windfields Amenities
Purdy's Chocolatier
Don Valley Public Golf Course
York Mills Valley Park
CF Shops at Don Mills
Old Yonge Street binds the houses for sale in the St-Andrews-Windfields neighbourhood on the west and St. Andrews Park on the east. The MacDonald-Cartier Freeway cuts a sharp line across the neighbourhood's north, although it also creates an easy way to access Toronto beyond the community. On the southern edge is York Mills Road, which has several shopping centers, including York Mills Shopping Centre and Bayview Village Shopping Centre.
This neighbourhood has a mix of Toronto single-family homes and apartment complexes and feels very much like a small city of its own complete with every possible amenity. Owen Public School and St. Andrew's Junior High School are the essential schools serving students in the area.
Windfields is a bit of a sister community to St. Andrews. Similar to Casa Loma, its history is rooted in the estate of a significant entrepreneur, who, in this case, was E.P. Taylor. His former farm grounds are now home to Windfields Park, which has a place in history as a top stable for thoroughbred racing. Edwards Gardens is another reputable gathering place, famous for its roses and wildflowers and celebrated worldwide as a significant gardening centre.
Yonge-St. Clair
Yonge-St. Clair Amenities
Capocaccia Trattoria
Never Settle Fitness Apparel
Granite Brewery
Saulter Street Brewery & Bottle Shop
The Yonge-St. Clair neighbourhood is quickly becoming a vibrant community full of Toronto condos for sale, parks, dining, shopping, and well-connected by the local subway system. It is named after the two main commercial streets that run through it, full of restaurants, shops, and miscellaneous professional services. Yonge-St. Clair brings together two older neighbourhoods, Deer Park (dating back to the 1920s) and Summerhill (dating back to the 1880s). The result is a delightful blend of architectural and aesthetic styles mixed into one eclectic community, including Edwardian and Victorian styles.
There are nine local public schools and six different private school options available to people who buy homes in the Yonge-St. Clair neighbourhood. This means that there are options for education at every age. Some of these schools are heavily invested in French education, and so that may be a draw for some people. After school, kids from every school often flock to the Lionel Conacher Park, where a playground, pool, and baseball diamond await.
Socializing is easy with the wide range of dining options available in Yonge-St. Clair, which often has outdoor eating options like patios and al fresco dining. For a quick bite, many people grab something off the menu at Holy Chuck Burgers. Barnsteiner's offers food reinterpretations of German and Bavarian classics for something a bit more unique and upscale.
Annex
Annex Amenities
Spadina Road Public Library
Le Paradis
The Beaded Monkey
Vermont Square Park
Annex is one of the oldest neighbourhoods in Toronto, tracing its roots back to the 1870s. Many local entrepreneurial celebrities settled down here and started building the legacy of what became Toronto. Timothy Eaton, founder of Eaton's Department Store, and George Gooderham, president of the Gooderham and Worts Distillery, are just two commonly-cited examples of individuals who "started" here.
In the 1920s, there was a population dip in Annex as Toronto started to experience urban sprawl, but that quickly stopped. Annex' vitality has endured through today, accumulating various architectural styles along the way. As with some other Toronto neighbourhoods, the homes for sale in Annex have Edwardian and Victorian architectural influences to boast, with red brick and rosy-hued sandstone as commonly-used materials in its buildings.
Annex is a lauded destination within Toronto beyond just admiring the gorgeous buildings. The Native Canadian Centre of Toronto in Annex is a nonprofit organization that hosts educational events, provides programming support to native Canadian peoples, and strives to keep their legacy alive and well. This is an essential stop for anyone looking to learn more about the First Nations in Canada.
There is also excellent shopping and dining to be experienced in the Annex neighbourhood. Bloor Street is lined with shops, cafes, and restaurants. Just south of it on Markham Street is the Mirvish Village shopping district, which provides a secondary section full of bookstores and antique shopping.
Lawrence Park South
Lawrence Park South Amenities
North Toronto Memorial Community Centre
North Toronto Tennis Club
Alexander Muir Memorial Gardens
Shops on Yonge Street
The neighbourhood of Lawrence Park South is known as one of Toronto's first garden suburbs or an area that is supposed to preserve the countryside by having a somewhat urbanized center surrounded by a "greenbelt" of nature. This trend in urban planning caught on in the 1920s and was frequently seen in the suburbs of major cities like Toronto but areas without significant industrial presence that could otherwise pollute the air.
Most of the houses for sale in Lawrence Park South were built between 1920 and 1950, although there has been a resurgence of Toronto's new construction homes in the past couple of decades as more people move here. There are ten public schools and seven private schools within the borders of this neighbourhood.
For nature lovers, there is plenty to love in Lawrence Park South. Chatsworth Ravine is a locally beloved area to explore. Eglinton Park spans nine hectares, over which it delivers several sports fields, tennis courts, baseball diamonds, playgrounds, and even a wading pool. Many residents love to come to this park during winter for the ice rink that pops up annually.
Luxury Awaits in Toronto's Most Expensive Neighbourhoods
Visitors and people moving to Toronto love what this city has to offer. From quiet suburban-style living to slightly more relaxed reinterpretations of urban life, the most expensive neighbourhoods in Toronto are unique in their amenities and lifestyles.
If you're looking for your next home in Toronto, contact The Polsinello Team at RE/MAX Hallmark Polsinello Group Realty at (289) 803-3389 to get in touch with Toronto real estate agents who can help you find a Toronto home that's the perfect fit.