8 Newmarket Builders to Design Your Dream Home
Posted by Frank Polsinello on Tuesday, March 15, 2022 at 2:55 PM
By Frank Polsinello / March 15, 2022
Comment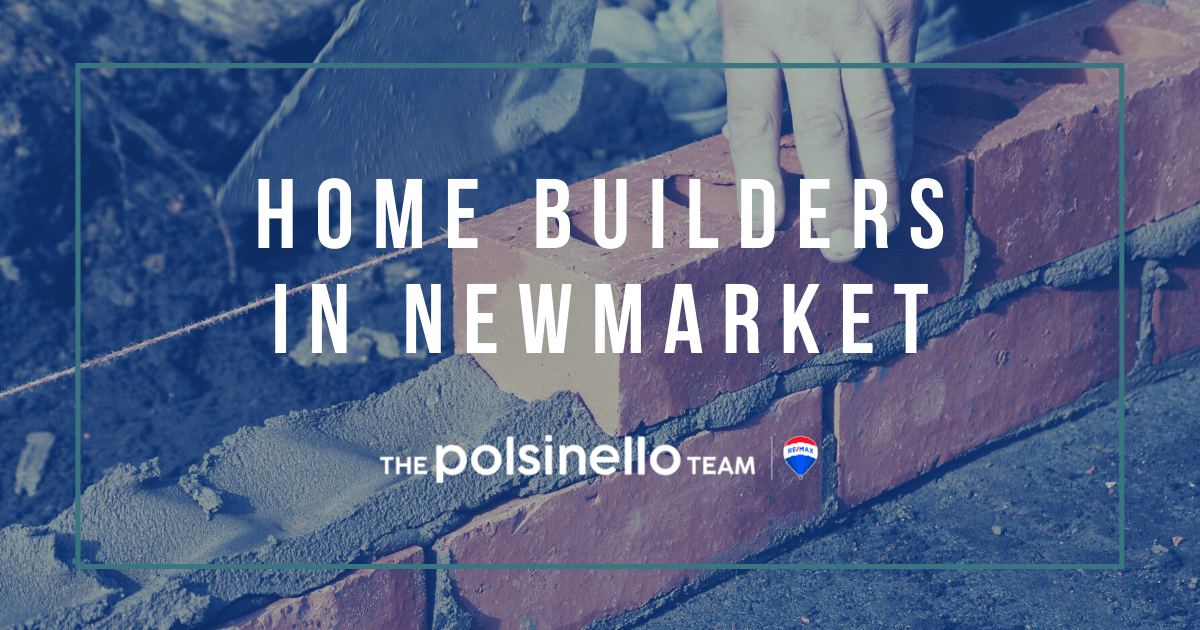 Home Builders in Newmarket, ON: Newmarket's Most Popular Home Builders Guide
As the Greater Toronto area proliferates, exciting opportunities appear in the Newmarket real estate world, and local home builders are busier than ever. Investing in Newmarket's new construction homes for sale is no small feat, so property owners want to know that their project is in good hands. If you're ready to make your Ontario dream home a reality, keep reading to learn about some of the most popular home builders in Newmarket.
KingsRidge Building Group
KingsRidge Building Group is easy to find, with their office located on Main Street in Newmarket. The company builds custom homes to the owners' specifications in any of the best neighbourhoods in Newmarket. They can work with the blueprints that a home buyer provides or have an architect on staff who can draw up a detailed set of plans. KingsRidge also helps the owners with material selection during the design process.
Once the permits are secured, Kingsridge handles the complete build from start to finish. KingsRidge is known for keeping projects on time and on budget in the Newmarket area. Past clients especially appreciate the attention to detail that KingsRidge brings to every project, both inside and outside the home. The company even completes the landscaping outside the home if that is something a client desires. KingsRidge was founded by owner Caleb MacDonald when he was still a teenager and working on landscaping and home renovations. Today, the company is one of Newmarket's most respected homebuilders.
KingsRidge Building Group Additional Information
Founded in 2006
Provides custom home builds, renovations and landscaping
Known for incredible attention to detail in projects
Alair Homes
Alair Homes is an international presence with local offices in the town of Aurora, the suburb directly south of Newmarket. They handle custom home builds, renovations and more across the Newmarket and Aurora area. The company's work in Ontario includes everything from charming bungalows to stunning Newmarket luxury homes. Alair's company strives to collaborate with clients to make their dreams a reality. They work with material suppliers and sub-contractors to find the best possible price for constructing a new home.
Alair is a franchise company with locations across Canada and the US, so it is very well known and respected in the home building sector. The company produces Alair Magazine so that prospective homebuyers can see much of the past work. In addition to custom home builds, Alair handles home renovations, teardowns and rebuilds, and home additions. For the home's interior, they offer bathroom, kitchen and basement remodelling.
Alair Homes Additional Information
Founded in 2006
Custom homes, renovations, teardowns, rebuilds and additions
167 square-meter homes priced between $360,000 to $540,000
Millwood Homes
Millwood Homes is headquartered in the city of Toronto, but the company builds custom new construction homes throughout the Greater Toronto Area, including Newmarket. Their portfolio includes many brick two-story homes and single-story bungalow-style homes.
Being headquartered in Toronto, Millwood Homes has built up relationships with many suppliers, specialists and contractors for the construction of clients' dream homes. This includes trade and service companies that provide everything from prebuilt audio and visual systems (for smart homes) to custom fireplaces and showers. They also have partnerships with many material suppliers, and more than 20 companies that provide unique or general interior finished products. They work with contractors and specialists that provide everything from gorgeous hardwood floors to chandeliers to staircases. These partnerships help Millwood Homes keep costs down for their clients.
Millwood Homes Additional Information
Over 65 years of combined building experience
Great relationships with many suppliers and contractors
139 square-meter homes priced between $225,000 and $375,000
Matthew Vincent Building Group
The Matthew Vincent Building Group is headquartered in the Mississauga area, just to the southwest of Toronto. This company focuses primarily on building custom modern-style luxury homes for buyers and residential community townhomes. If a buyer can envision the luxury home of their dreams, the Matthew Vincent Building Group can make it a reality.
The home building process involves an initial consultation, followed by the preliminary budget and design phase. The company is highly transparent regarding preliminary budgets and the build process. Fixed and variable costs are included in the budget, so clients know exactly what their money is buying.
One unique thing about the Matthew Vincent Building Group is how truly collaborative they are with clients throughout the new construction process. The company has a proprietary smartphone app that keeps buyers in the know through every step of the process. Owners can receive daily update photos as the home is being constructed. The app also reveals daily costs of materials and more, so they know that the Matthew Vincent Building Group is staying on time and budget. Buyers can watch the progress of their dream home being constructed without ever having to travel to the job site.
Matthew Vincent Building Group Additional Information
Founded in 2009
Particular focus on the luxury home market & residential townhomes
Smartphone app allows buyers to watch the build from start to finish
Easton Homes
Easton Homes is another Mississauga builder that serves Newmarket and the rest of the Greater Toronto Area. Company President Lee Cianciolo has more than 30 years of experience building custom homes and carrying out home renovations. They also provide exquisite landscaping to turn a property into a true relaxation sanctuary for the owners.
Easton employs a team of architects and designers to help buyers fashion the home of their dreams. The company's portfolio includes many single-story and two-story bungalow-style family homes. The sloped roofs on this home-style are prevalent due to Canada's snowfalls. Homebuyers are kept in the know during the build process by using the Buildertrend Software app. Easton Homes prides itself on saving costs for its buyers without sacrificing the quality of the finished product.
Easton Homes Additional Information
In business for more than 30 years
The company prides itself on exquisite attention to detail
225 square-meter homes priced between $360,000 to $600,000
Jordyn Developments
Jordyn Developments is headquartered in the York neighbourhood of Toronto and has been in business for more than 30 years. The company provides custom home building, renovations, condos, cottages and commercial building construction throughout the Greater Toronto Area. Exquisite Modern-style luxury homes and bungalow-style family homes become a reality through Jordyn's exquisite attention to detail and superior materials and design tactics. Their team of architects, engineers, landscapers and interior designers ensure that homes are built precisely to clients' wishes.
Jordyn is a top home developer in the greater Toronto area, having won a Best of Houzz Design Award every year since 2016. Jordyn Developments' founder, Brian Letofsky, was a real estate agent in the Toronto area before founding the company in 1988. Jordyn is also a member of the Toronto New Home Warranty Program.
Jordyn Developments Additional Information
Founded in 1988
Builds award-winning luxury homes
One of the most highly-esteemed builders in the GTA
KingsGate Luxury Homes
Located in Toronto, KingsGate Luxury Homes serves the luxury market for custom home builds and renovations. They have exquisite floor plans that buyers can work from or provide a complete design process with their in-house team of architects and other specialists. KingsGate primarily builds Newmarket luxury homes in the Modern and bungalow styles (or a combination of the two), with many two- and three-story homes in their portfolio. Whether the new home is sited in a gated community or a rural environment, KingsGate prides itself on building luxurious homes to the buyers' specifications.
KingsGate is a green builder specializing in sustainable and energy-efficient luxury homes. There's a heavy focus on energy-efficient upgrades, superior insulation to reduce dependency on air conditioners and heaters, and energy-efficient lighting. The company even provides estimated utility costs so that owners will know their expenses in the coming years. KingsGate also donates leftover construction materials to non-profit organizations in the Greater Toronto Area that can put them to good use. KingsGate also provides luxury interior remodelling and home rebuilding services for clients.
KingsGate Luxury Homes Additional Information
Founded in 2001 by Afshin Shirdarreh
Serving the high-quality luxury design community
Focus on energy efficiency and "green" building
South Park Design Build
South Park Design Build is another highly respected home building company in the Greater Toronto Area. They pride themselves on the speed with which their architects, designers and drafters work with clients. This helps to reduce the amount of time spent on planning the buyer's dream home. South Park Design Build has a large team to ensure that buyers work with one company from start to finish. The company strives to work with whatever budget a buyer brings to the table and can work with the buyer's architectural plans.
South Park Design Build's president, Eric Alderman, has been in business for more than 30 years in the Greater Toronto Area and has done over 300 home renovations. Many of the company's home designs feature luxurious stone and wood interiors that are unmatched in terms of quality and visual beauty.
South Park Design Build Additional Information
30+ years in business
Reduced start-to-finish times due to speedy in-house architects
Offers green building and sustainable home strategies
Find the Best Newmarket Home Builder For Your Project
There are many things to consider about new construction homes. Finding a builder that can work within a buyer's budget should be no problem for anyone moving to Newmarket. Whether a buyer wants a family home or a luxurious townhome, building it from scratch offers more customization and control than an existing property. The builders listed above are some of the most popular ones who serve Newmarket.