Moving to Keswick: 7 Reasons to Love Living in Keswick, ON
Posted by Frank Polsinello on Wednesday, December 21, 2022 at 1:49 PM
By Frank Polsinello / December 21, 2022
Comment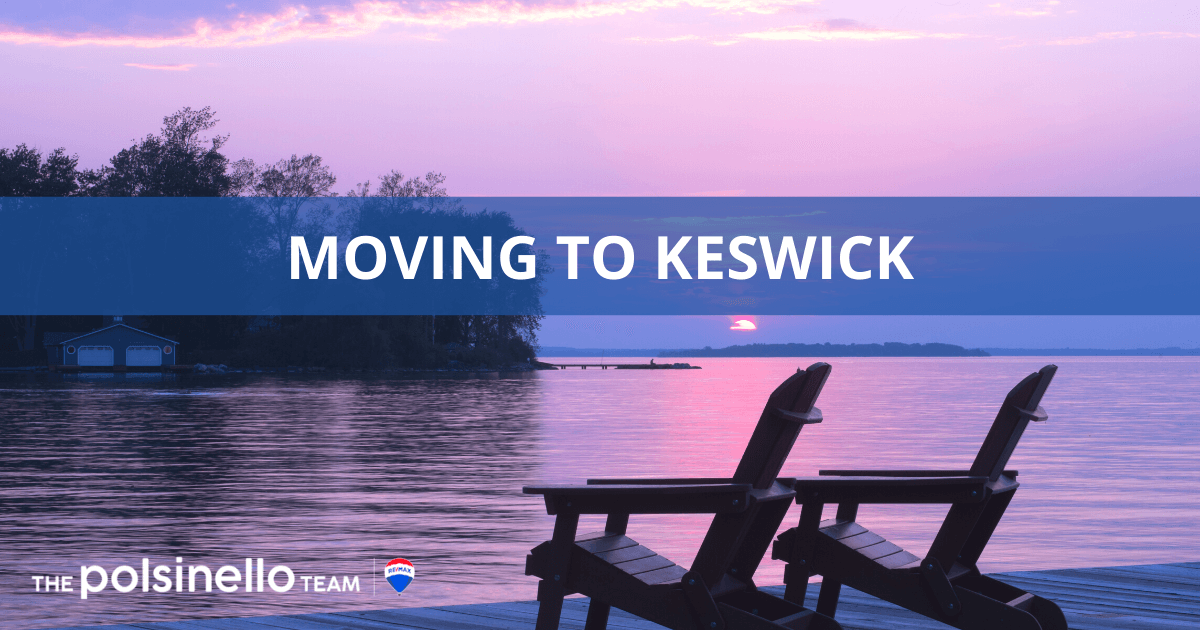 Living in Keswick, ON
Located in central Ontario, Keswick is a small, tight-knit community in the town of Georgina, the northernmost municipality in York, north of Toronto. Keswick, originally known as Medina, has just over 26,000 residents and is quickly gaining attention among York residents. Until the 1980s, Keswick was considered "cottage country" for Toronto residents because of its small size, proximity to Lake Simcoe, and relatively short distance to Toronto. Today, it is a city in its own right, with plenty to offer its residents.
Located just one hour from Downtown Toronto, Keswick has become an attractive option for Georgina residents, Toronto commuters, and out-of-town transplants. There are many reasons why Keswick is steadily growing, including a healthy job market, affordable housing, nearby amenities, and overall sound quality of life. Before moving to this small York town, keep reading to learn about a few considerations before moving to Keswick, Ontario.
Table of Contents
Keswick Cost of Living
As many Canadian residents are aware, Toronto is one of the priciest areas in the country. Because of high housing and transportation costs, many residents look for alternative housing options. In contrast, Keswick is a highly affordable area to live in, with a much lower cost of living than other areas of Ontario. The overall cost of living in Keswick is 4% cheaper than the national average and 14% cheaper than the province average for Ontario. One of the most significant driving factors behind Keswick's affordability in Ontario is its housing prices, which are a staggering 36% cheaper than the national average and 47% cheaper than Ontario's average. Homebuyers in Keswick can expect to pay between approximately $500,000 to $6,000,000, depending on the home's size, style, and acreage.
While housing prices are exponentially lower in Keswick than in other areas of southern Ontario, some aspects of living are far more expensive in Keswick than in other Canadian regions. One of which is utilities. Statistically, Keswick is one of the most costly areas in Canada for utilities, ranking 23% higher than the national average. Other areas where Keswick's cost of living index ranks above average include goods and services, healthcare, and transportation.
More information about cost of living in Keswick:
Keswick Job Market
Even though Keswick is a small town, it is one of the fastest-growing areas in Georgina — mainly because of Keswick's increasing employment opportunities and commercial infrastructure. While there are no significant companies headquartered in Georgina's city limits, a substantial portion of the city's urban and commercial growth is in Keswick. The Town's Business Park is east of Woodbine Avenue and east of the planned Highway 404 extension. Georgina projects this expansion of the Business Park will provide 6,600 to 7,500 new jobs for Keswick residents.
Keswick, located in the York Region of Ontario, is also a short commute to many of Canada's most prominent employers. The York region ranks among Canada's top 10 large municipalities for economic growth and is the third-largest business community in Ontario, giving Keswick residents ample opportunities close by. York has headquarters for many private sector companies with over 300 employees, including Adidas Canada, Costco Wholesale Canada, Johnson & Johnson, and Scholastic Canada. York is also home to Fortune 500 companies and Branham 300 companies. Some of the largest employers in York include 407 International, IBM Canada, Honda Canada, Allstate Insurance, and Toromont Industries.
More information about finding a job in Keswick:
Popular Industries in the Area
While Keswick has an increasing number of employment opportunities, five main industries dominate the area's job market: retail, manufacturing, technology, construction, and energy. Within Keswick's city limits, the largest employer is Wal-Mart, one of the world's largest retailers. The town also boasts many retail and shopping areas, which provide many jobs.
Keswick residents can also find career opportunities in manufacturing jobs at Honda Canada and Mauser Packaging Solutions within the York region. Some technology-based companies headquartered in York are IBM and Exco Technologies. One of the largest construction companies in York is Green Frog Construction, one of the fastest-growing employers in the region. Another fast-growing industry is energy, where Kontrol Energy employs many York residents.
Things to Do in Keswick
For a small town, Keswick packs quite a punch for activities. Visitors will always find something to do in Keswick, from historical tours to live performances. Situated on the shores of Lake Simcoe, many recreational activities centre around the lake. But that doesn't mean you have to be a water lover to enjoy all that Keswick offers. Keswick has the Georgina Pioneer Village and the Liberation Tours. Another highly popular museum in the area is the Georgina Military Museum, which provides history and insight into Canada's military conflicts.
Outdoor Activities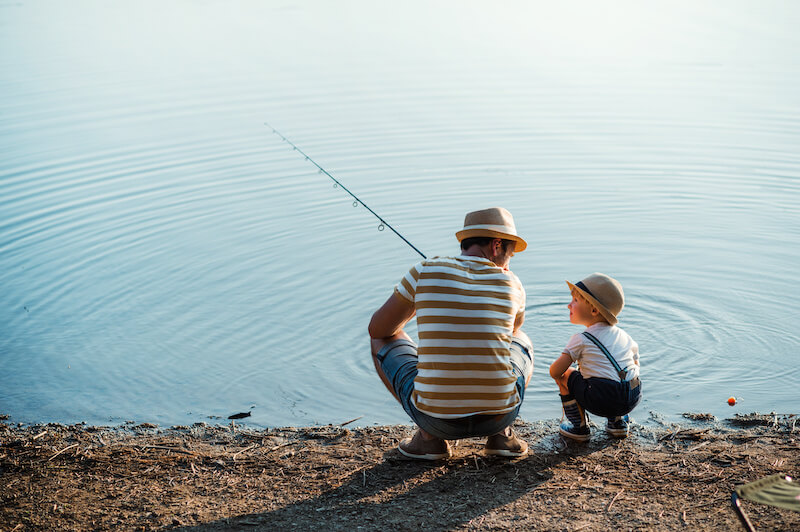 One of the most attractive aspects of living in Keswick is how close it is to Lake Simcoe. Residents and visitors partake in water activities year-round, such as boating, swimming, and sailing. During the winter months, many people go ice fishing on the lake. Along with water activities, there are many green spaces and hiking trails to explore, including De La Salle Park and Duclos Point Provincial Nature Reserve. For golf lovers, there's Orchard Beach Golf & Country Club.
Restaurants, Breweries, and Bars
Keswick packs a lot of punch for culinary offerings for a town its size. Visitors will find plenty of dining options to choose from, from charming bistros and cafes to American barbecue and Italian cuisine. Some of the most popular restaurants in the area are Riveredge Restaurant, The Cornerhouse Bistro, and Big Bone BBQ.
Nightlife
Beer enthusiasts will enjoy Turkey Shoot Brewing Co., the first brewing company in Georgina. Another popular nightlife destination is Armed and Hammered Comedy, a live uncensored stand-up comedy show. Residents and visitors alike will never be bored in Keswick.
Keswick Climate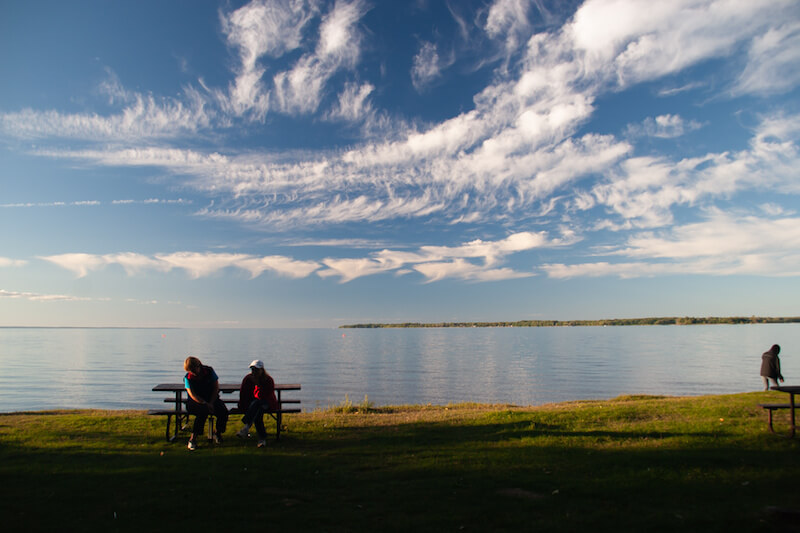 Keswick has a humid, continental climate with four distinct seasons. Because of its location, the weather varies drastically throughout the year. With lows reaching -10 degrees C in the winter and highs running 29 degrees C in the summer, Ontario is less temperate than other areas of the country, such as British Columbia. Keswick receives an average yearly rainfall of 71 cm of precipitation. The rainiest month in Keswick is October, while the coldest month is February. The hottest month is July, where the average temperature is 21 degrees C.
That said, Keswick often has lovely weather residents take advantage of. The average temperature ranges from 17 to 25 degrees C during summer, making it pleasant without being too hot. The summer months are the busiest for tourism. Keswick has many trees that change colour during fall, giving the area beautiful fall foliage. Temperatures during the fall range from 0 to 21 degrees C. Winter temperatures can range from -10 to 3 degrees C. Like fall, spring weather varies greatly, ranging from -4 to 17 degrees C.
More information about the climate in Keswick:
Traffic in Keswick
The most popular commuting routes for Keswick residents are south to Newmarket and Toronto. On average, it takes commuters 20 - 25 minutes to get to Newmarket. The fastest and most travelled route is Highway 404, the main road to and from Keswick. Highway 404 can be very congested for commuters, increasing commuting times up to 30 minutes during rush hour.
Depending on traffic, it takes commuters anywhere from 45 to 65 minutes to travel to downtown Toronto. Depending on the route, drivers will often drive Highway 404 and either stay on the freeway, exit onto Ontario 401 Express, or exit Highway 407 from Highway 404. Most of the traffic to and from Keswick mainly concentrates on Highway 404. During the morning rush hour, most commuters drive south to either Newmarket or Toronto, while the evening rush hour traffic goes north to Keswick.
More information about traffic in Keswick:
Alternative Routes
Because most of the traffic to and from Keswick goes along Highway 404, it can often be congested during the morning and evening rush hours. Highway 404 is not the only route for commuters travelling to and from Newmarket. Drivers can also take York Regional Road 12 to 2nd Concession Road, which leads to downtown Newmarket. The fastest route for commuters going to and from downtown Toronto will be Highway 404. Once they've driven south of Richmond Hill, they can exit onto Ontario 401 Express or Highway 407.
Public Transportation in Keswick
When getting around Keswick, there are four primary modes of transportation for residents: car, taxi, bus, and train. While driving is one of the most popular modes of transportation in the town, there are plenty of public transportation options for residents who don't have a car or don't drive. Those who wish to take a taxi have three taxi companies to choose from that service Keswick and the surrounding area: Wave Taxi, Georgina/Keswick GQ Taxi Service, and Georgina Taxi. Commercial rideshares such as Uber and Lyft are also available in the area.
For commuters looking for public transit options, the most popular modes of public transportation are buses and trains. While no train lines run directly through Keswick, commuters often take a taxi to Bradford GO and hop on the train to Toronto. For getting around Keswick, the best option is taking the bus. Residents of Keswick and Georgina most often take York Region Transit or GO Transit for bus transport.
Another mode of transportation for Keswick residents is Mobility On-Request, York Region Transit's mobile app, which allows riders to request a direct pickup from one location to a public transit line.
Keswick Schools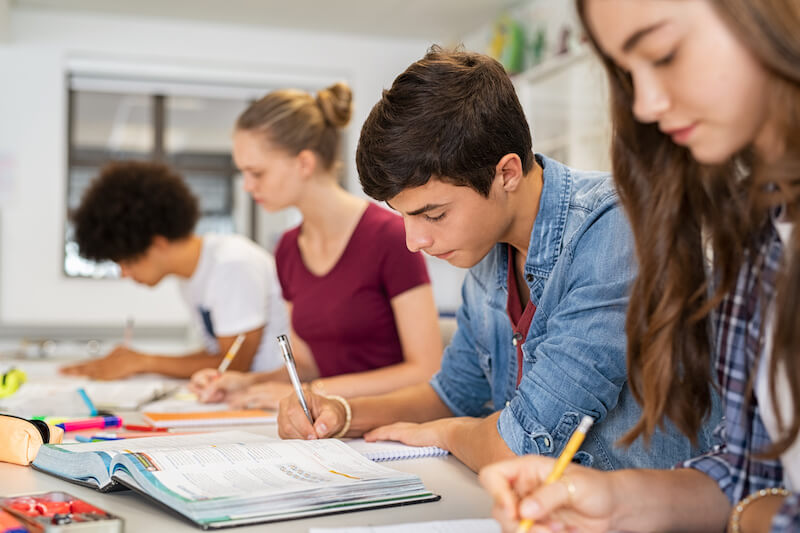 When it comes to education, Keswick students have plenty of options. Because Keswick is part of Georgina, students living in Keswick are part of the York Region District School Board and generally attend schools within the city limits. Georgina's borders range from Lake Simcoe to the north and west, Ravenshoe to the south, and Lake Ridge to the east.
Surrounding area schools are in East Gwillimbury and the Durham region. There are 13 public schools within Georgina's borders: 11 primary and two secondary schools. The list of area primary schools includes:
Black River Public School
Deer Park Public School
Fairwood Public School
Jersey Public School
Keswick Public School (a French Immersion School)
Lake Simcoe Public School
Lakeside Public School
Morning Glory Public School
R.L. Graham Public School
Sutton Public School
W.J. Watson Public School
Waabgon Gamig F.N.S
Students will attend either Keswick High School or Sutton District High School for secondary school. While Sutton D.S.H. used to be the main high school for all of Georgina and the surrounding area, Keswick High School became Keswick's main high school in 2000. Students living in Keswick can attend either school. Keswick High School has around 900 students, while Sutton District High School has around 500 students.
Why You Should Move to Keswick
With its mix of outdoor living and proximity to Ontario's biggest cities, Keswick has so much to offer visitors and residents alike. Because of Keswick's steady growth, the area will likely see more amenities and employment opportunities in the coming years. With its tight-knit community and lakeside living, Keswick provides an inviting atmosphere for residents and visitors.
This South Central Ontario town has tons of outdoor activities, affordable housing, and employment opportunities, making it a great place to visit. While the joys of Keswick are best during the summer and fall, it is a dynamic place to be year-round, especially for those looking for four seasons. Whether one is seeking quiet, small-town charm or an abundance of outdoor activities, Keswick is an ideal place to be.
If you're looking for a Keswick home, contact The Polsinello Team at RE/MAX Hallmark Polsinello Group Realty at (289) 803-3389 to get in touch with Keswick real estate agents who can help you find your dream home in Keswick today.