Things to Do in Newmarket: 25 Ideas For Weekend Fun
Posted by Frank Polsinello on Friday, March 11, 2022 at 10:49 AM
By Frank Polsinello / March 11, 2022
Comment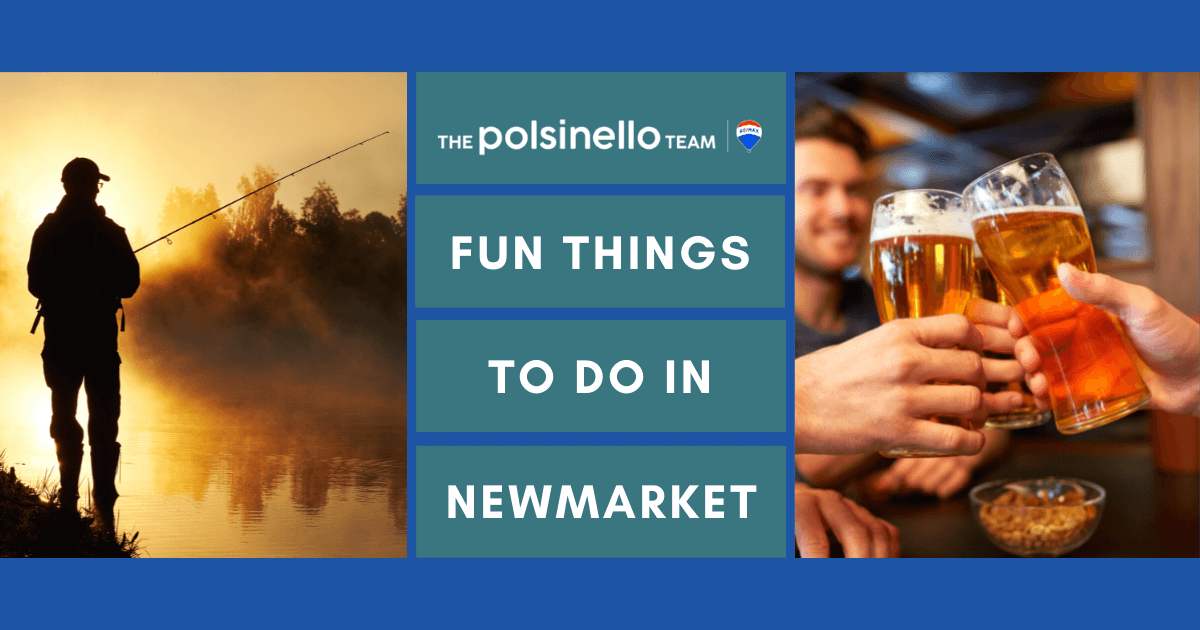 Considered part of Greater Toronto, the suburban town of Newmarket was formed as a farming community in 1801. To this day, it has plenty of green spaces, fresh bodies of water, and outdoor activities for residents and visitors to use year-round.
Newmarket also has some of the best shopping destinations in the Golden Horseshoe area. An excellent selection of restaurants, a thriving arts and culture scene, and fun opportunities for nightlife add to Newmarket's many offerings.
Looking for a new way to spend your time in this amazing city? Read on to discover just a few of the exciting things to do in Newmarket, Ontario.
Newmarket Outdoor Adventures
Newmarket has far more parks, green spaces, and protected ecological areas than one might expect to find in a mid-sized suburban area. Local lakes offer opportunities for fishing and other water activities, and the city has many miles of trails available for hiking and biking.
Parks
Newmarket Parks
Fairy Lake Park
Frank Stronach Park
George Richardson Park
Bonshaw Avenue Park
Mabel Davis Conservation Area
Newmarket has more than 800 acres for parks within the city limits. The Newmarket city website maintains a list of all the parks, making it easy to find those close to a resident's neighbourhood. Many paved trails in Newmarket parks link to a larger trail system that runs from the East Gwillimbury community in the north to the Aurora community in the south.
More than 45 parks in Newmarket offer a variety of activities, from picnics and playground equipment to sports fields for soccer, baseball, basketball, tennis, and pickleball.
Water Recreation
Water Sources in Newmarket
Fairy Lake
Bogart Pond
Rogers Reservoir
Holland River
Fairy Lake in central Newmarket is a small lake for fishermen to throw a line in the water. The lake is in a park with many additional activities for residents and plenty of free parking spaces. Fishermen catch carp, pumpkinseed, and bass in this lake. There are many lakes in nearby Aurora and ample opportunities for boating on Cook's Bay to the north in the Keswick community.
The Gorman Outdoor Pool in Newmarket is open during summer for swimming. Additionally, the Ray Twinney Recreation Complex has a large indoor pool available for swimming year-round.
Hiking & Biking Trails in Newmarket
Newmarket Trails
Tom Taylor Trail
Nokiidaa Loop
Jokers Hill Blue Loop
Fairy Lake Loop
Robinson Travt Loop
Denne Bush Trail
Newmarket has more than 44 kilometres of trails available for hiking and biking within the town limits. The Tom Taylor Trail is an easy loop hike (5.4 km) that sets out on the north side of Timothy Street. It's primarily flat and traverses through Newmarket for about a two-hour hike. The Nokiidaa Loop is another easy hike (4 km) along a quiet natural area in Newmarket.
The Jokers Hill Blue Loop is a 4 km hike through the Thornton Bales Conservation Area in Newmarket for more of a challenge. Be advised that this forested trail can get muddy at times.
The Dave Kerwin Trail sets out from Environmental Park in Newmarket. It's an excellent trail for hiking and cycling, and dogs are also welcome. There is also an extensive network of trails for hiking and cycling in the Holland Landing Conservation Area.
These short lists barely scratch the surface of all the outdoor adventures waiting to be discovered in Newmarket.
Newmarket Shopping
Malls in Newmarket
Upper Canada Mall
Newmarket Plaza
404 Town Centre
York Town Square
The Upper Canada Mall is one of the largest shopping centres in Ontario outside of Toronto. It has dozens of stores, including large department stores, apparel, jewelry, cosmetics, a pharmacy, and more.
The Newmarket Plaza is on the opposite side of the Upper Canada Mall. It's a strip mall with more than 50 stores, service businesses, and restaurants. Shops include Global Pet Food, Daco Diamonds, Guardian Pharmacy, and a laundromat.
Main Street South has an incredible array of locally owned specialty shops and boutiques in historic brick buildings. It's a great experience to park and walk along Main Street to browse all the available unique offerings.
Newmarket Restaurants
Restaurants in Newmarket
The Goulash House
Pho Fusion
The Buttery Restaurant
Crow's Nest
Milestones
A Taste of the Islands
Newmarket has dozens of great restaurants offering everything from international cuisine to tried and true Canadian fare. Café Andes on Bayview Avenue offers a great mix of Venezuelan and Colombian dishes. Kuma Ramen on Yonge Street is the spot to find authentic Japanese ramen and other dishes. Chez Talal on Davis Drive serves authentic Middle Eastern and Lebanese cuisine and falafel, while Ghost Taco on Doug Duncan Drive is one of the best locations for Mexican cuisine in the city.
The Crow's Nest on Prospect Street is an authentic British pub with burgers, beer and a variety of pub foods. On Main Street, the Sun Star Bar and Grill is primarily known for its chicken wings and large portions for breakfast, lunch, and dinner. The pizzas at the locally owned Papillon Pizzeria on Bayview Street are works of art. The Newmarket Plaza Fish and Chips restaurant on Davis Drive is an excellent choice for tasty fish and chips.
Arts & Culture in Newmarket
Newmarket's proximity to Toronto means a thriving arts and cultural scene is here. Art galleries, dance studios, theatre shows, and museums are just a short drive from anywhere in town. Here are some of the best offerings in Newmarket.
Museums
Museums Near Newmarket
Elman W. Campbell Museum
Sharon Temple National Historic Site and Museum
Hillary House National Historic Site
Whitchurch-Stouffville Museum
The Elman W. Campbell Museum is the primary museum offering in Newmarket. It's located on Main Street and features exhibits highlighting local history from the pioneer times in the region through the 1980s. The museum is primarily donor-supported and charges a small fee for different programs and activities that it sponsors. The museum maintains a year-round schedule of historical learning activities for children of all ages, including programs like Life Before Electricity and Indigenous Peoples and craft projects like building model-sized log cabins. The museum also offers rotating exhibits of historical artifacts seasonally.
Art Galleries
Newmarket Art Galleries
Select Art Galleries
Terre Neuve Gallery
Royal Rose Art Gallery
The Newmarket Municipal Offices offer three separate art galleries for public viewing. Located at 395 Mulock Drive, the exhibits are collectively known as Art at 395. The Executive Gallery features rotating Canadian and international exhibits; the Permanent Collection highlights artists from across Ontario; the Community Gallery hosts two juried art shows each year, a Heritage show and one for high school students.
Select Art Galleries on Yonge Street offers art prints, sculptures, and limited edition work from local and international artists. The Burnt Offerings Studio on William Roe Boulevard takes its name from the clay-fired pottery it has on display. It also offers community pottery lessons and art classes.
Dance & Theatre
Performing Arts Venues Near Newmarket
NewRoads Performing Arts Centre
Aurora Cultural Centre
Newmarket Stage Company
The NewRoads Performing Arts Centre in Newmarket is the best place in town to catch a stage play or a live musical performance. Visitors can take in comedy shows, rock concerts, classical music concerts, dance competitions, and more on the stage at NewRoads.
Imagine Arts Inc. is a dance studio located on Main Street, offering everything from casual dance lessons to competitive dancing, tap dancing, hip hop, jazz, contemporary, and lyrical dance. It has an excellent high school program for students considering a career in dance.
CDA Dance Academy is just a short drive south from Newmarket in Aurora. It offers dance programs for children and adults in many genres, from tap and jazz dance to musical theatre and Zumba fitness dance classes.
If one drives just outside of Newmarket (15 to 20 minutes), additional arts and cultural experiences are available. As the town continues to grow, there is no doubt that more experiences will also open up.
Newmarket Nightlife
Bars & Clubs in Newmarket
Olde Village Free House
Knights Arms Pub & Grill
Goblets & Goblins
I Don't Know
Sometimes Newmarket residents want to get out and experience the nightlife in town. The Bar97 Sports Bar and Grill on Yonge Street is an excellent spot for playing some pool or darts and enjoying a beer while watching a hockey game. Additionally, The Olde Village Freehouse on Main Street has many beers on tap and serves up fantastic pub food.
The Grey Goat Pub and Grill offers live music on the weekends and many beers on tap. It also has an outside patio available during the year's warmer months.
Big Daddy's Rock & Roll Emporium on Davis Drive is exactly what its name suggests: A bar with traditional American fare like wings and ribs, live entertainment every night, and many beers on tap.
Fionn McCool's Irish Pub is an excellent spot for anyone who appreciates a noisy crowd, traditional Irish fare, and a full bar.
Plenty of Adventures Await in Newmarket
There is no shortage of free and paid activities available in Newmarket, Ontario. The city is full of green spaces and outdoor adventures in nearly every direction. It also has some of the best shopping outside of Toronto, with smaller crowds than one will find in the bigger city. The thriving restaurant scene and arts and cultural offerings ensure that there is always something to do, even on a weekday evening. Most offerings are just a short distance from the condos and townhomes where most residents live.