Pros and Cons of Different Home Flooring Types
Posted by Frank Polsinello on Monday, August 16, 2021 at 9:17 AM
By Frank Polsinello / August 16, 2021
Comment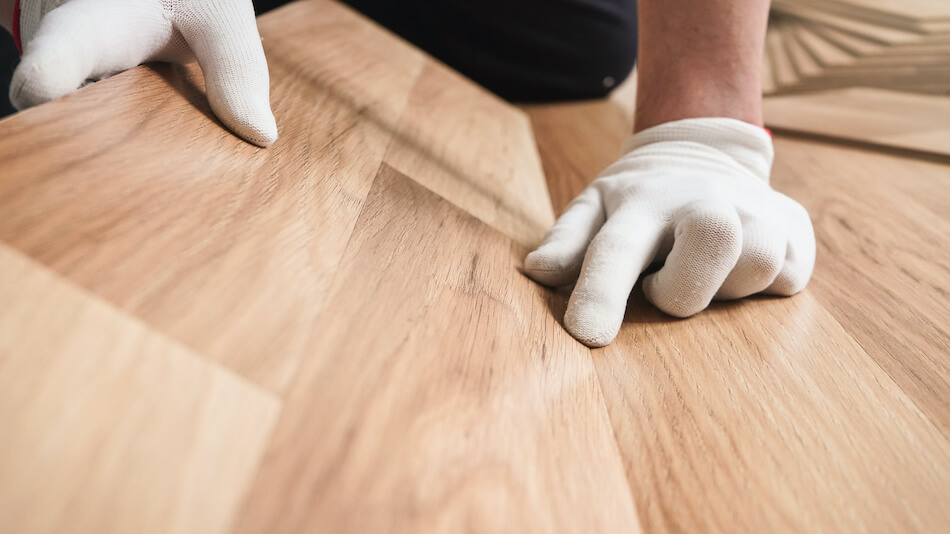 What kind of floors do you want in your home? This is an important question whether you're building a new home or replacing the existing flooring. Choosing a type of floor is a long-term commitment. Homeowners should consider the pros and cons of the most popular floor types before making a decision. Choosing the wrong type could cause ongoing frustration, whereas the right type could be a home improvement with a high ROI. Here are popular home flooring choices and the advantages and disadvantages of each.
The Pros and Cons of Hardwood Floors
There's nothing quite like hardwood floors. They're beautiful and timeless. They're also expensive and require ongoing maintenance. They're subject to scratches and dents, and if too much water gets on them, they'll warp or grow mould, which is one of the most common hidden home hazards.
On the positive side, however, few floors are more beautiful. Hardwood floors can increase the value of a home. For some people, nothing else will do. As a homeowner, if you decide that the price of buying, installing, and maintaining hardwood floors is worth it, then this flooring type is a great option.
Enjoy Sleek Style and Easy Maintenance with Engineered Wood Floors
Engineered wood has a thick core of plywood with a thin veneer of finished real wood. It's a little sturdier than hardwood against the damage risks, and it's considerably less expensive. Sometimes it comes in clickable boards that a knowledgeable DIYer can learn how to install.
Engineered wood looks almost like solid hardwood while being less expensive and often easier to install. It holds up better against dents and scratches. But engineered wood is still wood and still subject to water damage. It also can't be refinished as many times as hardwood because the veneer is relatively thin.
The Perks of Properly Installed Tile Floors
Ceramic and porcelain tile are the traditional choices for kitchens and bathrooms because of their great water resistance. With modern wood-look tile patterns, tile is also finding its way into other rooms. It's available in nearly unlimited colours and patterns.
Tile is suitable for bathrooms and kitchens because it's waterproof and sturdy enough to withstand tough everyday use. However, while it's sturdy, a heavy object can crack it. It's a more costly flooring option, and it must be properly installed and grouted to be waterproof.
What's the Hype Behind Vinyl Flooring?
The best vinyl flooring, called luxury vinyl, is booming in popularity. It comes in squarish pieces that resemble tile or rectangular planks that look like wood. It's comfortable, durable, waterproof, and relatively easy to install. It usually comes in clickable sections that form a seal without requiring grout. There's also sheet vinyl and peel-and-stick vinyl, but these have been largely displaced by the tile and plank styles.
Waterproof vinyl costs less than wood or tile and is easier to install. The quality and pattern selection is constantly improving. While sturdy, it's not as sturdy as tile and is less popular for kitchens where dropping and denting are possible. Quality and thickness vary widely. Be aware of what you're buying.
Save Money with Laminate Flooring
Laminate flooring generally has a core of melamine and wood fibre covered with a sealing veneer. Like vinyl, it's available in a variety of styles and patterns. It holds up well to children and pets. It's water-resistant but not waterproof.
Laminate is an inexpensive flooring option. It stands up to normal wear and tear and a limited amount of moisture. However, it's not completely waterproof. It will handle some tracked-in moisture that's sopped up promptly but has no chance against a large volume of water from a dishwasher flood. You can't let water stand when you're mopping. It's hard to repair, and damage will typically require replacing a large area.
Carpet Floors for Maximum Comfort
There's nothing as comfortable on bare feet as carpeting. It's cozy, and it's warm. It also helps insulate and soundproof a home. It reduces the chance of slipping and falling. On the other hand, it's time-consuming to take care of and subject to all kinds of damage.
Carpet floors can insulate against heat, cold, and sound. Some types and treatments offer stain resistance. However, carpet can be high-maintenance. You must vacuum regularly and have it professionally cleaned periodically. It's subject to tearing, water damage, spills, and damage from pet accidents. Its beauty typically fades as it wears.
What Flooring Is Right for Me?
All styles of flooring have their pros and cons. Choose based on budget, location, upkeep, and, of course, on which one pleases you the most.