4 Reasons to Love Living in the Aurora Estates Neighbourhood
Posted by Frank Polsinello on Monday, January 30, 2023 at 11:10:31 AM
By Frank Polsinello / January 30, 2023
Comment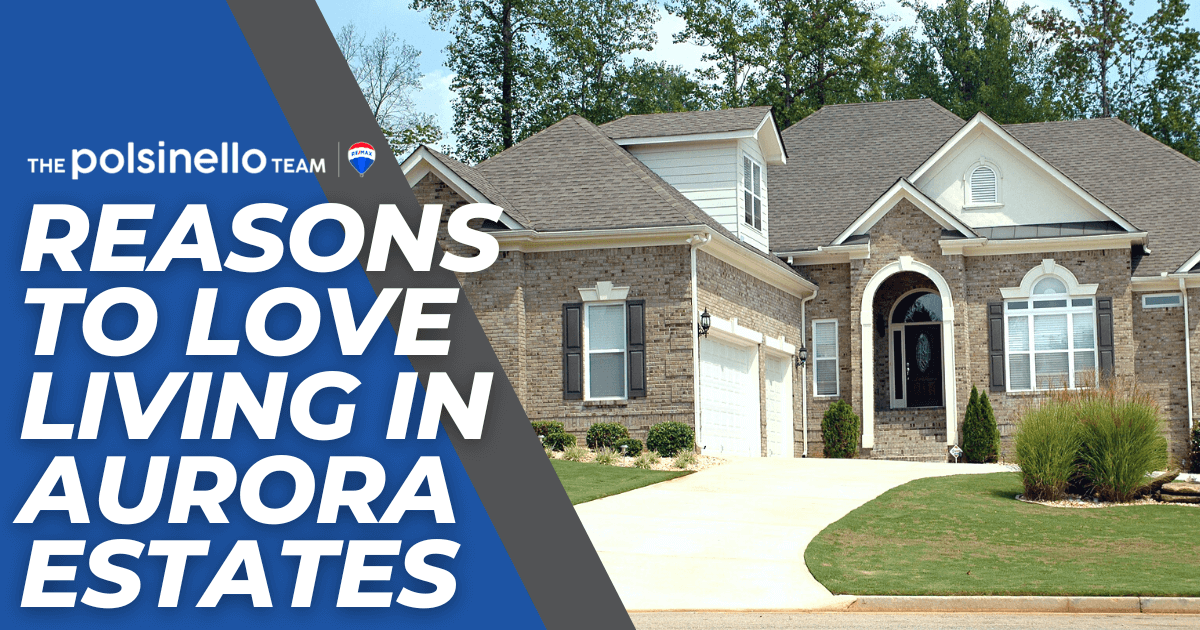 While the town of Aurora, Ontario, is one of the top suburbs in the Greater Toronto area, the Aurora Estates neighbourhood is one of the best places to live there. This private community in the southwest part of Aurora is one of the town's newest parts, with stately luxury homes and golf course properties. Speaking of golf, numerous courses are in and around Aurora Estates, along with parks and community centres and Yonge Street shopping. Here's a closer look at why residents love living in Aurora Estates.
One of the Best Neighbourhoods in Aurora
Aurora Estates' location is just a 40-minute commute to the city of Toronto, and many residents drive there each day and return to this beautiful community. Historic Yonge Street in Aurora, which also serves as the town's "Main Street," runs through the centre of Aurora Estates. This street offers easy access to Aurora's shopping and dining options, including the Aurora Centre and Smartcentres Aurora.
There are many outdoor activities in Aurora for residents to enjoy. The Holland River Valley Trail begins in Evans Park in the northeast corner of the neighbourhood and winds its way north through town. Aurora Estates is also home to several institutions in the community, including the Ontario Provincial Police Highway Safety Division, the Service Ontario building, and the York Catholic District School Board.
The Aurora Cultural Centre is an important historic structure dating back to 1886. The building initially served as the first Aurora Public School, but today is a significant arts and cultural centre. It features several art galleries, live music events, summer art camps, and art classes throughout the year.
Luxurious Homes on Every Street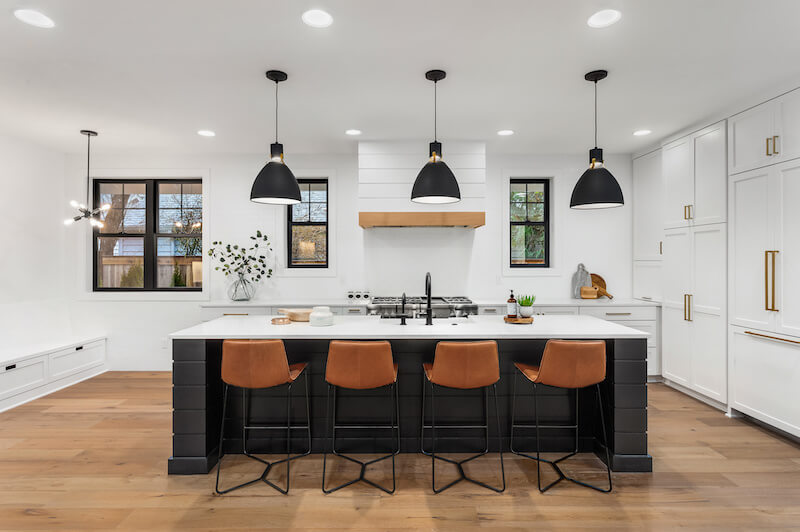 Most homes in Aurora Estates are luxury properties with one- to two-acre lots and four to six bedrooms and bathrooms. The neighbourhood has some low-rise condos and townhomes, but almost everything else falls within the luxury estate category.
Homes for sale in Aurora Estates range in price from about $1.4 million to nearly $13 million. The territory in Aurora Estates is hilly, which means many houses are elevated and feature stunning views of the valley.
Buyers have a range of architectural styles to choose from when searching for a property in Aurora Estates. English Manors, French Chateaus, Colonial Revivals, and Georgian and Palladian styles are available. Many have private amenities, like a wine cellar, home theatre, library, den/office, and multiple garages. The meticulous landscaping on every property makes the neighbourhood appear like something out of a storybook.
Aurora Estates also has room to grow, so new construction homes continue to pop up throughout the neighbourhood. Many of the streets are within private, gated communities, and the area has the highest concentration of luxury homes in town.
A Golfer's Paradise
Beacon Hall Golf Club is a private, members-only country club serving as Aurora Estates' centrepiece. It is considered one of the finest golf courses in the world and consistently ranks within the top 10 courses in Canada. Equity membership at Beacon Hall caps at 260 members plus their spouses. There are no tee times at Beacon Hall; members can play at their leisure. Membership includes dedicated caddies, unrestricted access to the clubhouse and social events, a Performance Academy, and a championship 18-hole course.
The Bloomington Downs Golf Course, located directly south of the neighbourhood, is a public course offering many activities. In addition to the 18-hole, par 72 championship course, it has an 18-hole mini-golf course, softball and hardball batting cages, various practice ranges, and a driving range.
There are many additional Aurora golf courses near Aurora Estates for players who like to mix up the scenery and challenges of their game. These include:
King's Riding Golf Club
DiamondBack Golf Club
Westview Golf Club
Magna Golf Club
St. Andrew's Valley Golf Club
Emerald Hills Golf Club
Rolling Hills Golf Club
Station Creek Golf Club
Spring Lakes Golf Club
Meadowbrook Golf Club
Convenient Access to Parks & Community Centres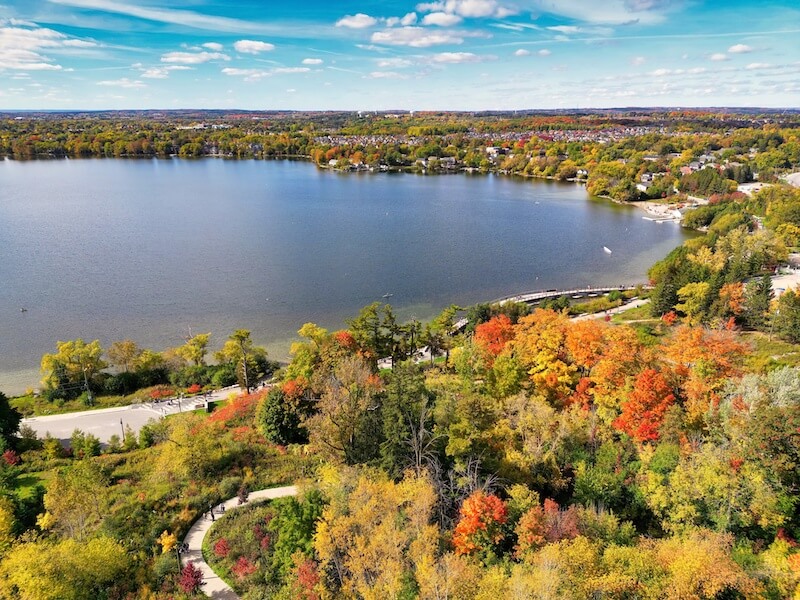 The southern edge of Aurora Estates borders the Oak Ridges community. Residents can drive south on Bayview Drive, just a short distance to reach Lake Wilcox Park, featuring a waterfront promenade next to beautiful Lake Wilcox and an outdoor splash park for cooling off during summer. A large children's playground, public washrooms, and a picnic area are also available. There's paid parking at Lake Wilcox Park for non-residents.
The Oak Ridges Community Centre and Pool are next to Lake Wilcox Park. Swimming is not allowed in the lake, but the pool at this rec centre is 25 metres long and has a waterslide and teaching area. Residents can purchase a membership at the Community Centre, sign up for fitness classes, or work in the 7,000-square-foot gymnasium. This Aurora community centre hosts an Outdoor Adventure Series, Summer Camps, and other youth programs throughout the year. Older residents and retirees can also sign up for various age-appropriate fitness courses.
Awesome Amenities For Kids
The York Region District School Board (YRDSB) administers schools in Aurora Estates. Highview Public School is a JK through grade eight school just northwest of the neighbourhood. The Cardinal Carter Catholic High School is a secondary school managed by the Catholic School Council and Our Lady of Grace Parish in Aurora. A French-language private high school, the Renaissance École secondaire catholique, is also in the neighbourhood. Meanwhile, the Bloomfield Junior Academy Montessori School is a private Aurora school for students between 18 months and six years old.
There is a daycare in nearby Oak Ridges called the We Love Kids Home Childcare facility. It accepts children from 12 months through age five and offers various educational and play opportunities in a full-day schedule to accommodate working parents.
The York Hills Centre for Children, Youth and Families is located in Aurora Estates. This social services organization helps children and youths with free services, although there may be a waiting period depending on the needed services.
Upscale Living in Beautiful Aurora Estates
Aurora Estates offers an incredible lifestyle for those who appreciate nature, personal space, and the finer things in life. The homes in this neighbourhood are exquisite, and so are the community's amenities. From golf to arts and cultural performances to beautiful parks and community centres, Aurora Heights is a place that is well worth exploring for anyone looking for an upscale neighbourhood in the Greater Toronto area.