Fun Things to Do in Toronto, ON: Outdoor Adventures, Shopping, Nightlife, & More
Posted by Frank Polsinello on Tuesday, July 27, 2021 at 8:49 AM
By Frank Polsinello / July 27, 2021
Comment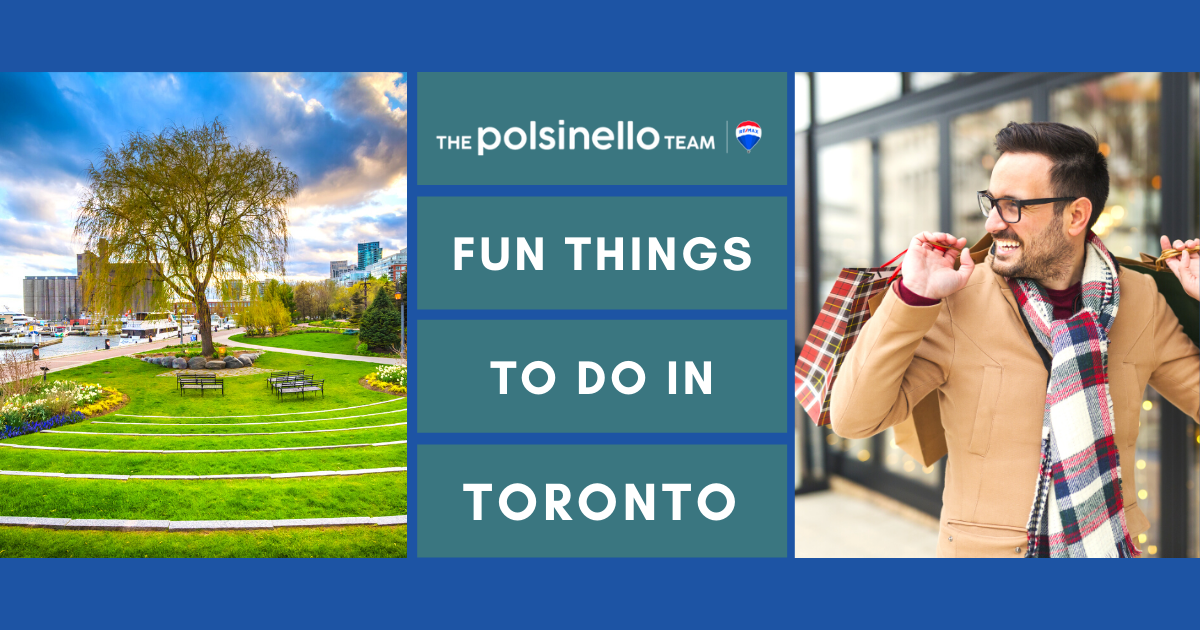 New residents, long-time locals, and visitors alike can easily find entertainment in the Toronto community. Whether one is looking to get outdoors, shop until they drop, eat to their heart's content, or take in local performances, it's easy to do so within Toronto's borders. There's no reason for anyone to ever say they're bored in this city. Read on to discover some of the many fun things to do in Toronto.
Outdoor Adventures in Toronto
Ontario's capital city is home to numerous outdoor activities that can entice residents out of their Toronto condos and luxury homes throughout the year. Whether one wants to simply step out of their front door or roam a little farther afield, they're sure to find an outdoor activity that fills their soul with joy.
Toronto Parks
Popular Toronto Parks
Evergreen Brick Works
Toronto Music Garden
Allan Gardens Conservatory
With Toronto's large size, it has plenty of parks for residents to use. Many of the parks have distinct focuses, allowing Torontonians to have experiences found nowhere else.
Evergreen Brick Works was once an industrial plant that has transformed itself into a year-round weekend farmers market and gardening centre. Visitors can shop, rent or repair their bikes, and meander through edible plant gardens. There are also programs that teach children how to garden.
Toronto Music Garden is a waterfront park that combines music, architecture, and the great outdoors. Visitors can stroll through the botanical areas of the park or take in an outdoor concert during the summer. The park was designed in collaboration with Yo-Yo Ma, the world-renowned cellist, and different sections of the garden correspond to Bach's First Suite.
Allan Gardens Conservatory is every plant lover's delight. This massive indoor botanical garden is home to thousands of plant species. Tropical, exotic, and domestic plants can be found thriving and blooming seasonally.
Toronto Water Recreation
Toronto Water Recreation Activities
Windsurfing
Kitesurfing
Kayaking, paddleboarding, canoeing
Rentals along Lake Ontario
Nestled on the edge of Lake Ontario, Toronto is home to numerous water activities for residents and visitors alike. Several beaches are open and filled with visitors throughout the summer. It's never hard to get a game of beach volleyball started, or visitors can lay out a towel and soak in some sun.
Surfing is an incredibly popular activity on Lake Ontario—although it's not the typical surfing one might think when they hear the word. Instead of relying on the waves, surfers rely on the wind. The Toronto Windsurfing Club and iKite offer two unique ways to surf. Windsurfing and kitesurfing may take a few lessons, but it's an activity everyone should try once.
Of course, kayaking, paddleboarding, and canoeing are popular activities on the lake. Several rental options are available up and down the shore. For those who already own a water vessel, launches are readily available. The pictures one can capture from the water of the Toronto skyline can't be beaten.
Hiking & Biking Trails in Toronto
Popular Toronto Trails
High Park trails
Lower Don River Trail
Crother Woods to ET Seton Park
Moore Park Ravine
After a cold Canadian winter, locals and visitors are ready to get outside and enjoy the beautiful summer weather while it lasts. There are several trails close to Toronto that are popular.
High Park offers scenic urban loop trails that average 5.3 kilometres. The trails are all shaded, which is perfect for those who want to avoid a sunburn.
The Lower Don River Trail at Don River Valley Park is 6.8 kilometres and allows hikers to feel like they have escaped far away from the city. Several waterways and scenic views make this lengthy trail worth the hike. The trail is partially paved, which makes certain sections accessible for those with strollers or wheelchairs.
Crothers Woods to ET Seton Park is a popular mountain biking trail. It has steep elevation gains with downhill rides that make the climb worth it. The trail is covered by a dense tree canopy, which creates beautiful shade during the summer and early fall. The trail can be quite technical, so it may not be suitable for all riders.
Moore Park Ravine is an off-road trail that's much easier to navigate. Since the trail is mostly downhill and doesn't have as many roots, most riders can enjoy their time. Riders can cruise down the valley and take in a deep breath of fresh air.
Regardless of how one likes to spend their time outside, they are sure to find a group or two who share the same interests. Toronto's warm summers can sometimes feel like they pass all too briefly, so it's normal to see hiking trails, beaches, and parks filled with visitors when the weather is warm.
Toronto Shopping
Toronto Shopping Destinations
Queen Street West
Toronto Eaton Centre
Yorkdale Shopping Centre
Toronto is a shopping paradise for those who love to meander through malls and take in everything today's hottest brands have to offer. Most of the malls are enclosed and temperature-regulated throughout the year, so no heavy winter coats are required.
Queen Street West has an eclectic mix of shops that line the neighbourhood streets. From international brands to mom-and-pop stores, visitors can enjoy browsing through a range of unique items. Boutiques, vintage furniture stores, cafés, and more await visitors. The Queen streetcar goes up the entire street, so guests can choose to walk from store to store or sit back and relax on the streetcar.
Toronto Eaton Centre is located in the heart of downtown. It's one of Canada's largest shopping centres and a must-visit attraction in Toronto. Over 230 stores span the 160,000-square-metre space. Visitors can shop at stores like Steve Madden, Aritzia, Coach, and Forever 21. Nine restaurants are dotted throughout the centre, in addition to 30 brands in the food court.
Yorkdale Shopping Centre in North Toronto was the world's largest shopping mall in the late 1960s. While other centres now hold the title, Yorkdale still has plenty to offer shopping enthusiasts. With its 8-metre-high ceilings and hundreds of brands like Michael Kors, Tiffany & Co., and Canada's first Apple Store, visitors are sure to find exactly what they desire. Guests can even reserve a table at the food court while they shop to avoid waiting in line.
Toronto Restaurants
Popular Toronto Restaurants
Piano Piano
Wish
Her Father's Cider Bar & Kitchen
If there's any activity one needs to do while exploring Toronto, it's dining at the world-class restaurants throughout the city. Foodies will find Instagrammable dishes on nearly every corner, and those on a budget in Toronto can find restaurants at every price point.
Piano Piano pops with a pink exterior covered in painted flowers. Inside, visitors will find an upscale eatery that caters to Italian cravings. Everything is made from scratch, including the pasta and the pizza dough.
Wish is one of Toronto's best brunch restaurants. Inspired by South Beach, the menu is as eclectic as it is delicious. From challah French toast with blueberries and caramelized bananas to braised boneless short ribs, guests will want to savour every bite.
Her Father's Cider Bar & Kitchen is dedicated to serving the largest, widest variety of ciders in Toronto. Refined, local ingredients are a staple in the kitchen. The menu rotates seasonally. For those who love cider, finding over 100 varieties locally sourced from throughout Ontario is sure to be a treat.
Arts & Culture in Toronto
Those who want to find a city with culture and memorable artwork will enjoy their time meandering through Toronto's museums, galleries, and theatres. The local history and eclectic culture are well represented throughout the area.
Toronto Museums
Popular Toronto Museums
Royal Ontario Museum
Ontario Science Centre
Hockey Hall of Fame
Toronto is home to a multitude of museums, which makes it hard to only include a few in this guide. These three are local favourites and popular among tourists.
The Royal Ontario Museum has bold, eye-catching architecture, which just adds to the experience while viewing exhibits. Dinosaurs, minerals, meteors, and fossils are housed here and make up some of the world's largest collections. Its art galleries are no less impressive and cover everything from Chinese architecture to Roman jewellery. Better still, every third Monday of the month offers free entry between 5:30–8:30 p.m.
The Ontario Science Centre is home to hundreds of interactive experiences. The exhibits are designed to intrigue and educate visitors of all ages. Moon rocks and artifacts are available to view behind the glass and take visitors back in time. The museum itself is designed to fit the natural contours of the Don River ravine in which it lies.
The Hockey Hall of Fame is arguably one of the nation's best museums. Hockey was born in Canada, so it makes perfect sense for the sport's Hall of Fame to live within the nation's borders. The museum contains the largest collection of memorabilia from hockey teams across the continent. With over 15 exhibits, any hockey fan will love their time in this museum.
Toronto Art Galleries
Popular Toronto Art Galleries
Cooper Cole Gallery
Clint Roenisch Gallery
Museum of Contemporary Art
Daniel Faria Gallery
Art is a large part of the local culture in Toronto. Many artists start their own galleries, including those listed in this guide. The Cooper Cole Gallery opened its doors in 2009 and has no set style. The artist, Cooper Cole, refuses to be defined by a single style or medium. Instead, Cole focuses on showcasing his emotions and talent in whatever way he pleases. From sculptures to conceptual paintings and abstract works, this gallery is worth the visit.
The Clint Roenisch Gallery is next door to the Museum of Contemporary Art downtown. Open since 2003, the gallery regularly features high-class solo exhibits for artists across the world. Notable artists include Roger Ballen, Heather and Ivan Morrison, and Marcel van Eden. Visitors will find a range of permanent works covering mediums like photography, painting, film, and sculptures.
The Daniel Faria Gallery is a contemporary art gallery that opened its doors in 2011. While relatively new to the Toronto Art Scene, artist Daniel Faria combined his relationships, savvy, and reputation to open his own gallery. His own works and those from international and Canadian artists can be seen in permanent and rotating exhibits.
Dance & Theatre in Toronto
Toronto Dance & Theatre Opportunities
Mirvish Productions
The Second City
Famous People Players
Young People's Theatre
Whether one is looking for a memorable date night or simply enjoys seeing works come to life on stage, the theatres in Toronto never disappoint. Several styles are available for patrons to view during the year.
Mirvish Productions is the biggest theatre production group in Canada. With more than 50 years under their belts, the group produces a range of musical performances. The company can be seen across four stages in Toronto on any given night.
The Second City is a world-renowned improv comedy theatre that's perfect for those who want to laugh until their sides hurt. New performers and legends like Dan Aykroyd, John Candy, and Mike Myers grace the stage. Many Canadian comedians had their careers launched by performing here.
Famous People Players is a unique theatre company that focuses solely on producing black light puppet shows. All year long, the company performs glow-in-the-dark dinner theatre that entertains guests of all ages.
Young People's Theatre is a theatre company that never fails to please. Guests of all ages have a spectacular time watching the high-quality performances. The theatre focuses on developing new Canadian plays while also performing classics.
When it comes to appreciating the arts and culture of Toronto, there's an event, show, performance, or gallery that can fit everyone's taste. In this beautiful city, residents and visitors can also easily challenge themselves to step outside of their comfort zone and find a new medium or style to enjoy.
Toronto Nightlife
Toronto Nightlife Destinations
Coda
Drake Underground
The Reservoir Lounge
Toronto is just as vibrant at night as it is in the daylight hours. For those looking to enjoy their night in the city, Toronto has several options that are perfect for making unforgettable memories.
Coda is a popular nightclub that entertains visitors every weekend. The area's top DJs keep guests dancing for hours. Guests can bring cash or use the on-site ATMs.
Drake Underground is a multi-faceted lounge and performance venue that caters to a wide array of audiences. Nearly every night of the week, visitors can find an event they won't soon forget. Movies, comedy, dance parties, poetry slams, live bands, and more are all available at Drake Underground. As an added bonus, every Monday night is a free Elvis Monday showcase.
The Reservoir Lounge is home to "Cool Jazz, Hot Swing, Great People, Smart Cocktails, and Good Eats." Open daily, the lounge provides upcoming artists and international legends the ability to perform on stage. With a large cocktail and dinner menu, visitors are encouraged to come hungry and thirsty.
Come Explore Toronto Today
When anyone is looking for things to do in Toronto, there are more activities than one can complete in a day, week, or even a month! This city has the perfect combination of appreciation for culture, exquisite dining, world-class shopping, and plenty of outdoor adventures. Whether one is a resident, tourist, or considering moving to Toronto, there's always something to put on the calendar.
If you're looking for your next home in Toronto, contact The Polsinello Team at RE/MAX Hallmark Polsinello Group Realty at (289) 803-3389 to get in touch with Toronto real estate agents who can help you find a Toronto home that's the perfect fit.